Core strength and knee arthritis are related? The answer is "Oh, why Yes!" Let me explain.
Remember the famous childhood "Dem Bones" song?
"The knee bone's connected to the thigh bone. The thigh bone's connected to the hip bone…The hip bone's connected to the back bone…"
This has been a central theme at the Centeno-Schultz Clinic and is incorporated in the SANS approach. Rather than utilize a compartmentalized system where there are specialists for the knee, hip, and lumbar spine, at the Centeno-Schultz Clinic, we know that they are all intimately interconnected. Accordingly, when a patient undergoes an evaluation, we examine the patient as a whole, examining all the pieces.
Weak Core Strength and the Risk of Knee Arthritis
A recent article supported this important concept. The authors investigated whether there was an association between the size and quality of the abdominal trunk muscles and knee osteoarthritis. From 2012 to 2016, data was collected from 146 males and 135 females. Data included annual knee X-rays, BMI, and a single-slice computed tomography cross-sectional area of the abdominal trunk muscles. After adjusting for age and gender, it was noted that knee osteoarthritis is associated with smaller paraspinal muscles.
The translation? A weak core can put you at risk for knee osteoarthritis. Ouch!
Other authors have also demonstrated a direct relationship between trunk-muscle activity and lower-extremity movement.
So back to the crunches.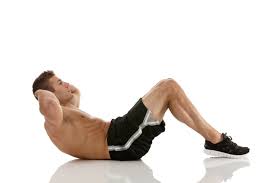 Cartilage Is Only One Piece of the Puzzle
If you have knee pain or have documented knee osteoarthritis please understand that there are many factors involved in knee arthritis. Many specialists focus on cartilage alone, which is only one piece of the puzzle. At the Centeno-Schultz Clinic, we acknowledge there are many factors involved in knee osteoarthritis, which include, but are not limited to, meniscus health, tendon and ligament integrity, ankle stability, hip dynamics, and lumbar spine core strength.
You deserve the thorough and complete evaluation and treatment performed by fellowship-trained, board-certified physicians. Our outcomes to date are available here.