What is an oblique injury? I am and always will be a baseball fan, and my team, since I was in little league, is the Chicago Cubs. If you follow baseball, this past season for the Cubs was filled with great baseball the first half of the season followed by a collapse, which meant missing the playoffs by the end of the season.
The other morning, I read an interesting article about Cole Hamel's (Cubs' starting pitcher last season) thoughts on why the Cubs' season tanked the 2nd half of this past season. Here is the article.
"Hamels walking off the mound after the first inning in Cincinnati on June 28 with a re-aggravation of an old injury. Hamels left with an oblique injury and wound up missing more than a month. But in reality, he was never the same again.

In fact, he was one of the hottest pitchers on the planet going into that outing in Cincinnati with a 1.00 ERA in his first five June starts. From the time he returned on Aug. 3 through the end of the season, Hamels went 1-4 with a 5.79 ERA and 1.83 WHIP and just two quality starts. Prior to the oblique injury, the veteran had been arguably the Cubs' most consistent starter, going 6-3 with a 2.98 ERA, 1.20 WHIP and 10 quality starts.

In hindsight, there are plenty of reasons to point to for the Cubs' collapse, but the starting rotation was a major factor and Hamels' absence — and subsequent ineffectiveness — was absolutely a part of that downfall."
So today, I thought we would look at what is an oblique muscle injury, why is it so painfully slow to heal, and is there anything interventional orthopedic physicians utilizing the most advanced orthobiologics can do to help reduce the downtime and get players back on the field sooner?
What is an oblique muscle injury and where is your oblique muscle? 
Your abdominal wall (muscles that make up your "six pack") in the front of your body are made up of several different muscles that are layered on top of each other.  These muscles are the external abdominal obliques, the internal abdominal obliques, the rectus abdominis and the transversus abdominis (1,2). This is one of the anchors of your thoracic spine and allows your rib cage stability and function!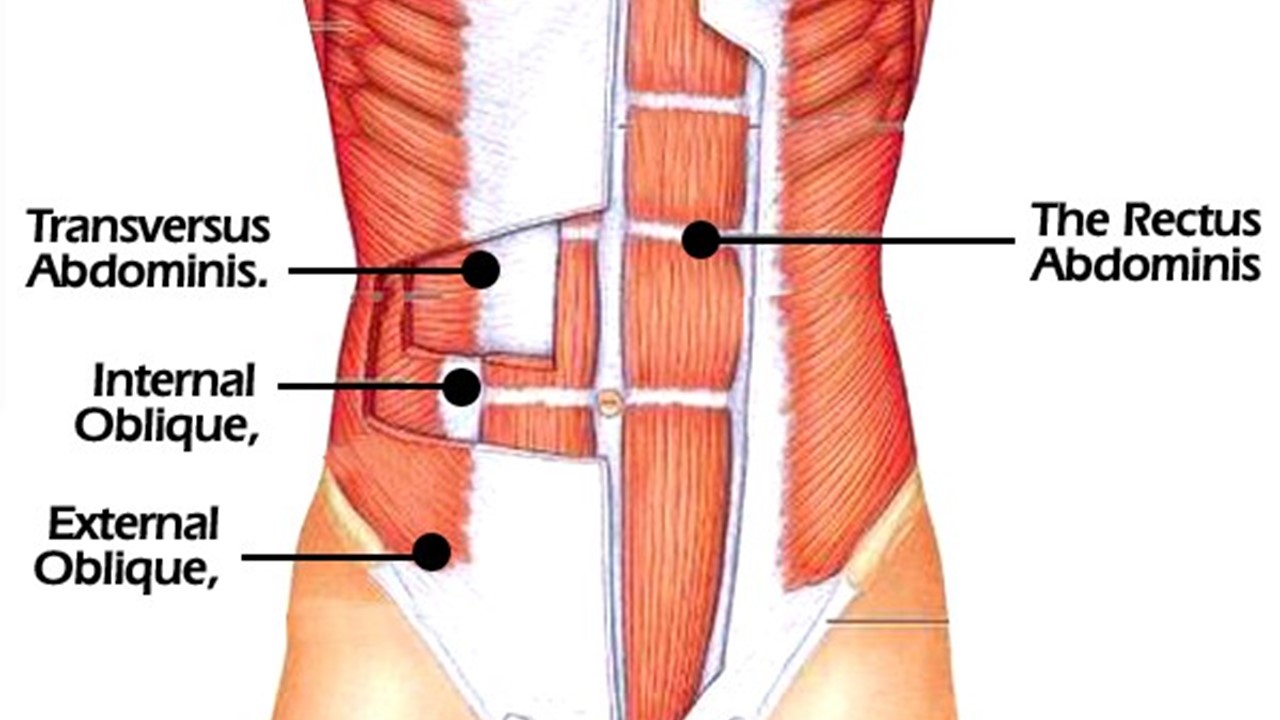 The obliques connect the lower ribs to the pelvis. See the diagram and notice how the muscles are layered as well as the alignment of the fibers of each muscle is in different orientations. The obliques connect the low back muscles and wrap around attaching to the rectus abdominal muscles (front to back) and connect ribs 9-12 to the pelvic bone (top to bottom).
What does the internal oblique muscle do? 
Together these muscles form a firm wall that protects your internal organs and they help to maintain posture. In addition, the contraction of these muscles helps in exhalation and to increase intra-abdominal pressure such as in sneezing, coughing, defecating, lifting, and even childbirth.
In athletics, your oblique muscles help with trunk rotation, while your hips help produce as much as 30-40 percent of your rotational ability, the rest is created by your core muscles and specifically your oblique muscles! Two of the biggest sports that see a high incidence of oblique injuries are golf and baseball.
The 2017 season saw multiple injuries to key players throughout the league: Kansas City's Jorge Soler, Arizona's Yasmany Tomás, Baltimore's Zach Britton, Minnesota's Ehire Adrianza, Miami's Adeiny Hechavarria, and Cincinnati's Tony Cingrani have all missed time with this specific injury. Tampa Bay Rays' third baseman Evan Longoria brought the problem to the forefront when he missed 28 days in 2011, and in more recent seasons, José Reyes, Joba Chamberlain, Curtis Granderson and Edwin Encarnacion have all also suffered the injury.
Recent studies have shown a slight decline in injury rates! Despite this, oblique strains are responsible for over 4400 days (the equivalent of 24 full-length MLB seasons) out of play in all of professional baseball each year (3). 2018 sidelined popular golfer Rickie Fowler and recently back in August 2019, Tiger Woods withdrew from the Northern Trust Championship due to a mild oblique strain.
What does an oblique muscle injury feel like? 
Most patients describe an acute onset of sharp pain over the lateral (side) abdomen after a forceful rotational activity such as pitching, batting, diving, or throwing.  When we examine patients with oblique strains, it reveals localized tenderness to palpation over the muscle attachments to the lower ribs, with decreased rotational motion and strength.
Advancements in imaging over the years have made diagnosing an oblique muscle injury quite easy. Utilizing diagnostic ultrasound combined with listening to our patients and examinations, I can typically tell the patient what their specific diagnosis is during the initial visit.  Look at the images below showing the ability of ultrasound to identify the anatomy and demonstrate when there are abnormalities in the oblique muscles!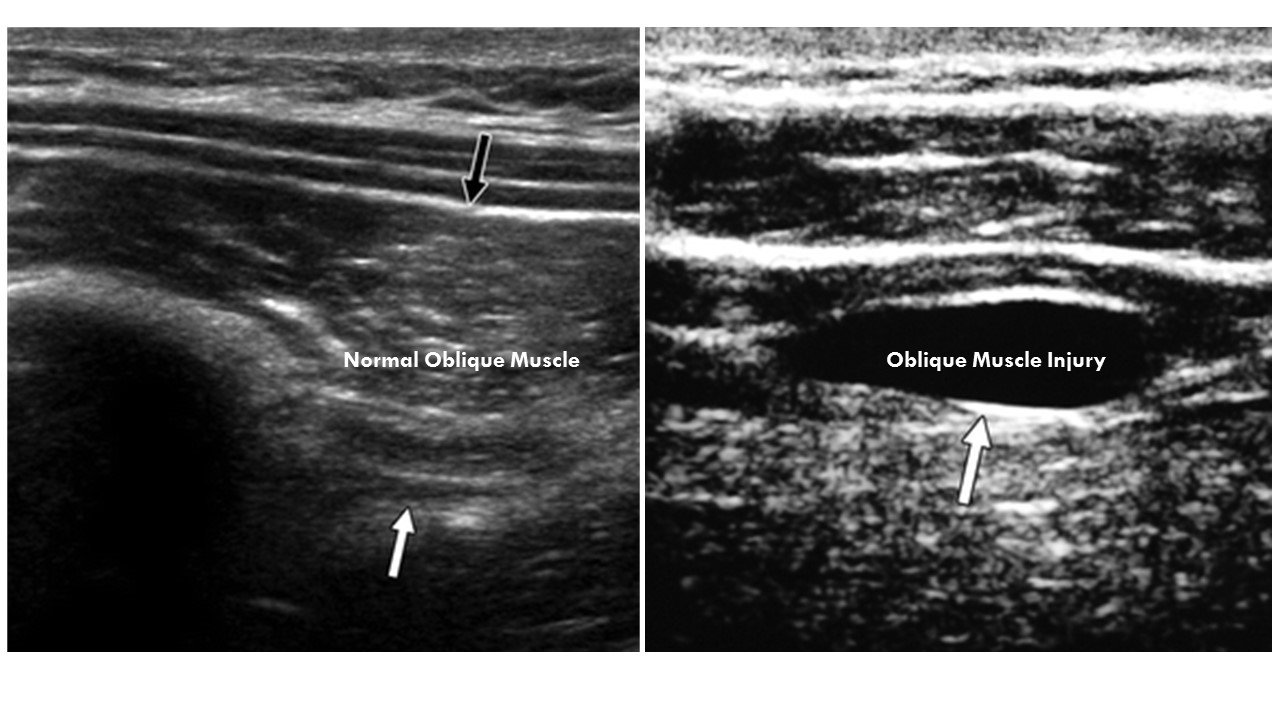 How do you treat a strained oblique? 
Like any good physiatrist therapy is always at the heart of any athletes' recovery from an injury. This case report has outlined a great progressive rehabilitation program designed for oblique injuries. The bad news is that these injuries do take considerable amount of time to heal, taking up to several months before athletes are able to return to play.
Is there a way to assist in accelerating healing of oblique muscle injury? 
Let's review some of the research and what as been published in regards to oblique injuries and muscle injuries in general:
In 2014, Hamid et al. did a review of all available data analyzing over 1000 articles looking at platelet rich plasma's role in assisting muscle injuries to heal. Out of the 1000+ articles reviewed only 4 met the strict criteria looking at muscle injuries specifically, and all 4 papers demonstrated (clinically and in laboratory studies) that platelet rich plasma can accelerate the healing time of muscle injuries.
Here a soccer player injured his oblique muscle and was treated with PRP injection under ultrasound guidance and in 2 weeks the lesion was close to completely healed and patient had already started progressing to return to play with therapy!
Related: Thoracic Disc Herniations
THE UPSIDE: 
Oblique muscle injury can be quite debilitating and limit both athletes and everyday weekend warriors. But with advancements in diagnostics, therapy and orthobiologics we can now diagnose, and treat patients with the aim of accelerating the healing rate of the injury, reducing re-injury, and ultimately getting you back in the game!
If you feel you have been dealing with this injury, feel free to reach out and our staff can assist in setting you up with an evaluation so we can discuss treatment options.
References:
Sinnatamby C S. (ed) Last's anatomy. 10th ed. Edinburgh: Churchill Livingstone, 1999215–220.
Davies D V. Gray's anatomy: descriptive and applied. 33rd ed. London: Longman's, Green & Co, 1982621–625.
Camp CL, Conte S, Cohen SB, et al. Epidemiology and Impact of Abdominal Oblique Injuries in Major and Minor League Baseball. Orthop J Sports Med. 2017;5(3):2325967117694025. https://www.ncbi.nlm.nih.gov/pubmed/28451598  
Dauty M, Menu P, Dubois C. Uncommon external abdominal oblique muscle strain in a professional soccer player: a case report. BMC Res Notes. 2014;7:684. https://bmcresnotes.biomedcentral.com/articles/10.1186/1756-0500-7-684  
Obaid H, Nealon A, Connell D. Sonographic appearance of side strain injury. AJR Am J Roentgenol. 2008;191(6):W264- https://www.ajronline.org/doi/10.2214/AJR.07.3381
Hamid MS, Yusof A, Mohamed Ali MR. Platelet-rich plasma (PRP) for acute muscle injury: a systematic review. PLoS ONE. 2014;9(2):e90538. https://www.ncbi.nlm.nih.gov/pubmed/24587389