Patients with tears in the labrum, biceps tendon and inferior glenohumeral ligament often undergone surgery. Tears to the labrum, the fibrous tissue that surrounds the glenoid socket, involve cutting and removing the damaged tissue. If the tendon is torn it is commonly reattached using absorbable tacks, wires, or sutures.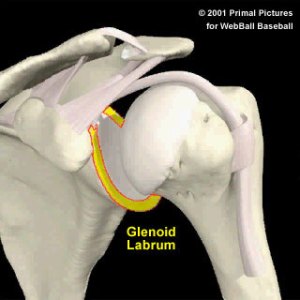 Rehabilitation can be slow and painful.  After surgery the shoulder is immobilized in a sling for 3 to 4 weeks. During this time there can be loss of muscle strength and tone. Physical therapy aims to restore flexibility and muscle strength which requires weeks of therapy and time.
Ligaments, tendons and the labrum can be repaired using cell stem therapy. Regenexx enables patients to use their own stem cells to repair injuries in the shoulder. Regenexx is a simple needle in-needle out procedure which allows the patient to avoid the risks associated with surgery, anesthesia and the time consuming and painful rehabilitative process associated with surgical options.
To see how stem cell therapy can be used for rotator cuff tears please click video.
[youtube=http://www.youtube.com/watch?v=d8UW25rfPxU&eurl=http://www.regenexx.com/shoulder-surgery-alternative/]

Get back to your normal with the less invasive alternative.