Total shoulder replacement surgery is a significant surgery with extensive physical therapy with overall recovery taking up to one to two years. There are three major types of shoulder replacements. Let's review them.
Types of Shoulder Replacements
Hemiarthroplasty replaces the diseased ball portion of the joint (humeral head, or the top of the upper-arm bone) with a prosthesis composed of either polyethylene or metal components.
Total shoulder arthroplasty (TSA) replaces both the ball and the socket with a prosthesis.
Reverse total shoulder arthroplasty (RTSA) replaces both the ball and the socket; however, the prosthetic ball is placed on the glenoid process of the scapula, or shoulder blade, and the socket component is placed at the head of the humerus. So the ball and socket components are switched.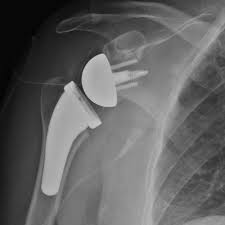 Complications

The humeral or glenoid component of the prosthesis can become loose. A 2016 study noted 38% of patients who underwent reverse total shoulder replacements had prosthetic instability requiring another operation. Ouch! Other complications include the following:
Rotator cuff tears, which are the third most common complication.
Infection
Nerve injury at time of surgery
So is shoulder replacement surgery at least effective? A recent study examined the prevalence of pain one to two years after shoulder replacement. A total of 538 patients were evaluated, and all were tracked post shoulder replacement. Persistent pain occurred in 22%.
JM's Experience After Declining Shoulder Replacement
Meet JM, a 60-year-old medical technologist who fell on an outstretched arm and fractured her humerus, and tore her rotator cuff tendons. To complicate matters, she developed avascular necrosis of the humeral head. JM was offered a shoulder replacement, which she declined, acknowledging the multiple complications, restrictions, and extensive rehab.
JM opted to use her own stem cells for shoulder treatment at the Centeno-Schultz Clinic in 2015. Her stem cells were injected into her nonunion fracture, avascular necrosis, and rotator cuff.
JM recently posted her results.
"I was told my only option was a complete shoulder replacement after falling while jogging. I researched stem cell therapy and some facilities. Then I looked at the Docs Bio and most of them learned the procedure in Broomfield, Colorado. So where would you go to have a procedure done that no one had done before? The Centeno-Schultz Clinic is much more advanced than other stem cell clinics. Their expertise is phenomenal. They truly care about you as an individual. As far as insurance not paying, I would had paid more for a shoulder replacement than what I paid to SAVE my shoulder. I have full range of motion and absolutely NO pain in the shoulder now. I wouldn't go anywhere else and I live across the country from Broomfield!"
Congratulations, JM!