Cervical Radiculopathy
Pinched Nerves in Your Cervical Spine
Radiculopathy is derived from Latin roots of radix, meaning root, as in the nerve root, and patheia, meaning suffering. Cervical radiculopathy is a common musculoskeletal problem. This refers to a condition of nerves in the neck getting irritated, causing a variety of symptoms. In the neck, there are 7 bones. The nerves come out of spaces between the bones, called foramen, where a nerve can be pinched.
How Do Nerves Get Pinched?
There are 6 causes of pinched nerves.
Nerves can get pinched in the neck as a result of injured disks such as disk bulges, protrusion, herniation, or disk annular tears.
Nerves can also get pinched from bone spurs or enlarged arthritic facet joints.
Nerves can get pinched when there is less space due to a condition known as spondylolisthesis where there is a misalignment of the vertebral bodies.
Other things that are rare such as infection, tumor, hematoma, or spinal fracture can cause pinched nerves as well.
Also a pinched nerve can result from having previous surgery on the neck.
The most common area in the neck for a pinched nerve is the C5-6 space followed by the C6-7 space after that.
Symptoms of Cervical Radiculopathy
Since cervical radiculopathy affects the nerves, patients can feel symptoms anywhere along the course of the nerve from the neck into the shoulder, arm, elbow, forearm, wrist, hand, or fingers.
Numbness
Numbness refers to less sensation in the area of the body supplied by a specific nerve. For the neck nerves, this would be the area of the shoulder, arm, elbow, forearm, wrist, hand, and/or fingers.
Numbness can give your arm a sensation that it is "falling asleep." Sometimes this can happen at night and awaken you from sleep. With numbness, there is a risk of injuring the extremity further such as cutting or burning yourself more easily since the sensation is less. It can also cause you to drop items if the hand is numb and you do not feel what you are holding.
Different nerve roots that are injured can cause numbness in different areas.
Here are some examples of what is meant numbness corresponding to which nerve is being pinched:
Numbness in the collarbone area can be coming from the C4 nerve.
C5 nerve commonly causes numbness around the outside of the arm and elbow.
Irritation to the C6 nerve can cause numbness in the forearm and into the thumb and first digit.
Irritation to the C7 nerve can cause numbness in the back of the arm, or towards the middle finger.
Irritation for the C8 nerve can cause numbness in the last 2 fingers.
Pain
Cervical radiculopathy, unfortunately, can be the cause of pain that can show itself in various types of ways. Here are some things to know about pain and this condition:
Pain can be sharp, stabbing abrupt, or jolting.
Pain can be a burning sensation that may come and go or linger on.
Pain can be aching deep pain that can be constant or intermittent.
Pain can also be radiating from the neck to any part of the arm, shoulder, elbow, forearm, wrist, hand or fingers. It may not radiate and you only feel pain in one or 2 of these areas.
Pain can be made worse by certain positions, postures, movements, exercises, and/or activities.
Tingling
Tingling or paresthesia can cause the sensation of pins and needles that may be weird and/or uncomfortable.
Muscle Weakness
Muscle weakness can occur in any part of the upper extremity. It may be related to particular activities such as lifting the arm or shoulder, gripping things, working out, exercising, etc. For instance, muscle weakness corresponding to C5 nerve root irritation can manifest as shoulder weakness. For the C6 nerves, it can manifest as shoulder and forearm weakness. For the C7 nerve, it can be triceps weakness. And, for the C8 nerve, it can be a weakness in the hand or with grip strength.
Deeper Dive Into Symptoms
Common Causes of Cervical Radiculopathy
Age
One can be at greater risk of cervical radiculopathy with age. It is of most common onset in the 40s and 50s.
Age is a risk factor just because, as we get older, there are more opportunities to have these injuries that compile repetitive use stress, and our natural ability to heal lessens.
Obesity, Diabetes, or Rheumatoid Arthritis
Obesity, diabetes, or rheumatoid arthritis can predispose to a higher incidence of cervical radiculopathy as well.
Smoking
Smoking also can be a major risk factor.
Traumatic Injuries
Traumatic injuries such as motor vehicle accidents, falls, whiplash, etc. can cause injury to the cervical bones, disks, and joints that can lead to pinching of the nerve or cervical radiculopathy.
Also, minor injuries that build up over time such as those with exercise, activities, minor falls can be related as well. Nerve stretch injuries such as rapid neck or shoulder movements or trauma, like from a football stinger, can be a cause of cervical radiculopathy, as well.
Can You Prevent Cervical Radiculopathy?
For most medical problems especially in the musculoskeletal system, an ounce of prevention is worth more than a pound of treatment. A key thing to help prevent cervical radiculopathy is maintaining adequate posture, alignment, and ergonomics.
Living in the westernized world, this can be difficult with a lot of texting, phone and device use, computer work, long periods of sitting or inactivity.
Staying active and strong with regular physical activity or exercise programs can be helpful. Keeping one's weight and metabolic conditions down through healthy eating and avoidance of smoking can help with prevention. Doing proper warm-ups and cool-downs before and after activities can be helpful. Maintaining some preventative muscle work such as postural therapy, maintenance chiropractic, massage could be helpful.
When Should You See Your Doctor?
If any of the following 6 items pertain to you, you should see a doctor:
You should see your doctor if you are having pain, numbness, tingling, or weakness that is persistent and lasting longer than a few days up to a few weeks despite conservative measures.
Certainly, if you are having weakness, especially with rapid onset or that is worsening, you should go see your doctor right away.
If you are getting associated symptoms such as difficulty with urination or bowel movements, bowel and bladder accidents, leg pain or weakness, severe arm weakness, you should see your doctor right away.
If you have tried 6 weeks or so of conservative therapy and things are not improving.
If anything is rapidly getting worse.
How Do Doctors Diagnose Cervical Radiculopathy?
1. The first step in a doctor's diagnosis will be taking a detailed history asking you about the onset, duration, history, characterization and quality of your symptoms, taking an overall medical history and family history.
2. A detailed physical examination will be a key component of the diagnosis.
3. The doctor may look for decreased sensation in the neck and upper extremity.
4. They will check reflexes to see if there are any asymmetries in reflexes.
5. They will check strength to see if there is a weakness that you may or may not perceive.
6. They can do a specialized test such as a Spurling's maneuver where you extend your head and rotate with compression and see if it reproduces your symptoms.
7. They will palpate tender areas around the neck, nerves in the shoulders to see if they are painful.
Imaging Modalities
X-Ray
X-rays can show bony pathology such as fractures, can give clues to disk space, bone spurs, and joint arthritis.
Digital Motion X-Ray
A specialized x-ray called a digital motion x-ray can do this, in addition, to taking pictures with the patient moving their head so this is a much better test to look for dynamic instability in the neck that can be contributing to pinching of the nerves and damage to other structures.
MRI
An MRI can be used as the best test to visualize the soft tissues such as the disks, the nerves, joint cartilage, and muscles.
CT Scan
Rarely a CT may be used if you cannot get an MRI or if the doctor is highly considering surgery and wants detailed pictures of the bony anatomy.
NCS/EMG
Another test that can be used is nerve conduction studies and electromyography or NCS/EMG. This test can be helpful when there is severe irritation or damage to the nerves and is pretty specific. However, this test can be painful and is not very sensitive, meaning only more severe nerve injuries are typically picked up with an EMG. It also can help decipher cervical radiculopathy from nerve injuries elsewhere like in the carpal tunnel, ulnar nerve, or other peripheral nerves.
Common Treatments of Cervical Radiculopathy
Cervical radiculopathy can be treated with conservative and invasive measures as well as surgery as a last resort.
Home therapies
1. Initial home therapies might just be relative rest, stretching, massage, heat, ice, taking anti-inflammatory supplements like turmeric, fish oil, etc.
2. Other conservative measures would be seeing a licensed professional such as a physical therapist. A good physical therapist will evaluate you, work on posture, alignment, any muscle asymmetries, help with your posture, and work on relaxing tight muscles and strengthening weak muscles.
3. Other similar modalities might be Egoscue therapy, muscle activation technique or MAT, myofascial release, rolfing, chiropractic care including gentle manipulation, cervical traction or cervical decompression.
4. Sometimes a cervical collar can be used. Collars can be a soft collar or a hard collar for more restriction in range of motion. Typically, you do not want to wear a collar for too long as this can weaken the muscles that support the neck, but sometimes collars might be highly indicated if there is a more severe injury with instability.
Medications
Supplements
Supplements such as turmeric, fish oil, glucosamine chondroitin, and tart cherry juice can help reduce inflammation and help with the pain.
Over-the-Counter Medications
Over-the-counter prescriptions such as Acetaminophen or Tylenol can help pain. Tylenol is mostly safe unless taken in doses more than 1000mg at a time or more than 3000mg in a day. However, this can increase the risks of liver failure and death.
NSAIDs
Oral nonsteroidal anti-inflammatory drugs or NSAIDs such as ibuprofen, Aleve, etc over the counter or prescription NSAIDs like Celebrex or meloxicam, etc. can be tried. They help with pain and inflammation and can be taken for a few days or a week. However, they should not be taken too long or often as they many risks. These include: stomach upset, GI bleeds, kidney or liver problems, reducing the body's ability to heal, and increasing the risk of high blood pressure, heart attack, or stroke.
A course of oral steroids can be used to reduce inflammation. However, these are very powerful and dangerous drugs that come with a host of side effects, and the longer one uses them the higher the risk of severe side effects such as bone death or osteonecrosis, hormonal problems, weight gain, increase in blood sugars, bone loss, and inhibiting healing mechanisms. These are not recommended for these reasons.
Narcotic Pain Medication
Sometimes narcotic pain medications can be used, but these have significant risk of addiction and death in high doses and really should only be used for temporary severe acute pain or pain post-surgery or post a procedure.
Injections into the Cervical Spine
Steroidal Injections
Typical physicians might perform injections with the goal to diagnose the problem by injecting numbing medicine around a suspected nerve or joint that is causing pain. Also, injections can be steroid injections that help reduce inflammation around the nerve or joint that can temporarily help with the symptoms of cervical radiculopathy. The problem is that these are short-lived solutions that do not fix the underlying cause. They do have risks, especially the more these are repeated including bone loss, inhibiting healing mechanisms, etc. These should not be repeated often or frequently.
Orthobiologic Injections (PRP and Platelet Lysate)
Newer injections to help patients heal more naturally would be orthobiologics. These are substances that are not medication but stimulate the innate healing mechanisms of the body. A common one would be platelet-based procedures. These would be things such as PRP, and platelet lysate. These blood products contain growth factors that can help to naturally reduce inflammation and stimulate healing response. Since they come from your own body, these are safe to use and do not have any of the side effects as steroids and can provide longer-lasting benefits if using the right hands. For instance, platelet lysate can be used to calm down irritated nerves if injected around them and stimulate nerve repair. PRP can be used around nerves as well. These can be used to treat disk annular tears that can be causing pinching of the nerve and disk pain. They can also be used to treat joint arthritis. PRP can also be used to treat loose ligaments that cause instability leading to pinched nerves, as well.
Surgery for Cervical Radiculopathy
Anterior Cervical Diskectomy and Fusion (ACDF)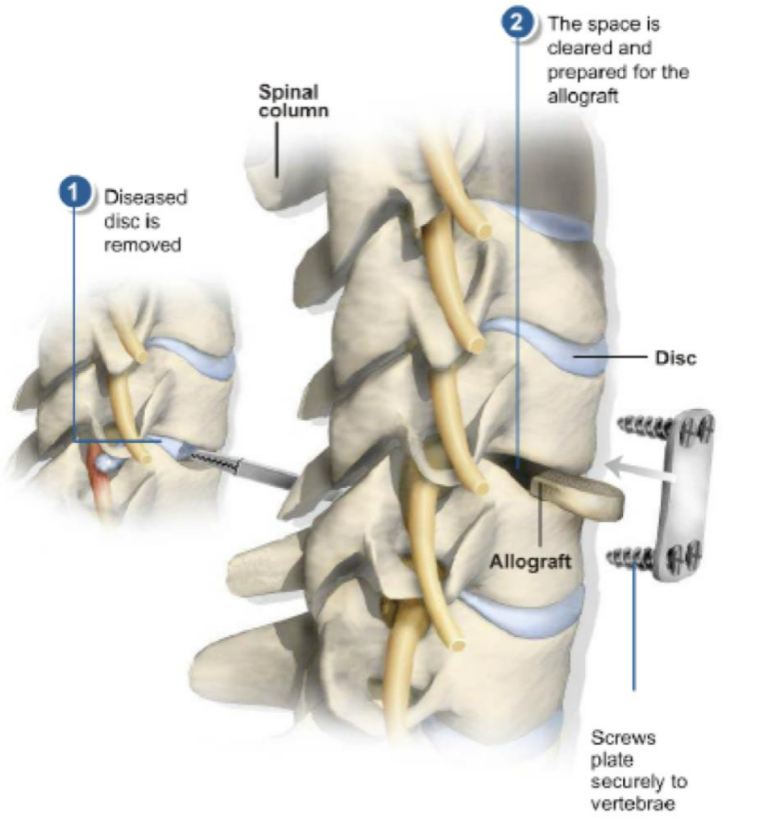 Anterior cervical diskectomy and fusion or ACDF is the most common surgery for cervical radiculopathy. The surgeon makes an incision through the front of the neck and removes an injured disk, replaces it with a bone graft, and fuses the bones together with more height to relieve pressure off the nerves. This surgery can be helpful, but anytime you fuse an area of the spine you are going to decrease mobility and range of motion. Also, a fusion puts stress on the adjacent levels above and below the fusion leading to further wear and tear of those disks and joints, possibly requiring further surgeries in the future (1).
Artificial Disk Replacements (ADR)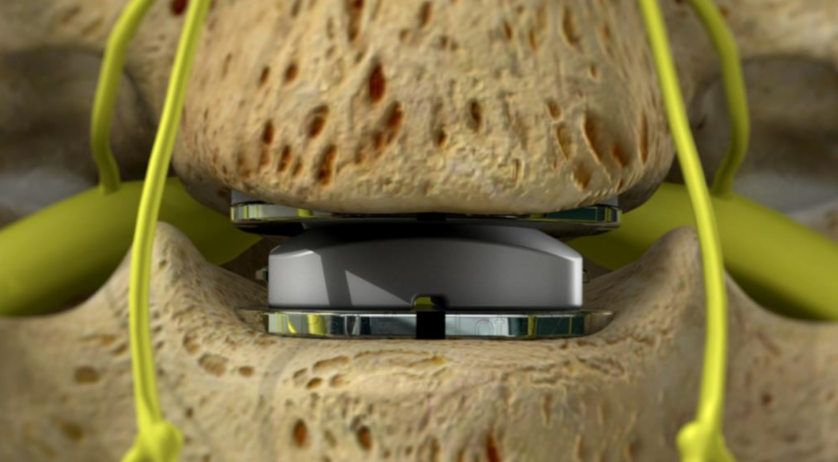 Artificial disk replacements or ADR. This is a surgery that instead of fusing the bones together, the disk is removed and replaced with an artificial disk. The potential advantage of these is to try to maintain some of the mobility versus fusion. However, studies still show the same risk of adjacent segment disease as described above (2) and the potential for the artificial disk to wear out over 10-20 years requiring revision surgery in the future. Also, they can cause an increase in metal ions in the blood (3).
Posterior cervical laminectomy or foraminotomy with or without fusion
Posterior cervical laminectomy or foraminotomy with or without fusion is a surgery when the doctor goes in from the back and removes some of the bone that is behind the nerves to open up space. This may be done with or without fusion from the back of the neck as well. Without a fusion, this can lead to some further neck instability and muscle weakness, but with fusion, you get more of the risk of adjacent segment disease, higher complications, and is riskier (4). There may not be much additional benefit to fusion.
What Does Prognosis Typically Look Like?
Typically, the prognosis is good in most patients with cervical radiculopathy or a pinched nerve.
A lot of patients will resolve their symptoms with conservative measures after several weeks but can take up to 4-6 months as well. For problems that are not helped with conservative measures, injection-based therapies will likely be needed to help resolve the issue. Steroid-type injections will need to be repeated more frequently whereas PRP and bone marrow concentrate procedures with stem cells typically provide longer-lasting results and need to be repeated less frequently.
If there is a condition where surgery is absolutely needed, the earlier the surgical intervention, the better. However, in most cases, surgery is not absolutely needed. Thus, surgical intervention is usually not required.
Is Surgery the Best Treatment Option?
Surgery should be a last resort treatment option only with the exception being a condition caused by cervical myelopathy, which is a condition where the spinal cord is getting a direct injury. This is more of a surgical emergency and needs immediate surgical care.
The next reason for surgery would be a direct mechanical injury to the nerve where there is large disk herniation or bone spur that is directly pressing on the nerve causing radiculopathy meaning that the patient has nerve injury causing severe pain and weakness that is not improving or getting worse over a short period of time. This would be a high surgical candidate as well.
In most cases, however, the nerves are getting chemical irritation from less space around them from disk bulge and protrusion, herniation, bone spurs, joint swelling, or instability, in which case conservative care or injection therapy would be the best first-line therapies to try.
However, far too often patients are being offered surgery as the first line of therapy without mechanical symptoms without trying physical therapy or with trying physical therapy but not injection-based therapies or not trying PRP or bone marrow concentrate with stem cells first. Performing surgery perform exhausting all other safer methods increases the need for unnecessary and expensive, and invasive surgeries that have many potential risks and down the road complications.
Deep Dive Into All Treatment Options
We Can Help You the Centeno-Schultz Clinic Way
Doctors at Centeno-Schultz Clinic That Treats Cervical Radiculopathy
More Resources for Cervical Spine Issues
The neck is a vital and complex part of the human anatomy, supporting the head and facilitating essential functions like movement, breathing, and communication. When neck pain, injuries, or other symptoms arise, healthcare providers often turn to diagnostic tools such as neck X-rays to assess the condition of the cervical spine and surrounding structures. Healthy…

---
References
Epstein NE. A Review of Complication Rates for Anterior Cervical Diskectomy and Fusion (ACDF). Surg Neurol Int. 2019;10:100. Published 2019 Jun 7. doi:10.25259/SNI-191-2019
Yang, Xiaoyu, et al. "Radiological follow-up after implanting cervical disc prosthesis in anterior discectomy: a systematic review." The Spine Journal 18.9 (2018): 1678-1693.
Gornet MF, Singh V, Schranck FW, Skipor AK, Jacobs JJ. Serum Metal Concentrations in Patients With Titanium Ceramic Composite Cervical Disc Replacements. Spine (Phila Pa 1976). 2017 Mar 15;42(6):366-371. doi: 10.1097/BRS.0000000000001745. PMID: 27323223.
Cheung JP, Luk KD. Complications of Anterior and Posterior Cervical Spine Surgery. Asian Spine J. 2016;10(2):385-400.doi: 10.4184/asj.2016.10.2.385
Williams C, Fausel C, et al. (October 08, 2021) Regenerative Injection Treatments Utilizing Platelet Products and Prolotherapy for Cervical Spine Pain: A Functional Spinal Unit Approach. Cureus 13(10): e18608. doi:10.7759/cureus.18608