EDS Back Pain
Ehlers-Danlos Syndrome Back Pain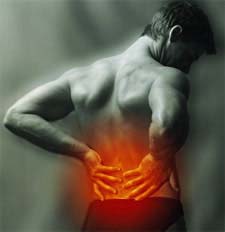 Low back pain is common throughout the United States with an incidence of 1.39 per 1000 person-years.(1). It accounts for 3.15 of all emergency visits. It is also problematic in patients with Ehler-Danlos Syndrome (EDS). EDS back pain is truly a debilitating issue that could use some light shed upon it.
What is Ehler-Danlos Syndrome
A group of inherited disorders that affect and weaken the connective tissues such as tendons and ligaments (2). Primary sites of involvement include skin, joint, and blood vessels. Joints are typically hypermobile with excessive joint range of motion as a result of a defect in collagen formation.
Is Ehlers Danlos painful? Yes!
Overall, approximately 90% or more EDS patients suffer from chronic pain (3). Common sources of pain include tissue trauma, myofascial, joint, and nerve-related pain (4). Hypermobile joints are unstable and susceptible to sprain, dislocation, subluxation, and hyperextension which can cause muscle, tendon, ligament, and joint injury and pain.
Does hypermobility affect the spine?
The lumbar spine is comprised of 5 intervertebral bodies and discs. The lumbar spine is stabilized by supporting muscles, tendons, and ligaments. The supra, interspinous ligaments, and thoracolumbar fascia in the low back are critical stabilizers and can be affected in patients with EDDS. Laxity of the supporting ligaments and fascia can result in injury to the disc, facets, and lumbar nerves.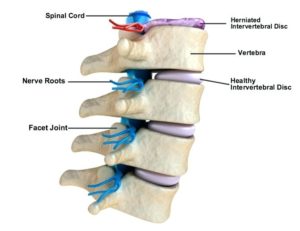 The sacroiliac joint can also be a source of low back pain.
What is the SI joint?
The sacroiliac joint is a critical joint in the low back formed by the ilium and sacrum bones. The ilium is the bone that you put your hand on when scolding someone. The SI joint has cartilage between the two boney surfaces and functions as a shock absorber. The stability of the SI joint is dependent in part upon the extensive ligaments. Major SI joint ligaments include the iliolumbar, sacrospinous, sacrotuberous, and long and short dorsal ligaments.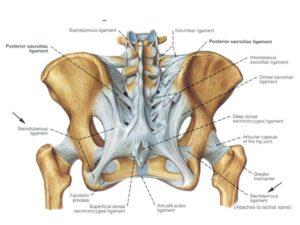 Injury or instability of the supporting ligaments and or the SI joint can result in significant lower back and or leg pain. EDS patients are particularly susceptible to Si joint pain as a result of their hypermobile, lax ligaments. Common Si joint referral patterns are demonstrated below.in brown.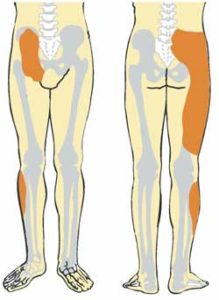 Treatment Options for SI joint
The goal of treatment is to create stability, decrease inflammation in the joint, and repair any cartilage damage. Options include bracing which will stabilize the joint. Physical therapy is important as it provides the strengthening of supporting muscles and improvement in SI joint stability. Steroid Injections have been a longstanding standard of care. Unfortunately, steroids compromise ligamental strength and integrity(5). For EDS patients this is problematic as their ligaments are more often than not already loose due to the defect in collagen formation.
Is There an Alternative to Steroid Injections?
Yes!!   Platelet-rich plasma injected into the SI joint under ultrasound guidance has been demonstrated to be a better treatment option than steroids in a recent study. (6). The efficacy of the steroid injection was reduced to only 25% at 3 months whereas the PRP group at the same time interval had a 90% benefit.   Another study demonstrated PRP as an effective treatment option in patients with SI joint dysfunction with marked improvement in stability, improved quality of life, and a significant reduction in pain (7).
At the Centeno-Schultz Clinic, we have extensive experience in the management of treatment of patients with EDS. High-dose steroid injections have no role in our practice, especially in patients with hypermobility or EDS. All injections are performed with either ultrasound or x-ray to ensure accurate placement of the platelets and bone marrow concentrate (containing stem cells). We have a state-of-the-art lab that allows us to concentrate both platelets and bone marrow concentrate, or "BMC" for short, to the concentration of stem cells that is required for your specific condition. BMC is another option for those EDS with significant instability who have not responded to platelet therapy.
Ehler-Danlos syndrome has multiple clinical presentations one of which is low back pain. This can involve the SI joint due to ligamental instability. High dose steroids can compromise the ligaments whereby further compromising the stability of the SI joint. If you or a loved one has EDS back pain please consider a new patient evaluation at the Centeno-Schultz Clinic where we will review your treatment options which may include either platelets or bone marrow BMC or both.
Doctors at Centeno-Schultz Clinic that Treat Back Pain from Ehlers-Danlos Syndrome
————
(1) Waterman BR, Belmont PJ, Schoenfeld AJ. Low back pain in the United States: incidence and risk factors for presentation in the emergency setting. Spine J. 2012;12(1):63-70.DOI: 10.1016/j.spinee.2011.09.002
(2) Chopra P, Tinkle B, Hamonet C, et al. Pain management in the Ehlers-Danlos syndromes. Am J Med Genet C Semin Med Genet. 2017;175(1):212-9.DOI: 10.1002/ajmg.c.31554
(3) Zhou Z, Rewari A, Shanthanna H. Management of chronic pain in Ehlers-Danlos syndrome: Two case reports and a review of literature. Medicine (Baltimore). 2018;97(45):e13115.doi: 10.1097/MD.0000000000013115
(4) Tewari S, Madabushi R, Agarwal A, Gautam SK, Khuba S. Chronic pain in a patient with Ehlers-Danlos syndrome (hypermobility type): The role of myofascial trigger point injections. J Bodyw Mov Ther. 2017;21(1):194-6.DOI: 10.1016/j.jbmt.2016.06.017
(5) Laseter JT, Russell JA. Anabolic steroid-induced tendon pathology: a review of the literature. Med Sci Sports Exerc.1991;23(1):1-3.
(6) Singla V, Batra YK, Bharti N, Goni VG, Marwaha N. Steroid vs. Platelet-Rich Plasma in Ultrasound-Guided Sacroiliac Joint Injection for Chronic Low Back Pain. Pain Pract. 2017;17(6):782-91.DOI: 10.1111/papr.12526
(7) Ko GD, Mindra S, Lawson GE, Whitmore S, Arseneau L. Case series of ultrasound-guided platelet-rich plasma injections for sacroiliac joint dysfunction. J Back Musculoskelet Rehabil. 2017;30(2):363-70.DOI: 10.3233/BMR-160734