In the United States, neck and back pain are major causes of disability, affecting millions of individuals each year.
According to the National Institute of Neurological Disorders and Stroke, back pain is the second highest leading cause of disability among adults in the United States, and neck pain is also a significant contributor to disability. Many instances of suffering from neck and back pain are due to herniated cervical discs.
So today, let's dive into understanding the details of what a cervical disc herniation is and what can be done about it!
An Overview Of The Cervical Disc
Cervical discs, also known as intervertebral discs of the cervical spine, are the specialized structures located between the vertebrae in the neck region. These discs play a crucial role in providing cushioning, flexibility, and support to the cervical spine.
Structure: Cervical discs have a unique structure consisting of two main components:
Nucleus Pulposus: The nucleus pulposus is the central, gel-like core of the disc. It is composed of a jelly-like substance with a high water content, giving it a soft and elastic nature. The nucleus pulposus is responsible for absorbing and distributing forces acting on the spine during movements, acting as a shock absorber.
Annulus fibrosus: Surrounding the nucleus pulposus is the annulus fibrosus, which is a tough, fibrous ring-like structure made up of concentric layers of collagen fibers. The annulus fibrosus provides strength and stability to the disc and helps to contain the nucleus pulposus within the disc space.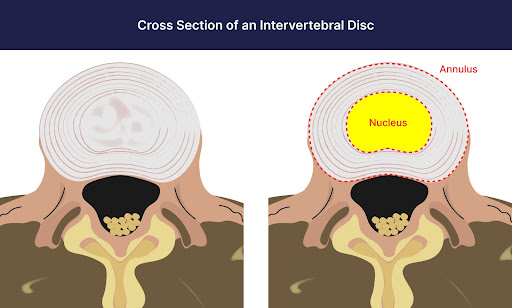 Functions: The cervical discs perform several important functions:
Shock absorption: The discs absorb and distribute forces acting on the cervical spine, reducing the impact on the vertebrae during movements such as walking, running, or jumping.
Flexibility and movement: The discs allow for flexibility and mobility of the cervical spine, enabling a range of movements like bending forward, backward, and sideways, as well as rotational movements.
Load-bearing: Cervical discs support the weight of the head and upper body, helping to maintain proper alignment and balance of the cervical spine.
Spinal stability: The discs contribute to the overall stability of the cervical spine, working in conjunction with ligaments, muscles, and other spinal structures.
For more details visit here: this page
What Is A Cervical Herniated Disc?
Cervical discs can be subject to degeneration, injury, or conditions that affect their normal structure and function.
The structural component of a disc is the annulus; damage to this will allow the common cervical disc disorders:
Herniated disc: When the annulus fibrosus weakens or ruptures, the nucleus pulposus can protrude outwards, pressing on nearby nerves and causing symptoms such as pain, numbness, and weakness.
Degenerative disc disease: With age, the discs can undergo degenerative changes, including loss of water content, thinning, and deterioration, which can lead to pain and reduced mobility.
Disc bulge: A disc bulge occurs when the annulus fibrosus protrudes beyond its normal boundaries, potentially compressing nearby structures.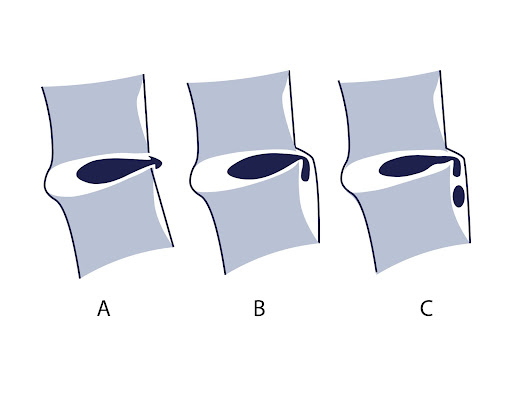 Types Of Cervical Herniated Disc
Cervical disc herniation refers to the displacement or protrusion of the intervertebral disc in the cervical spine, which can potentially compress the spinal cord or spinal nerves. Cervical disc herniations can be categorized into three main types based on their location: median, paramedian, and lateral herniations.
Median herniation: A median herniation occurs when the disc protrudes centrally and compresses the spinal cord directly. It typically affects the structures in the midline of the spinal canal.
Median herniations may cause symptoms such as pain, weakness, numbness, or loss of sensation in both arms and legs. This type of herniation is less common in the cervical spine compared to the lumbar spine.
Paramedian herniation: A paramedian herniation happens when the disc protrudes to one side of the spinal canal. It often leads to compression of the adjacent spinal nerve roots rather than the spinal cord itself.
Depending on the specific location of the herniation, it may cause symptoms on one side of the body, including neck pain, radiating arm pain, muscle weakness, and sensory changes in the corresponding dermatomal distribution.
Lateral herniation: A lateral herniation occurs when the disc protrudes to the side of the intervertebral foramen, where the spinal nerves exit the spinal canal. This type of herniation primarily affects the exiting nerve roots.
Lateral herniations commonly cause symptoms such as sharp or shooting arm pain, numbness, tingling, and muscle weakness in the corresponding nerve distribution. Lateral herniations can also compress the nerve roots within the neural foramen.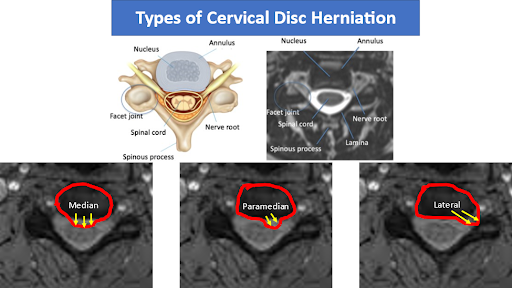 Symptoms Of Cervical Herniated Disc
It is important to note that cervical disc herniations can vary in severity, and the specific symptoms and their intensity can depend on factors such as the extent of disc protrusion, the degree of nerve compression, and individual variations.
Treatment options for cervical disc herniations may include conservative measures like rest, pain medication, physical therapy, and in some cases, surgical intervention to relieve compression and restore normal function. The choice of treatment depends on the individual's symptoms, severity of herniation, and response to conservative measures.
Cervical disc herniations can manifest with various symptoms depending on the location and extent of the herniation. Here is a description of the symptoms commonly associated with cervical disc herniations:
Cervicogenic headache: Cervicogenic headaches are headaches that originate from the cervical spine. Cervical disc herniations can cause referred pain to the head, resulting in headaches that are typically localized to the base of the skull or radiate to the forehead or temples.
Tingling or numbness in arms or hands: Cervical disc herniations that compress spinal nerves can lead to tingling sensations (paresthesia) or numbness in the arms, hands, and fingers. The affected nerve's specific distribution determines the area where the tingling or numbness is felt.
Weakness in arms/hands: Compression of spinal nerves due to cervical disc herniation can result in muscle weakness in the arms and hands. The weakness may vary in severity and can affect grip strength, fine motor skills, and coordination.
Reduced neck mobility: Cervical disc herniations may limit the normal range of motion in the neck. Individuals may experience stiffness, difficulty turning the head, and restricted neck movement due to pain or mechanical obstruction caused by the herniated disc.
Base of skull headaches: In addition to cervicogenic headaches, cervical disc herniations can also cause headaches specifically localized to the base of the skull. These headaches may be associated with neck pain and restricted neck movement.
Radiating pain with movement: Movement of the neck, such as bending forward or turning, may exacerbate pain in individuals with cervical disc herniations. The pain may radiate from the neck to the shoulders, arms, and even down to the hands.
Pain aggravated by coughing, sneezing, or laughing: Activities that increase intra-abdominal pressure, such as coughing, sneezing, or laughing, can intensify the pain experienced with cervical disc herniations. This is due to increased pressure on the already compressed nerves.
Difficulty with fine motor tasks: Cervical disc herniations affecting nerve function can lead to difficulties with fine motor tasks requiring dexterity and coordination in the hands, such as writing, buttoning clothes, or handling small objects.
Loss of coordination or balance in severe cases: In more severe cases of cervical disc herniation, compression of the spinal cord or significant nerve involvement can lead to neurological defects. These defects may include a loss of coordination, balance issues, and difficulty walking.
Cervicalgia: Cervicalgia is also known as neck pain, which is an all-too-common, unpleasant pain. Cervicalgia is also known as neck pain, which is an all-too-common, unpleasant pain.
Neck Muscle Spasms: Neck spasms are an involuntary tightening of muscles in the neck. They can be abrupt in onset and gradually increase after a given activity. Typically they involve the entire neck but maybe more intense on one side leading to an involuntary rotation of the neck.
Common Causes Of Cervical Herniated Disc
Cervical disc herniations can have various causes, and some common factors that contribute to their development include:
Genetics: Genetic factors can play a role in predisposing individuals to cervical disc herniations. Some people may have inherited traits that make their discs more susceptible to degeneration and herniation.
Age-related wear and tear: As we age, the intervertebral discs in the cervical spine naturally undergo degenerative changes. The discs lose water content and elasticity, becoming less resilient and more prone to herniation.
Poor posture: Prolonged periods of poor posture, such as slouching or forward head posture, can put excessive stress on the cervical discs. Over time, this can contribute to disc degeneration and increase the risk of herniation.
Sedentary lifestyle: Lack of regular exercise and a sedentary lifestyle can weaken the muscles and supportive structures in the neck and back. Weak muscles provide less support to the spine, making it more susceptible to disc herniation.
Heavy lifting: Lifting heavy objects improperly or using improper lifting techniques can strain the spine and increase the risk of disc herniation. The excessive load and improper mechanics can place excessive stress on the discs.
Smoking: Smoking is associated with accelerated disc degeneration. It reduces the blood supply to the intervertebral discs, depriving them of essential nutrients and oxygen, which can contribute to disc degeneration and herniation.
Obesity: Excessive body weight places increased stress on the cervical spine. The added weight can lead to increased pressure on the intervertebral discs, accelerating their degeneration and increasing the risk of herniation.
Neck injury or trauma: Traumatic events, such as car accidents or sports injuries, can cause sudden and severe forces on the cervical spine, leading to disc herniation. Trauma can also cause structural damage to the discs, making them more susceptible to herniation.
Degenerative disc disease: Degenerative disc disease refers to the natural wear and tear of the intervertebral discs over time. It involves the gradual breakdown of the discs, leading to disc degeneration, loss of disc height, and increased risk of herniation.
It is important to note that while these factors can increase the likelihood of cervical disc herniation, not everyone with these risk factors will develop herniations. A combination of these factors, along with other individual characteristics, lifestyle choices, and overall spinal health, contributes to the development of cervical disc herniations.
Diagnosing Cervical Herniated Discs
Imaging studies play a crucial role in diagnosing cervical disc herniations and providing valuable information about the location, extent, and impact of the herniation on the spinal structures. The utility of different imaging studies for diagnosing cervical disc herniations is as follows:
X-rays: X-rays are often the initial imaging modality used for evaluating cervical spine conditions. While they do not provide detailed visualization of the soft tissues like discs,
X-rays can help identify other potential causes of symptoms, such as bone spurs, fractures, or spinal misalignment. X-rays are particularly useful in ruling out more serious conditions and assessing the overall alignment and stability of the cervical spine.
Magnetic Resonance Imaging (MRI): MRI is considered the gold standard for evaluating cervical disc herniations. It provides detailed images of the soft tissues, including the intervertebral discs, spinal cord, nerves, and surrounding structures.
MRI can visualize the herniated disc, assess the degree of compression on neural structures, and help determine the appropriate treatment approach. It also helps identify other potential causes of symptoms and evaluate the overall health of the cervical spine.
Computed Tomography (CT) scan: CT scans use X-rays and computer processing to create cross-sectional images of the cervical spine.
While CT scans provide less detailed visualization of soft tissues compared to MRI, they are valuable in evaluating the bony structures and detecting any fractures, bony abnormalities, or calcifications associated with the cervical disc herniation. CT scans are especially useful when there is a suspected bone-related issue or when MRI is contraindicated (e.g., patients with pacemakers or metal implants).
The choice of imaging study depends on several factors, including the patient's symptoms, clinical presentation, and the suspected severity of the condition.
X-rays are often the initial screening tool, while MRI is typically used for confirming the diagnosis and assessing soft tissue involvement. CT scans are reserved for specific situations where bone-related abnormalities need to be evaluated in more detail.
It's important to note that imaging studies should be interpreted in conjunction with the patient's clinical history, physical examination findings, and symptoms to make an accurate diagnosis and determine the appropriate treatment plan. A healthcare professional, such as a radiologist or spine specialist, should interpret the imaging results and correlate them with the patient's clinical presentation.
Common Treatments for Cervical Herniated Disc
With any injury, treatments are minimally invasive and progress to more invasive procedures over-time until you find success or improvement of your symptoms.
Regenexx® Alternatives to Back & Neck Surgery
Regenexx has a range of procedures developed to help patients avoid spine surgery and the side effects of epidural steroid injections.
These procedures utilize the patient's own natural growth factors or bone marrow concentrate containing stem cells to treat bulging or herniated discs, degenerative conditions in the spine, and other back and neck conditions that cause pain. Click this page to learn more.
Complications and Risks of Cervical Disc Surgery
Cervical disc surgery, like any surgical procedure, carries potential risks and complications. Although complications are relatively rare, it's important to be aware of the possible risks.
Some potential complications of cervical disc surgery include:
Infection: There is a risk of infection at the surgical site or in the surrounding tissues. This can usually be treated with antibiotics, but in some cases, additional surgical intervention may be required.
Bleeding: Excessive bleeding can occur during or after surgery. In rare cases, it may require a blood transfusion or further surgical intervention to control the bleeding.
Nerve or spinal cord injury: During the surgery, there is a small risk of damage to nearby nerves or the spinal cord, which can result in temporary or permanent neurological defects. The risk of such injuries is generally low.
Persistent or increased pain: Some patients may experience persistent or increased pain following cervical disc surgery. This could be due to various factors, such as nerve irritation, scar tissue formation, or incomplete resolution of the underlying problem.
Hoarseness or difficulty swallowing: The surgical approach used for cervical disc surgery may involve moving or retracting the esophagus or laryngeal nerves, which can lead to temporary hoarseness or difficulty swallowing. These symptoms usually resolve on their own.
Instrumentation-related complications: If cervical fusion is performed, complications associated with the hardware used (such as plates, screws, or cages) can occur. These include hardware loosening, fracture, or migration.
Blood clots: There is a small risk of developing blood clots (deep vein thrombosis) in the legs, which can potentially travel to the lungs (pulmonary embolism). Measures such as early mobilization and blood thinners may be used to prevent this.
It's essential to discuss these potential complications and their likelihood with your surgeon before undergoing cervical disc surgery. Surgeons will take appropriate precautions to minimize the risks and maximize the chances of a successful outcome.
Is Surgery Necessary?
Surgery is only suggested when there is neurologic compromise such as progressive weakness or bowel / bladder incontinence. Pain, no matter how severe, does not necessitate surgery before all alternative treatments have been attempted.
Once you have surgery, the spine is never the same. At the same time, if the surgery fails to treat pain, it can lead to chronic pain and other complications.
Rehabilitation and Physical Therapy for Cervical Herniated Discs
Therapy is important for individuals with disc herniations as it helps manage pain, avoid surgery, and rehabilitate after surgery if necessary. It provides education, promotes self-management, and improves mobility, functionality, and strength.
Therapy also addresses psychological well-being and empowers individuals to actively participate in their recovery and prevent future injuries.
Coping Strategies And Lifestyle Changes
Coping strategies and lifestyle changes can be helpful in managing disc herniations.
Here are some key approaches:
Pain management techniques: Utilize techniques such as heat or cold therapy, gentle stretching, relaxation exercises, and over-the-counter pain medications to help alleviate pain and discomfort.
Correct body mechanics: Practice proper body mechanics during activities such as lifting, bending, and sitting. This involves using the legs instead of the back, maintaining good posture, and avoiding repetitive or prolonged activities that may strain the spine.
Weight management: Maintain a healthy weight or work towards achieving a healthy weight to reduce the strain on the spine and minimize pressure on the discs.
Exercise and physical activity: Engage in regular low-impact exercises, such as walking, swimming, or cycling, to improve strength, flexibility, and overall fitness. Focus on exercises that strengthen the core muscles and support the spine.
Posture and ergonomics: Pay attention to maintaining good posture while sitting, standing, and performing daily activities. Use ergonomic principles, such as ergonomic chairs and proper desk setup, to reduce strain on the spine during prolonged sitting or computer work.
Avoid smoking: Smoking can impair the healing process and decrease blood flow to the spine, potentially exacerbating disc herniation symptoms. Quitting smoking or avoiding exposure to tobacco smoke can contribute to better healing and overall spine health.
Stress management: Develop effective stress management techniques, such as relaxation exercises, deep breathing, meditation, or engaging in hobbies and activities that promote relaxation and mental well-being. High stress levels can contribute to muscle tension and exacerbate pain.
Adequate rest and sleep: Ensure you are getting sufficient rest and practicing good sleep hygiene. Sleep is essential for the body's healing and recovery processes.
Proper nutrition: Maintain a balanced diet rich in nutrients to support overall health and provide essential building blocks for tissue healing and repair.
Regular check-ups: Stay in touch with healthcare professionals to monitor your condition, receive guidance on managing symptoms, and address any concerns that may arise.
Remember, it's important to consult with healthcare professionals, such as orthopedic specialists or physical therapists, who can provide personalized recommendations and guidance tailored to your specific needs and condition.
Don't Let Cervical Herniated Discs Hold Your Life Back
Cervical disc herniations do not have to be the end of the road. There exists a multitude of options. If you have been dealing with a disc herniation and are contemplating surgery, call and set up an evaluation with one of our experts who can further evaluate you and your candidacy for a surgery avoidance.
Other Resources for Herniated Cervical Disc
Neck pain is a common musculoskeletal complaint. Over twenty-five million Americans are absent from work for eleven days on average due to neck pain (1). Neck pain has many causes and is often considered multifactorial. As a result, it is especially important to diagnose the cause of the neck pain so that it can be…