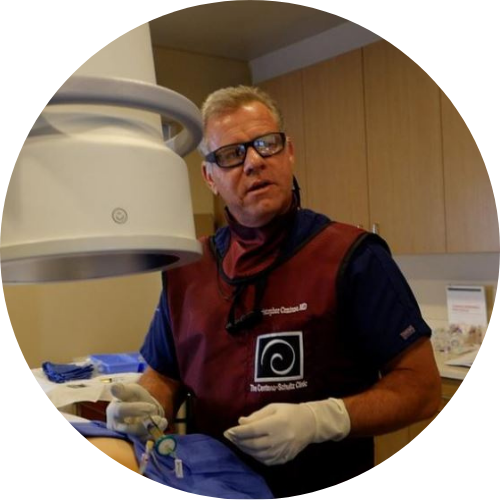 Christopher J. Centeno, MD
---

---
About Dr. Chris Centeno
Christopher J. Centeno, M.D. is an international expert and specialist in Interventional Orthopedics and the clinical use of bone marrow concentrate in orthopedics. He is board-certified in physical medicine and rehabilitation with a subspecialty of pain medicine through The American Board of Physical Medicine and Rehabilitation.
Dr. Centeno is one of the few physicians in the world with extensive experience in the culture expansion of and clinical use of adult bone marrow concentrate to treat orthopedic injuries. His clinic incorporates a variety of revolutionary pain management techniques to bring its broad patient base relief and results. Dr. Centeno treats patients from all over the US who travel to Colorado to undergo innovative, non-surgical treatments. Dr. Centeno has chaired multiple international research-based conferences. He also maintains an active research-based practice, with multiple publications listed in the US National Library of Medicine. Dr. Centeno has also served as editor-in-chief of a medical research journal dedicated to traumatic injury.
Dr. Centeno trained at the Baylor College of Medicine, Texas Medical Center, and the Institute for Rehabilitation Research. He hails from both Florida and New York and currently resides in Boulder, Colorado with his wife and three children.
Board Certfications
Physical Medicine and Rehabilitation, American Academy of Physical Medicine
I've been a patient of Dr Centeno for over 8 years. I have nothing but the highest complements for his professionalism, insights and overall care.…
Jim H.
I was very happy after having our initial consultation and knowing that he was very confident he could help my son. After seeing three surgeons…
Michelle P.
Request An Appointment with Dr. Centeno