Thoracic Radiculopathy
CAUSES, SYMPTOMS, TREATMENT OPTIONS, AND OTHER RESOURCES
Thoracic radiculopathy is a painful medical condition that affects both men and women alike. Pain, paresthesia, decreased sensation, and weakness are the major symptoms. Radiculopathy refers to the whole complex of symptoms that can be caused by irritation or compression of a nerve root in the spine. Thoracic radiculopathy is irritation or compression of a thoracic spinal nerve. Common causes of radiculopathy in the thoracic region are thoracic disc injuries, thoracic facet arthritis, ligament thickening, facet cyst, unstable rib attachments, and bone spurs. Diagnosis of thoracic radiculopathy can be difficult. Treatment options vary depending upon the severity and when appropriate should always start with conservative care.
An Overview With Dr. John Schultz
Where In The Thoracic Spine Does It Hurt?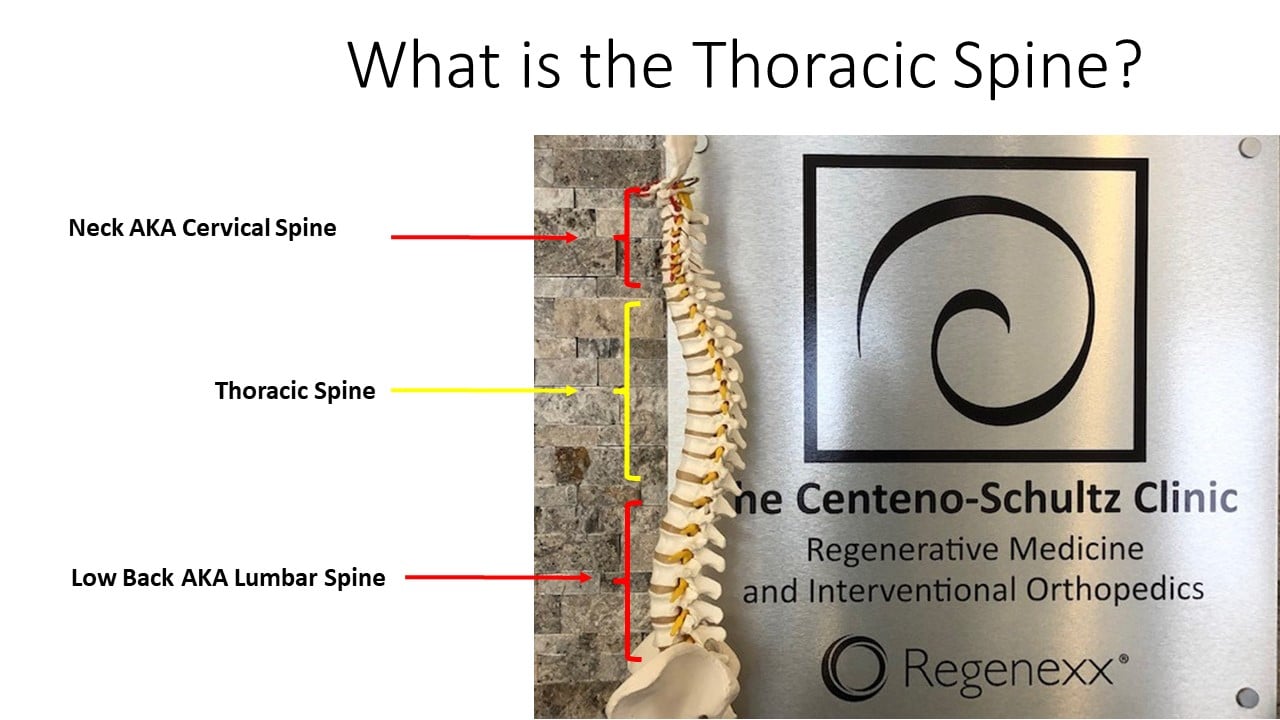 The thoracic spine is that part of the spine that is below the neck and above the low back. Oftentimes it is referred to as mid-back. It consists of 12 boney building blocks that stack one upon another (vertebral bodies). Sandwiched between the boney building blocks is an important shock absorber called a disc. There are 12 pairs of ribs in the body: right and left. At each level of the spine, a rib joins the spine forming a joint termed the costotransverse joint (CTJ). Thoracic nerves exit the spinal canal at each level of the spine. Each thoracic nerve corresponds with a specific area in the spine as illustrated below.
Irritation or compression of a thoracic spinal nerve can cause pain and altered sensation along the nerve's path. The pain can be local or radiate: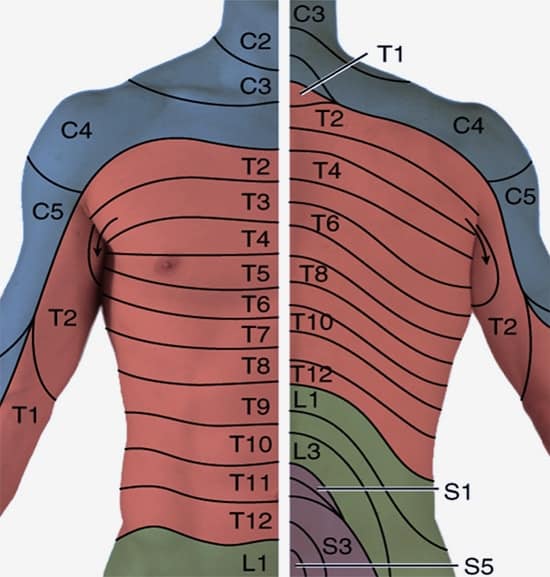 Up into the neck
Across the chest wall
Down into the low back
Painful Symptoms Of Thoracic Radiculopathy
Pain is common with thoracic radiculopathy and can vary in location and intensity depending on the location and severity of the actual nerve irritation or injury. Pain can be mild, moderate, or severe. Onset may be gradual or abrupt in nature. The pain can be localized or present as:
Scorching or shooting pain in the ribs, side, or abdomen
Band-like pain
Pain in the chest and torso
Abnormalities Caused By Thoracic Nerve Damage
Irritation or compression of a thoracic nerve can cause a number of different signs and symptoms. The symptoms and their intensity depend upon many factors including the location of the nerve injury, its severity, and whether it is acute or longstanding. Common abnormalities include:
Paresthesia
This is defined as an abnormal sensation, typically tingling, pricking ("pins and needles"), or even a burning sensation along the path of the nerve.
Hypoesthesia
Abnormally decreased sensitivity, particularly to touch, characterizes this symptom.
Anesthesia
It is defined as insensitivity to pain and is characterized by motor loss, pain, and stiffness.
Weakness
Irritation or compression of a nerve can lead to muscle weakness and atrophy.
Causes Of Radiculopathy In The Thoracic Region
At each level of the spine, a nerve exits the spinal cord through a boney doorway called the neuroforamen. Foramen means door. Hence a neuroforamen refers to the doorway through which the nerve exits the spinal cord along its path to different structures in the body. There are multiple structures surrounding the exiting thoracic nerve root which can narrow its path. If significant, the narrowing can cause irritation and or compression of the nerve. This narrowing when severe is referred to as foraminal stenosis. Common causes of radiculopathy in the thoracic spine include: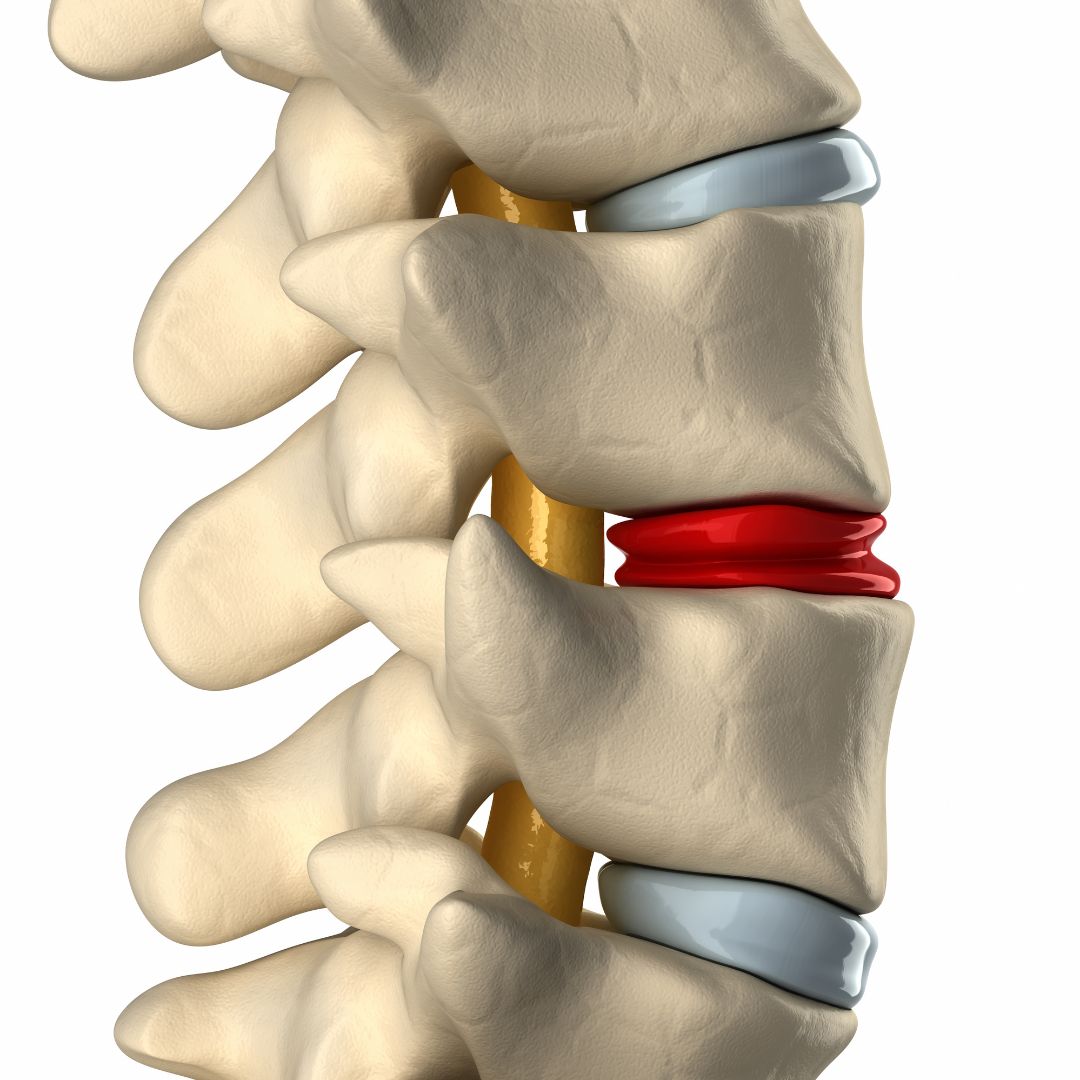 Thoracic Disc Injury:
Disc protrusions, disc herniations, or extrusion can irritate or compress a thoracic nerve
Thoracic Facet Arthritis:
Arthritis can lead to swelling within and around the joint. This can narrow the boney doorway through which the thoracic nerves exit the spine leading to thoracic radiculopathy.
Ligament Thickening:
A ligament is a thick fibrous band of connective tissue that connects bone to bone. When bulked up it can cause thoracic radiculopathy
Facet Cyst:
Cysts can extend beyond the facet joint potentially compromising the thoracic nerve.
Unstable rib attachments:
Excessive movement of the rib head at its attachment to the spine can cause nerve root irritation
Bone Spurs:
Abnormal boney growths can also irritate or compress a thoracic nerve.
Why Is Radiculopathy In The Thoracic Difficult To Diagnose?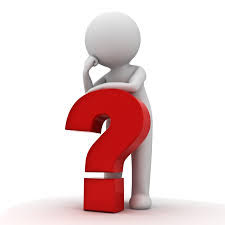 The chest cavity contains many structures which include the thoracic spine, ribs, disc, facet joints, nerves, costovertebral joints, and ligaments in addition to vital organs. These include the heart, lungs, liver, spleen, pancreas, kidneys, and bowel. Each of these is susceptible to injury with resultant pain.
Because of the many different structures within the chest cavity oftentimes it is difficult to identify the source of a given pain. Pain arising in the thoracic spine may come from one or more sources. Is the pain due to thoracic nerve irritation or is it being referred from the lung? This is what makes the diagnosis of thoracic radiculopathy difficult.
Pain perceived in the thoracic spine is not always originating from the spine. Pain perceived or felt in an area different from the actual tissue damage is called referred pain. An example is a kidney stone. The tissue injury is within the kidney but many patients complain of the severe chest wall and flank pain.
How Specialists Check For Radiculopathy In The Thoracic
The first step in identifying thoracic radiculopathy begins with a review of current and past medical and surgical history along with a thorough physical examination.
Numbness or lack of sensation
Muscle reflexes: nerve irritation may cause diminished reflexes.
Muscle endurance: when the electrical signal to a given muscle is compromised the muscle can start to shrink in size.
Spinal posture: spinal alignment is key to the health and vitality of the thoracic spine. Abnormal curves in the spine such as kyphosis or scoliosis can cause thoracic radiculopathy.
Diagnostic tests may include:
X-rays to evaluate the alignment of spinal bones
Thoracic spine MRI: detailed 3D imaging of the spine evaluating the discs, facet joints, ligaments, and nerves for injury.
How To Relieve Thoracic Nerve Pain
Conservative treatments when appropriate should always be the first step in the treatment of thoracic radiculopathy. They include:
Rest
Physical Therapy
Chiropractic Care
Ice/Heat
Medications: NSAID, muscle relaxants, and nerve medications like Lyrica and Cymbalta.
Why Epidural Steroids Are A Bad Idea For Your Spine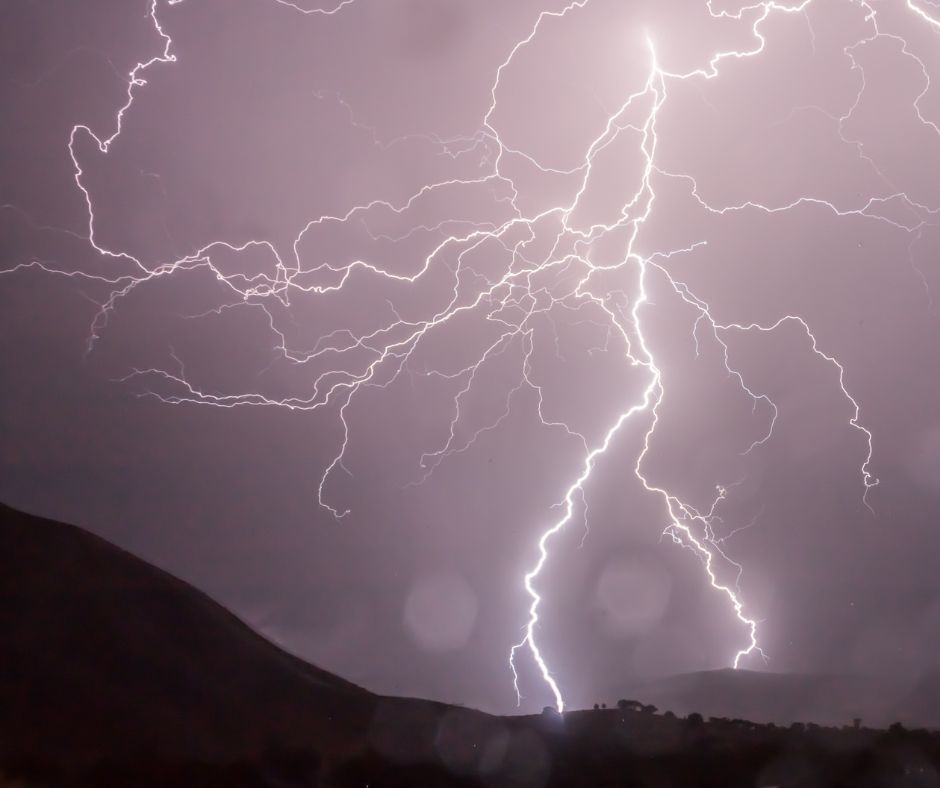 When conservative treatments fail, many patients are referred for an epidural steroid injection. The goal of an epidural steroid injection is to reduce inflammation around the nerve. Steroids are very powerful anti-inflammatory agents. Common examples include Solumedrol, betamethasone, and methylprednisolone.
The bad news is that corticosteroids are extremely toxic to local stem cells around the spine that maintain the health of the local tissue (1, 2). They also damage the cartilage in the facet and costotransverse joint.
Traditional spine physicians treat thoracic radiculopathy with high-dose corticosteroid epidurals to reduce inflammation around the nerve root.
While corticosteroids do have a potent anti-inflammatory effect when placed around the nerves, this can reduce symptoms. The bad news is that corticosteroids are extremely toxic to the local stem cells around the spine that maintain the health of local tissue (1,2).
In addition to local toxicity, they have systemic effects. Epidural steroid injections have been associated with a 29% increase in spinal fracture risk, for each epidural shot, in middle-aged and older women due to bone loss (3,4).
Another risk women assume with epidural steroid injections is vaginal bleeding after the procedure and studies show these shots can cause poor blood-sugar control in diabetics (5, 6).
Can Steroids Affect Your Hormones?
Epidural steroid injections have been shown to suppress the hypothalamus-pituitary-adrenal (HPA) axis, which is the brain loop that allows you to respond to stress and inflammation. The effect lasts as much as three weeks after just one injection.
These hormones affect the function of almost every tissue type in your body (7)! This suppression effect can create problems with energy reserves, hormonal regulation, the nervous system, and immune function, and increase susceptibility to illnesses.
A similar effect was also found with steroids injected into knees, with a resulting 60% of subjects showing adrenal problems two months after their steroid injections (8).
Steroid injections into knees are also associated with significant cartilage loss with no clinically significant improvement in pain.(9). If all of this isn't enough, we've seen many studies simply showing these epidural steroid injections are providing less relief than the anesthetic alone (10).
So Why Are Steroids Always Recommended?
When conservative treatment fails, many patients are referred for an epidural steroid injection. Steroids are a readily, low-cost treatment option for patients in pain. Steroids can be taken orally, injected intravenously, or intramuscularly. Steroids are powerful anti-inflammatory agents.
Why did one steroid help, but the additional ones help minimally, if at all?
First epidural: Knocks down the inflammatory process but also kills off the important local stem cells that maintain the tissue.
Second epidural: Continues to reduce inflammation but again takes out the most local maintenance cells
Third epidural: Most of the inflammation is gone but all the local cells that keep the tissue healthy are no longer present and pain starts to build because tissue continues to break down.
Can Surgery Help Thoracic Radiculopathy?
When conservative therapy and steroid epidural injections fail to provide significant or sustained benefit some patients are referred for surgical consultation.
The 3 most common thoracic surgeries were discussed in a previous blog. They include
Posterior thoracic fusion
Thoracic Laminectomy
Thoracic Discectomy
The biggest problem with thoracic spine surgery is the complications. They include:
Infection
Bleeding
Nerve injury
Lung Injury/Collapse
Rib Injury
Increased pain
Spinal cord injury
The complication rate is as high as 35%, and given the unique aspects of the thoracic spine, rib attachments, lungs nearby, many large blood vessels, spinal cord, and other vital structures, the complications from surgery can be severe and life-threatening.
These complications can be infections, re-herniation of the disc, persistent pain, further degeneration of the disc, and spinal cord or nerve injury. Some complications do not show up until after surgery. Some show up quickly and some may take months to become evident (11).
Alternatives To Traditional Medical Treatments
Is there an alternative to corticosteroids that can help prevent the need for surgery?
In 2017, we published the world's first clinical research article outlining a better way to treat radiculopathy compared to steroid injections. We have been utilizing these advanced injections for the past 15 years and seeing excellent results.
Platelet-Rich Plasma Injections
Here is a quick video outlining the use of platelet-rich plasma called platelet lysate in spine treatment.
Seek A Better Solution For Thoracic Radiculopathy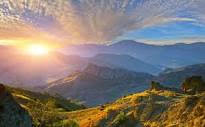 We have been treating thoracic radiculopathies for over a decade with excellent results that are safer and more effective when compared to traditional corticosteroid epidurals.
If you have been diagnosed or have symptoms that fit this diagnosis, feel free to contact our office to get set up for an evaluation where we can further discuss these treatment options and discuss your candidacy for these procedures.
Thoracic radiculopathy shouldn't keep you from living the life you want. Schedule an appointment with us today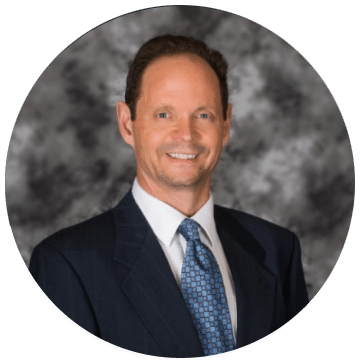 John Schultz, MD
John R. Schultz M.D. is a national expert and specialist in Interventional Orthopedics and the clinical use of bone marrow concentrate and PRP for orthopedic injuries. He is board certified in Anesthesiology and Pain Medicine and underwent fellowship training. Dr. Schultz has extensive experience with same day as well as culture expanded bone marrow concentrate and sees patients at the CSC Broomfield, Colorado Clinic, as well the Regenexx Clinic in Grand Cayman. Dr. Schultz emphasis is on the evaluation and treatment of thoracic and cervical disc, facet, nerve, and ligament injuries including the non-surgical treatment of Craniocervical instability (CCI).
More Resources for Thoracic Conditions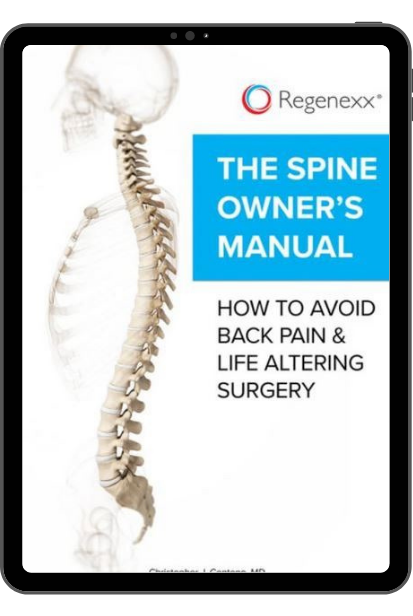 The Spine Owner's Manual: How to Avoid Back Pain & Life-Altering Surgery
This e-book from Dr. Chris Centeno focuses on the spine and how it functions within the human musculoskeletal system and the body as a whole. Everything in our bodies works together like a well-tuned symphony to support our well-being, and a strong spine (including all of its component parts, such as spinal nerves, ligaments, muscles, etc.) is critical to complete health.
Using the Regenexx SANS approach, The Spine Owner's Manual provides a series of tests and clearly defined exercises that you can do on your own to measure and monitor your own spinal health. These musculoskeletal tests will allow you to monitor where your own body might be struggling to maintain proper stability, articulation, symmetry, and neuromuscular function.
Degenerative changes of the thoracic spine involve the gradual loss of normal structure and function over time. There are several different causes which are discussed in detail below. The thoracic spine is composed of many different and important components that are susceptible, both to injury and generalized wear and tear. The degeneration can occur in…
References

1.Zhang AZ, Ficklscherer A, Gülecyüz MF, et al. Cell Toxicity in Fibroblasts, Tenocytes, and Human Mesenchymal Stem Cells-A Comparison of Necrosis and Apoptosis-Inducing Ability in Ropivacaine, Bupivacaine, and Triamcinolone. Arthroscopy. 2017;33(4):840-8. https://www.ncbi.nlm.nih.gov/pubmed/28089496
2. Wyles CC, Houdek MT, Wyles SP, et al. Differential cytotoxicity of corticosteroids on human mesenchymal stem cells. Clin Orthop Relat Res. 2015;473(3):1155-64. https://www.ncbi.nlm.nih.gov/pubmed/25187334
3. Carreon LY, Ong KL, Lau E, et al. Risk of Osteoporotic Fracture After Steroid Injections in Patients With Medicare. Am J Orthop. 1976;46(5):E293-E300. https://www.ncbi.nlm.nih.gov/pubmed/29099886
4.Nah SY, Lee JH, Lee JH, et al. Effects of Epidural Steroid Injections on Bone Mineral Density and Bone Turnover Markers in Patients Taking Anti-Osteoporotic Medications. Pain Physician. 2018;21(4):E435-E447. https://www.ncbi.nlm.nih.gov/pubmed/30045610
5. Even JL, Crosby CG, Song Y, et al. Effects of epidural steroid injections on blood glucose levels in patients with diabetes mellitus. Spine. 2012;37(1):E46-50. https://www.ncbi.nlm.nih.gov/pubmed/21540770
6. Shanthanna H, Busse JW, Goudsmit EM, et al. Abnormal vaginal bleeding after epidural steroid injection: is there a cause for concern. Evid Based Med. 2014;19(2):e16. https://www.ncbi.nlm.nih.gov/pubmed/24282169
7. Habib G, Jabbour A, Salman J, et al. The effect of epidural methylprednisolone acetate injection on the hypothalamic-pituitary-adrenal axis. J Clin Anesth. 2013;25(8):629-33. https://www.ncbi.nlm.nih.gov/pubmed/23988802
8. Johnston PC, Lansang MC, Chatterjee S, et al. Intra-articular glucocorticoid injections and their effect on hypothalamic-pituitary-adrenal (HPA)-axis function. Endocrine. 2015;48(2):410-6. https://www.ncbi.nlm.nih.gov/pubmed/25182149
9. McAlindon TE, LaValley MP, Harvey WF, et al. Effect of Intra-articular Triamcinolone vs Saline on Knee Cartilage Volume and Pain in Patients With Knee Osteoarthritis: A Randomized Clinical Trial. JAMA. 2017;317(19):1967-75. https://www.ncbi.nlm.nih.gov/pmc/articles/PMC5815012/
10. Felson DT, Anderson JJ, Goudsmit EM, et al. Across-study evaluation of association between steroid dose and bolus steroids and avascular necrosis of bone. Lancet. 1987;1(8538):902-6. https://www.ncbi.nlm.nih.gov/pubmed/2882300
11. Manchikanti L, Knezevic NN, Boswell MV, et al. Epidural Injections for Lumbar Radiculopathy and Spinal Stenosis: A Comparative Systematic Review and Meta-Analysis. Pain Physician. 2016;19(3):E365-410. https://www.ncbi.nlm.nih.gov/pubmed/27008296
12. McCormick WE, Will SF, Benzel EC. Surgery for thoracic disc disease. Complication avoidance: overview and management. Neurosurg Focus. 2000;9(4):e13. https://www.ncbi.nlm.nih.gov/pubmed/29225115
13. O'Connor RC, Andary MT, Russo RB, et al. Thoracic radiculopathy. Phys Med Rehabil Clin N Am. 2002;13(3):623-44, viii. https://www.ncbi.nlm.nih.gov/pubmed/12380552