Spondylolisthesis
Causes, Symptoms, Treatment, & Other Resources
How bad is spondylolisthesis surgery recovery? Let's review what spondylolisthesis is, and what can be done.
What Is Spondylolisthesis?
Spondylolisthesis means that one vertebra is slipping forward or backwards on another. This causes the hole where the nerve exits (foramen) to get smaller (also called foraminal stenosis). It also causes more wear and tear on the facet joint which can lead to arthritis or what's called "facet hypertrophy".
The amount of slippage is graded 1-4, with grade 1 meaning that the one vertebra has slipped up to 25% on the other vertebra. Grade 2 means that one bone has slipped from 25-50% with higher grades indicating more slippage. The vast majority of patients are grade 1 to 2.
What Causes It?
What causes this to happen? Some people are born with bones not properly connected (congenital spondylolisthesis), but most just have wear and tear arthritis which causes one vertebra to begin to shift (degenerative spondylolisthesis). When the bone isn't connected this is also called spondylolysis and this issue is more common in men while degenerative spondylolisthesis is more common in women (1).
Symptoms of Spondylolisthesis
Spondylolisthesis may not have any symptoms. Some people have it without realizing it. If you do, lower back discomfort is usually the primary symptom. The discomfort might extend down your legs and into your buttocks. You could also get:
Back stiffness.
Back pain.
Difficulty walking or standing for lengthy periods of time.
Pain when bending over.
Numbness, weakness, or tingling in the foot, hamstrings, calves, knees, and legs.
Can You Become Paralyzed from Spondylolisthesis?
One reason patients decide to embark on spondylolisthesis surgery recovery is that they're told they could become paralyzed if they don't have immediate surgery. However, it is very unlikely that you will become paralyzed from a prior spinal abnormality like spondylolisthesis, even if you're in a car crash. For example, patients with spinal stenosis (where the hole for the spinal cord is too small) are often told that if they sustain significant trauma they may become paralyzed hence they need surgery now. However, research has shown that the risks from the surgery are much greater than any risk of paralysis (2).
Treatment Options for Spondylolisthesis
There are various non-surgical therapies available to help you manage and reduce discomfort. The following are among them:
Rest.
Physical therapy. You can increase the strength of the muscles surrounding the afflicted region by exercising in a way that minimizes strain on your back and increases mobility.
Medication. The pain can be managed by any of a number of over-the-counter pain medications, including Tylenol or anti-inflammatory medicines. A doctor may also subscribe muscle relaxers.
Epidural steroid injections. For patients suffering significant pain or numbness in the back or legs, an epidural steroid injection can reduce inflammation and relieve pain.
Back brace
Platelet-rich plasma injection (more specifically, the Perc-FSU procedure)
When conservative care ends, surgery is often the first thing that is called for. However, this shouldn't be the case. Why? Let's dig in.
Is Surgery for Spondylolisthesis Successful?
There different types of surgeries performed for this condition and each has a different spondylolisthesis surgery recovery pathway. First up is fusion, which means that the doctor uses rods and screws to bolt the spine together. The discs, which are usually mobile shock absorbers, are removed and a bone or a spacer device is inserted in that spot. Another option is decompression surgery without fusion, where the doctor will remove bone, parts of the disc, or ligaments to "open up" the area around the spinal nerves.
If you opt for more aggressive spinal fusion surgery, one major decision you'll have to make is whether to get fusion and opt for a longer recovery. Meaning the decompression is usually performed, but the surgeon can either fuse or not. The research on which is better shows no difference between decompression with or without fusion (9,10). So why is fusion often added? That's a great question to which there is no easy answer.
Also, realize that the gold standard in medical research is comparing a surgery against a faked procedure known as a sham operation. No such research exists for spondylolisthesis surgery. Meaning we have no high-level research on whether the surgery is more effective than doing nothing.
What Does Spondylolisthesis Surgery Recovery Look Like?
Your spondylolisthesis surgery recovery will be longer starting with spending more time in the hospital (generally a few days) if you have fusion surgery. Fusion patients also need more narcotics for the first two months compared with decompression alone (11). In a worker's comp setting, only 30-60% of patients who had the fusion surgery returned to full-time work (12).
What are the Complications of a Lumbar Fusion?
There are a several ways in which fusion surgery can fail and here are the categories:
Non-union (failure of the bones to heal or grow together)
Loosening or breakage of the hardware (screws, rods, and connectors)
Pain caused by the hardware
ASD (Adjacent segment disease)
First, the level being operated on and fused together with bone can fail to heal and this problem is called a non-union. For procedures that need more bone, like a fusion that is posterior-lateral, the non-union rates can be quite high from 26% to 36% (3, 4). The screws or rods can break or cause pain themselves and both common reasons a second surgery is undertaken after an initial fusion. Overall, a bit more than 1 in 10 patients who have a low back fusion require a second surgery to fix a problem with the first operation (5).
Adjacent segment disease (ASD) means that the spinal levels above or below get degenerated due to excessive force on those areas because of the solid fusion (6). At about 24 months after a back fusion, 12% of patients will get ASD (7). In addition, about 2-4% of the patients will get ASD for every year the patient is active after the fusion, so at 5-years after the first operation, up to 1 in 5 patients will get ASD (8). To understand more, watch my video below:
Can Spondylolisthesis Be Cured without Surgery?
I have a grade 1 degenerative spondylolisthesis, so I'm pretty experienced with this one. Have I had a fusion or decompression surgery? Nope. What did I have done?
As discussed, this problem usually happens because of loose ligaments. There are also arthritic facet joints and pinched nerves and weak muscles. Hence, I had the Perc-FSU (Percutaneous-Functional Spinal Unit) procedure where my own blood platelets were concentrated and injected precisely using x-ray guidance into the ligaments, joints, muscles, and around nerves. This allowed me to get more functional with fewer problems and combined with gains from physical therapy, I no longer throw my back out every time I lean forward. My x-rays also look better, no longer showing that pronounced slippage of L5 on S1. See the video below for information on that procedure:
The upshot? Spondylolisthesis surgery recovery can be rough. That's why I decided to skip the surgery. Instead, I used Regenexx procedures for spine and cervical conditions. However, if you do need surgery, the research is clear that fusion isn't required.
Doctors Who Assist with Spondylolisthesis
Other Resources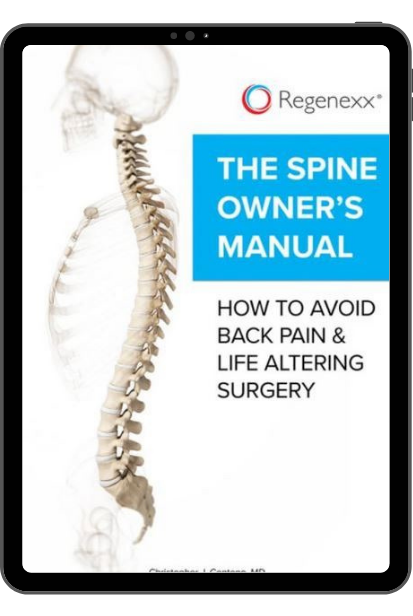 The Spine Owner's Manual: How to Avoid Back Pain & Life-Altering Surgery
This e-book from Dr. Chris Centeno focuses on the spine and how it functions within the human musculoskeletal system and the body as a whole. Everything in our bodies works together like a well-tuned symphony to support our well-being, and a strong spine (including all of its component parts, such as spinal nerves, ligaments, muscles, etc.) is critical to complete health.
Using the Regenexx SANS approach, The Spine Owner's Manual provides a series of tests and clearly defined exercises that you can do on your own to measure and monitor your own spinal health. These musculoskeletal tests will allow you to monitor where your own body might be struggling to maintain proper stability, articulation, symmetry, and neuromuscular function.
Relevant Blog Posts
Degenerative disc disease (DDD) is a physiological breakdown of the intervertebral discs in the spine. Clinical studies have shown that disc degeneration, or the narrowing of at least one intervertebral space, is prevalent in nearly 60% of the population above 40 years of age(1). DDD can occur in the cervical, thoracic, or lumbar spine. While … Continued

---
---
References:
(1) Osti L, Buda M, Del Buono A. Fatty infiltration of the shoulder: diagnosis and reversibility. Muscles Ligaments Tendons J. 2014;3(4):351–354. https://www.ncbi.nlm.nih.gov/pmc/articles/PMC3793342/
(2) Murphy, Donald R et al. "Cervical spondylosis with spinal cord encroachment: should preventive surgery be recommended?." Chiropractic & osteopathy vol. 17 8. 24 Aug. 2009, doi:10.1186/1746-1340-17-8
(3) Herkowitz HN, Kurz LT. Degenerative lumbar spondylolisthesis with spinal stenosis. A prospective study comparing decompression with decompression and intertransverse process arthrodesis. J Bone Joint Surg Am. 1991 Jul; 73(6):802-8. https://www.ncbi.nlm.nih.gov/pubmed/2071615/
(4) Tsutsumimoto T, Shimogata M, Yoshimura Y, Misawa H. Union versus nonunion after posterolateral lumbar fusion: a comparison of long-term surgical outcomes in patients with degenerative lumbar spondylolisthesis. Eur Spine J. 2008;17(8):1107–1112. doi: 10.1007/s00586-008-0695-9
(5) Greiner-Perth R, Boehm H, Allam Y, Elsaghir H, Franke J. Reoperation rate after instrumented posterior lumbar interbody fusion: a report on 1680 cases. Spine (Phila Pa 1976). 2004 Nov 15;29(22):2516-20. https://www.ncbi.nlm.nih.gov/pubmed/15543064
(6) Saavedra-Pozo FM, Deusdara RA, Benzel EC. Adjacent segment disease perspective and review of the literature. Ochsner J. 2014;14(1):78–83. https://www.ncbi.nlm.nih.gov/pmc/articles/PMC3963057/
(7) Zhong ZM1 Deviren V, Tay B, Burch S, Berven SH. Adjacent segment disease after instrumented fusion for adult lumbar spondylolisthesis: Incidence and risk factors. Clin Neurol Neurosurg. 2017 May;156:29-34. doi: 10.1016/j.clineuro.2017.02.020.
(8) Tobert DG, Antoci V, Patel SP, Saadat E, Bono CM. Adjacent Segment Disease in the Cervical and Lumbar Spine. Clin Spine Surg. 2017 Apr;30(3):94-101. doi: 10.1097/BSD.0000000000000442.
(9) Försth P, Ólafsson G, Carlsson T, Frost A, Borgström F, Fritzell P, Öhagen P, Michaëlsson K, Sandén B. A Randomized, Controlled Trial of Fusion Surgery for Lumbar Spinal Stenosis. N Engl J Med. 2016 Apr 14;374(15):1413-23. doi: 10.1056/NEJMoa1513721.
(10) Noorian S, Sorensen K, Cho W. A systematic review of clinical outcomes in surgical treatment of adult isthmic spondylolisthesis. Spine J. 2018 Aug;18(8):1441-1454. doi: 10.1016/j.spinee.2018.04.022.
(11) Vail D, Azad TD, O'Connell C, Han SS, Veeravagu A, Ratliff JK. Postoperative Opioid Use, Complications, and Costs in Surgical Management of Lumbar Spondylolisthesis. Spine (Phila Pa 1976). 2018;43(15):1080–1088. doi:10.1097/BRS.0000000000002509
(12) Anderson JT, Haas AR, Percy R, Woods ST, Ahn UM, Ahn NU. Workers' Compensation, Return to Work, and Lumbar Fusion for Spondylolisthesis. Orthopedics. 2016 Jan-Feb;39(1):e1-8. doi: 10.3928/01477447-20151218-01
If you need stem cell therapy in Denver CO, please gives us a call at 303-429-6448.