Regenexx® Non-Surgical Treatment for Elbow Pain
For Elbow Injuries, Overuse Conditions and Arthritis
Am I a Candidate?
What Are Regenexx Procedures for Elbows?
Regenexx® procedures use sophisticated image-guided injections to place high-dose platelet-rich plasma or bone marrow concentrate. As the headquarters of Regenexx, Centeno-Schultz is where all of these procedures used by our national network began and were invented. These are breakthrough, non-surgical procedures for people suffering from elbow pain due to common injuries, overuse conditions, and arthritis. So, if you're looking for an alternative to elbow surgery in Denver or Boulder, Colorado, what you really need is what we offer at Centeno-Schultz Clinic.
Traditional options for patients suffering from these conditions include:
medial epicondyle release (for golfer's elbow),
lateral epicondylitis release (for tennis elbow),
synovectomy,
elbow interpositional arthroplasty, and
total elbow replacement.
With both surgeries, months of rehab are required, and the patient must be aware of and prepared to take on the risks. As an alternative, the Regenexx Same-Day procedure may help alleviate elbow pain and the conditions that cause it with a sophisticated office injection procedure.
Elbow Conditions We Treat
This is not a complete list, so please contact us or complete the Regenexx Candidate Form if you have questions about whether you or your condition can be treated with these non-surgical procedures.
Arthritis
Instability
Lateral Epicondylitis – Also known as Tennis Elbow
Medial Epicondylitis – Also known as Golfer's Elbow
Nerve entrapment (ulnar nerve)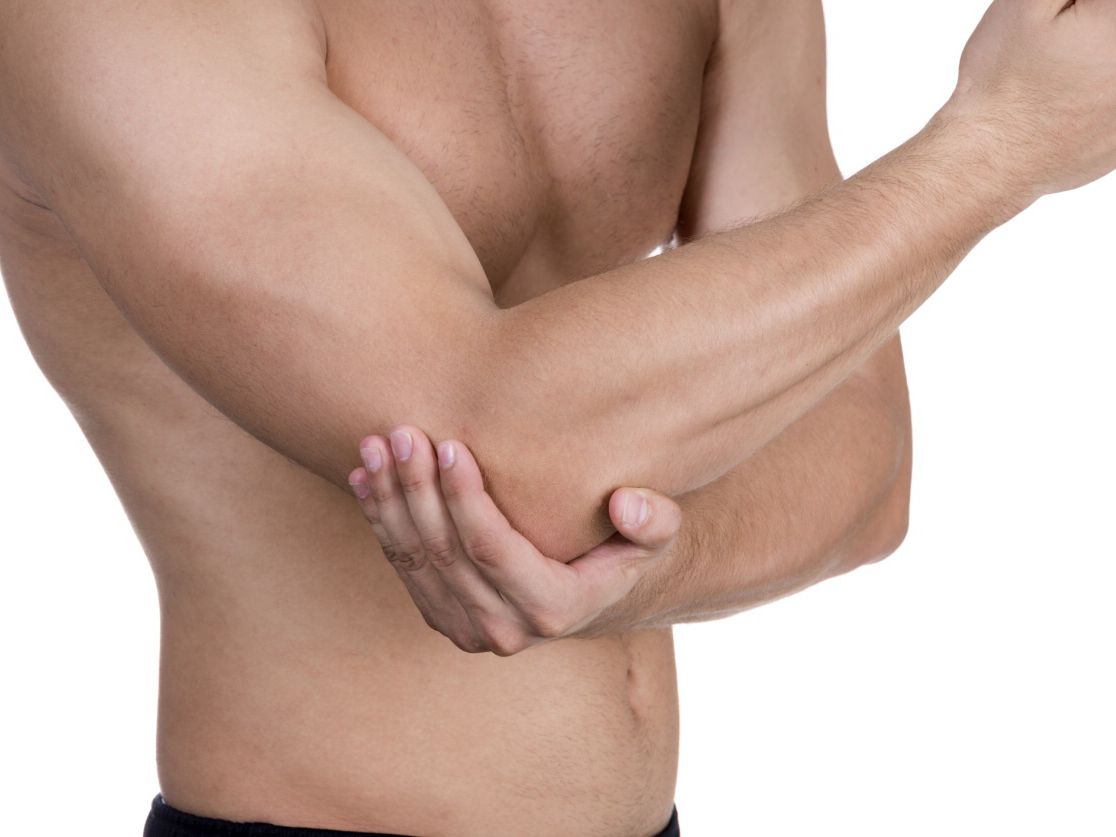 Ehlers-Danlos Syndrome (EDS)
Disorders that affect and weaken the connective tissues such as tendons and ligaments. It is a hereditary disorder which means you are born with it.  EDS has many different signs and symptoms which can vary significantly depending upon the type of EDS and its severity.   It most commonly affects the skin, joints, and blood vessels.  Joints are typically hypermobile with excessive joint range of motion because of a defect in collagen formation. In most cases Ehlers-Danlos syndrome is inherited. That is to say that you are born with it. The two main ways EDS is inherited are: autosomal dominant inheritance and autosomal recessive inheritance…
Read More About Ehlers-Danlos Syndrome (EDS)
Lateral Epicondylitis / Tennis Elbow
Lateral epicondylitis otherwise known as tennis elbow is an overuse injury involving the extensor muscles that originate on the bony prominence (epicondyle) on the outside (lateral) aspect of the elbow. It is more properly termed tendinosis that specifically involves the origin of the extensor carpi radialis brevis muscle. In a study, Nirschl and Pettrone attributed the cause of lateral epicondylitis to be tearing in the origin of the extensor carpi radialis brevis (ECRB) muscle (1). The extensor carpi radialis brevis (ECRB) muscle originates from the lateral epicondyle. It functions to move the wrist so that the hand moves away from the palm and towards the thumb.
Read More About Lateral Epicondylitis / Tennis Elbow
Medial Epicondylitis / Golfer's Elbow
Golfer's elbow involves tears in the ulnar collateral ligament and pain or soreness on the inside of the elbow. The bony bump you feel there is the medial epicondyle of the humerus (upper arm bone). There are five forearm muscles that attach at this point, all of which are involved in helping to flex or rotate the forearm and wrist. Pain can get worse when you throw a ball, grip a dumbbell, turn a screwdriver, and other movements that involve the fingers, hand, wrist, and/or elbow. Tennis elbow is similar, however, it refers to the outside of the elbow, at the lateral epicondyle.
Read More About Medial Epicondylitis / Golfer's Elbow
I had PRP procedure on my elbow and one shoulder. I was extremely happy with results. The level was very high before my procedure and…
Kim L.
I would highly recommend Dr. Pitts. I've had my knees and elbow done. The PRP (or whatever they call theirs) on tennis/golf elbow was highly…
Tanya S.
About a year ago, Dr. Markle also treated me with PRP on my elbow. I did 2 rounds of that to help with the "tennis"…
Kaylie D.
Dr Hyzy is very knowledgeable, expert in his field. He does a very unique procedure / technique that is in all aspect very novel done…
Sarolta S.