Baker's Cyst (aka Popliteal Cyst)
causes, symptoms, treatments, & Other Conditions
A Baker's cyst can cause knee pain. It is swelling caused by fluid from the knee joint protruding to the back of the knee.
They are NOT a true cyst since it has communication with the synovial sac. They typically arise from degenerative changes or injury to the articular cartilage (arthritis) or meniscus.
At the Centeno-Schultz Clinic, we believe that baker's Cysts are simply a barometer of the health of the knee joint. In a healthy knee, there are absent whereas with injury and degenerative changes they are common. They arise between the tendons of the medial head of the gastrocnemius and the semimembranosus muscle.
What Causes Baker's Cyst
The cause of a baker's cyst is not fully understood, but it's thought that they may be caused by:
· a build-up of fluid inside the knee joint (known as synovial effusion)
· damage to the lining of the knee joint (cartilage tear)
· a problem with the way the knee joint moves (known as joint instability)
· a meniscus tear
· Knee osteoarthritis
· Patellofemoral dysfunction
Popliteal cysts are sort of like a barometer for the knee's overall health. If you have a baker's cyst, it could mean that something is wrong with your knee and you should see a doctor, as there may be an underlying issue that warrants further evaluation. There are other causes of knee pain not related to the knee. For example, a blood clot also known as a deep vein thrombosis can also present as pain on the backside of the knee with swelling. This is a serious medical condition with life treating consequences.
Symptoms
Treatment Options for Baker's Cyst
Treatment options for Baker's Cyst in the knee include rest, drainage, cortisone injection, ice packs, and surgery. Treatment at the Centeno-Schultz Clinic with prolotherapy has been published and continues to be preferred. Because bone marrow concentrate (BMC) containing stem cells and PRP may be useful for other things, as, again baker's cysts are sort of like a barometer for the knee's overall health, the use of BMC or PRP injections can help them indirectly by helping some other portion of the knee.
The recent introduction of ultrasound-guided PRP and prolotherapy will optimize clinical results in the non-surgical treatment of this and other conditions.
NSAIDs
The other day I was evaluating a patient and reviewing the treatment options for their spine condition.  After discussing prior treatments, we got to the topic of medications taken for pain relief. She explained that she mainly utilized anti-inflammatory (NSAID) medications and then she told me to hold much she takes and has been for many years…..she takes close to 2 grams (2000 milligrams) on a daily basis which equated to about 9-10 capsules of medication per day.  I was shocked, considering she was pre-diabetic and with high blood pressure plus the kicker of it is that her PCP (primary care physician) is ok with this…
Read More About NSAIDs
PRP for Baker's Cyst
PRP therapy has been shown to be an effective treatment for baker's cysts and many of the underlying issues that cause them. PRP stands for platelet-rich plasma. It is a procedure that involves drawing a patient's blood from their arm, spinning it in a centrifuge thereby isolating and concentrating the platelets. Platelets are rich in growth factors that can increase blood flow, decrease inflammation, and accelerate healing. Treatment of bakers involves identifying the underlying cause and addressing it. The baker's cyst is often drained under ultrasound guidance. PRP can then be injected to reduced swelling and pain as well as improve joint function…
Read More About PRP for Baker's Cyst
PRP Knee Injections
PRP stands for Platelet-Rich Plasma. Platelets are blood cells that prevent bleeding. They contain important growth factors that aid in healing. Plasma is the light yellow liquid portion of our blood. So PRP is simply a concentration of a patient's own platelets that are suspended in plasma and are used to accelerate healing. PRP is NOT stem cell therapy. Regrettably, blood contains few circulating stem cells. Rich sources of stem cells are bone marrow and fat. PRP is rich in growth factors. There are many different types of growth factors with different properties. VEGF is a very important one as it can increase the blood flow to an area.
Read More About PRP Knee Injections
Doctors That Assist with Baker's Cyst
Other Resources for Popliteal Cyst
Free Download: The Knee Owner's Manual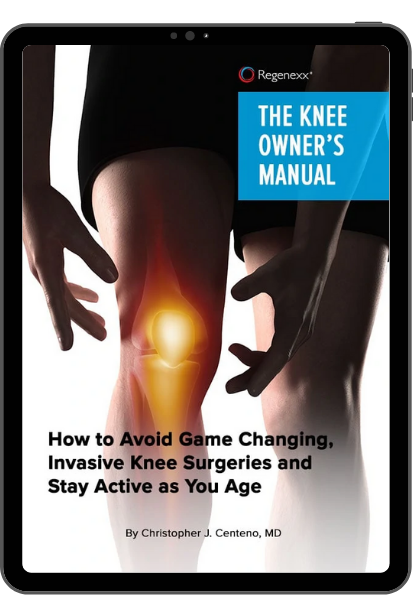 This e-book by Dr. Chris Centeno examines the knee and its role in the human musculoskeletal system and the body as a whole. The Knee Owner's Manual provides a series of tests and clearly defined exercises that you can perform on your own to assess and monitor your own knee health. It will allow you to look for trouble spots where your own body may be having difficulty with stability, articulation, symmetry, and neuromuscular function. You'll be able to see how these deficits in other regions of the body relate to the knee.
The Knee Owner's Manual also discusses how Regenexx is pioneering the development of interventional orthopedics, a new branch of medicine that employs regenerative biologic therapies such as adult bone marrow concentrate and platelet-rich plasma to help repair and strengthen damaged tissues in other areas of the body.
This is contrasted with invasive knee surgeries, which often remove important tissues or replace the entire knee itself when it becomes damaged. With hyperlinks to more detailed information, related studies, and commentary, this book condenses a vast amount of data, images, and resources into an enjoyable and informative read. This is the first edition of The Knee Owner's Manual, a companion book to Orthopedics 2.0.
Even a small meniscus tear can make walking difficult for you. If you are experiencing any of these symptoms, you may want to seek medical help as soon as possible, depending on the type of tear you have. Needless to say, a lot depends on understanding the meniscus tear types there are and what each … Continued

---
References:
Centeno CJ, Schultz J, Freeman M. Sclerotherapy of Baker's cyst with imaging confirmation of resolution. Pain Physician. 2008 Mar-Apr;11(2):257-61. PMID: 18354718.