MCL Sprain
Causes, Symptoms, Treatments, & Other Resources
What is the MCL?
The medial collateral ligament AKA MCL is a thick, strong band of connective tissue on the inside portion of your knee. It connects the top part of the tibia (shin) to the bottom part of the femur (thigh). This is a vital ligament that works along the lateral collateral ligament (LCL), anterior cruciate ligament (ACL), and posterior cruciate ligament (PCL) to bring stability, structure, and movement to the knee. The MCL provides support and stability for the inside (medial) aspect of the knee.
What are the Causes of MCL Sprains?
MCL sprains are a common injury in sports such as football, hockey, and skiing. The ligament can be stretched or even torn due to direct blows, but it usually happens when you hit the outer aspect of your knee at high speeds. Other causes could include:
repeated stress on the joint without adequate time for healing
abrupt change in direction or speed
a sudden contraction of muscles with high force
Like other tears to knee ligaments, a doctor will ask you about your symptoms and then perform a physical examination. They may also order some tests, such as an MRI or an X-ray scan, to help diagnose the sprain. An in-office ultrasound is an effective imaging modality to evaluate the presence and severity of an MCL tear or sprain. An additional advantage is that it does not require pre-authorization or a separate appointment.
Symptoms of MCL Sprains
Orthopedists Categorize MCL Sprains into 3 grades:
Grade 1 Sprains
A partial-thickness MCL sprain is where only a portion of the MCL is torn. On ultrasound or MRI, a portion of the MCL would be torn but the remaining fibers would be normal.
Grade 2 Tears
A grade 2 MCL tear involves a tear that extends across the entire MCL and therefore is referred to as a full-thickness tear. The ligament has not pulled apart or snapped back upon itself and therefore is referred to as non-retracted. These types of tears can be treated with ultrasound-guided PRP or bone marrow concentrate.
Grade 3 Tears
A grade 3 tear is a full-thickness tear that extends across the MCL and unlike a Grade 2 the ligament has pulled apart. This means that the two pieces of the ligament have pulled apart or maybe even snapped back like a rubber band. This type of tear requires surgery
Some home remedies that can be used for MCL sprain are as follows:
Rest the knee: This is one of the most important things that you can do when you have a MCL sprain. Taking a break from strenuous activities will help the knee to heal.
Use heat which promotes increased blood flow to the area.
Fish oil and Turmeric which can help with the swelling and pain
Avoid the use of Ice as it restricts blood flow and can limit inflammation. Remember inflammation is the first step in healing.
Treatment Options for MCL Tear
The MCL is the most injured ligament of the knee and the ACL is the most commonly injured ligament in conjunction with the MCL. Most MCL injuries can be treated non-operatively (1). Even though the MCL can spontaneously heal without any additional treatment, the healing that does take place is typically incomplete (2) which can increase the risk of re-injuring the ligament over time.
Treatment options include:
Rest, Ice, Compression, and Elevation (RICE)
MCL surgery
Precise injection of bone marrow concentrate
Precise injection of platelet-rich plasma (PRP)
A precise concentration of bone marrow concentrate can be a better alternative to waiting for the body's natural healing response to kick in. You can see before and after treatment that there is near complete healing of the MCL below: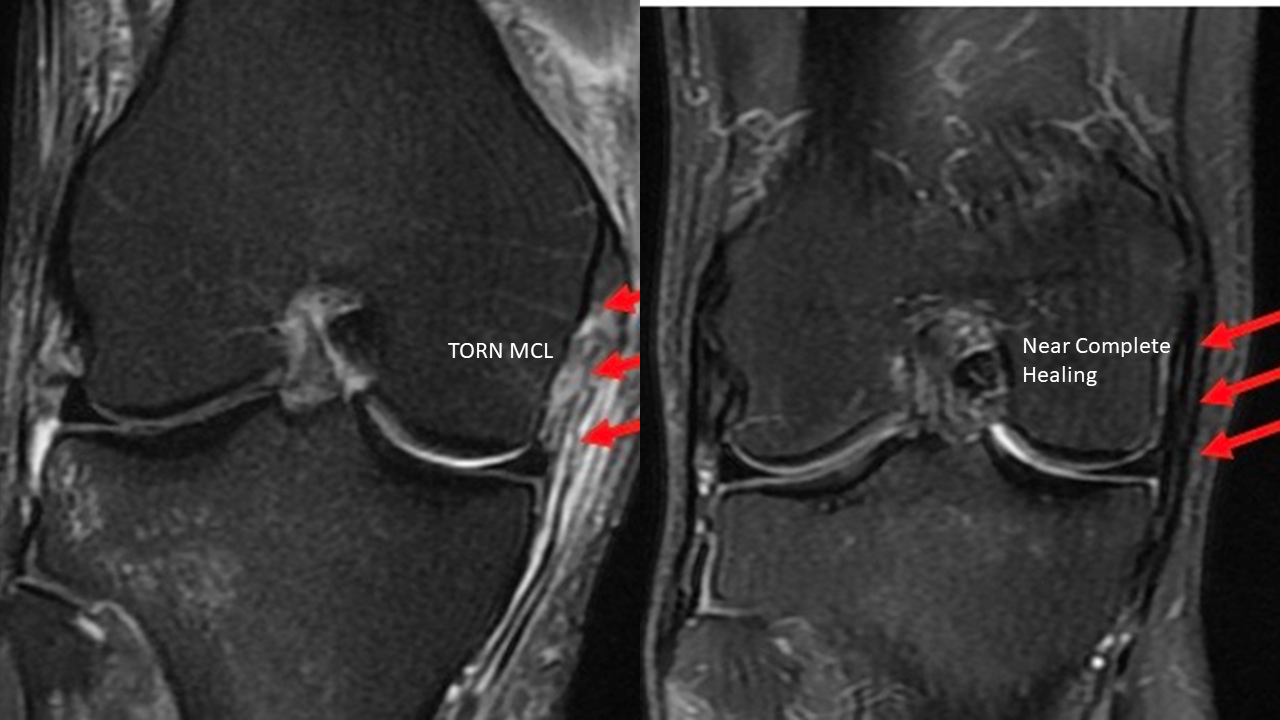 Doctors That Assist with MCL Sprains
Other Resources for MCL Injuries
Free Download: The Knee Owner's Manual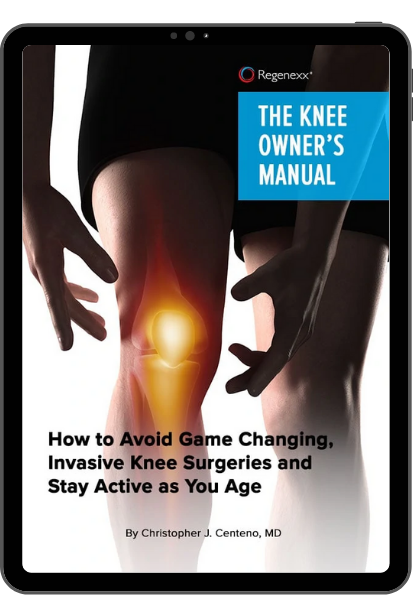 This e-book by Dr. Chris Centeno examines the knee and its role in the human musculoskeletal system and the body as a whole. The Knee Owner's Manual provides a series of tests and clearly defined exercises that you can perform on your own to assess and monitor your own knee health. It will allow you to look for trouble spots where your own body may be having difficulty with stability, articulation, symmetry, and neuromuscular function. You'll be able to see how these deficits in other regions of the body relate to the knee.
The Knee Owner's Manual also discusses how Regenexx is pioneering the development of interventional orthopedics, a new branch of medicine that employs regenerative biologic therapies such as adult bone marrow concentrate and platelet-rich plasma to help repair and strengthen damaged tissues in other areas of the body.
This is contrasted with invasive knee surgeries, which often remove important tissues or replace the entire knee itself when it becomes damaged. With hyperlinks to more detailed information, related studies, and commentary, this book condenses a vast amount of data, images, and resources into an enjoyable and informative read. This is the first edition of The Knee Owner's Manual, a companion book to Orthopedics 2.0.
It all happened so suddenly. You were running down the field and made a quick cut. You heard an audible pop followed by searing knee pain and then collapsed to the ground. Your doctor thinks your tore your ACL and has referred you to a surgeon. What is the Anterior Cruciate Ligament? What is the…

---
References:
Shelbourne KD, Wilckens JH, Mollabashy A, DeCarlo M. Arthrofibrosis in acute anterior cruciate ligament reconstruction. The effect of timing of reconstruction and rehabilitation. Am J Sports Med. 1991;19(4):332‐336. doi:10.1177/036354659101900402
Wan C, Hao Z, Wen S. The effect of healing in the medial collateral ligament of human knee joint: A three-dimensional finite element analysis. Proc Inst Mech Eng H. 2016;230(9):867‐875. doi:10.1177/0954411916656662