PRP for Meniscus Tears in Colorado
Regenexx Knee Procedures with Platelet-Rich Plasma
High-level evidence in peer-reviewed journals has demonstrated that surgical repair of meniscus tears is no more effective than PT or sham surgery and also predisposes patients to early-onset arthritis. Prior blogs have discussed this in detail.
What Is a Knee Meniscus?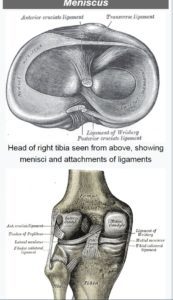 The knee meniscus is a crescent-shaped fibrocartilaginous structure seated between the femur (thigh bone) and tibia (shin bone) that provides structural integrity and serves as a shock absorber. As shown in the image above, there are two menisci (plural) in each knee, one on the lateral side and one on the medial side.
Is PRP an Effective Treatment Option for Meniscus Tears?
A recent study examined the effectiveness and safety of intrameniscal platelet-rich plasma injections for chronic meniscal tears. It was a randomized, double-blinded, placebo-controlled study that included 72 patients. Baseline characteristics between control and PRP-treated patients were similar. All patients underwent ultrasound-guided meniscal injection with or without the addition of PRP.
The mean follow-up was 92 weeks. An MRI was performed at 33 weeks. Failure was defined as meniscal nonunion observed by MRI or surgical arthroscopy. The key results follow:
Failure rate was lower in the PRP group (48%) versus the control group (70%).
Meniscus healing was higher in the PRP group (52%) versus the control group (30%).
The necessity for arthroscopy was decreased in the PRP injection group (8%) when compared to the control group (28%).
A higher percentage of PRP-treated patients achieved a minimal clinically significant difference in VAS (visual analogue scale) and KOOS (Knee Injury and Osteoarthritis Outcome Scores) compared to controls.
To better understand the importance of a meniscus tear and how to read a knee MRI, please review the video below.
Symptoms of Meniscus Tears
At the Centeno-Schultz Clinic, we have spent the last 14 years working diligently on nonoperative regenerative-treatment options. If you have ongoing knee pain with a meniscal tear, don't be fooled by amniotic or umbilical cord stem cell clinics that employ nurse practitioners or mid-levels and that promise you that all patients have complete relief. Schedule a new-patient evaluation at the Centeno-Schultz Clinic where a board-certified, fellowship-trained physician will spend 60 minutes with you reviewing history, medications, and MRIs in addition to performing a comprehensive physical examination and providing you with a candidacy rating and non-surgical treatment plan for meniscus tears. PRP injection procedures in Denver and Broomfield, Colorado clinics are performed by the following Interventional Orthopedic doctors:
Our Doctors Who Treat Meniscal Tears with PRP Injections