Spinal Stenosis
Causes, Symptoms, Non-Surgical Treatment, & Other Resources
Back pain can be disabling and can arise from many conditions such disc herniation, disc protrusion, and spinal stenosis. Today we'll be concentrating on spinal stenosis. How is it treated? Is surgery needed? Are there alternatives to back surgery for spinal stenosis?
What Is Spinal Stenosis?
Lumbar stenosis is narrowing of the spinal canal and is sometimes referred to as central canal stenosis (1). The spinal canal is important as it is a hole that runs through the spinal bones from the top of the neck to your low back. It's located directly behind each disc and contains the spinal cord, spinal fluid, and spinal nerves.
To better understand stenosis, please watch the video below on the neck stenosis. The same concepts apply to the low back.
What are the Causes of Spinal Stenosis?
The spinal canal is outlined by the red line. The disc is in front of the spinal canal whereas the ligamentum flavum and lumbar facet joints are behind the spinal canal. Any structure that pushes or extends beyond the red line can narrow the spinal canal thereby creating stenosis. (2)
There are three principles structures that can encroach upon the spinal canal thereby causing spinal stenosis: the disc, the facet joints and the ligamentum flavum
Disc protrusion. The disc is in front of the spinal canal. A disc protrusion can extend into the spinal canal and narrow the diameter of the spinal canal creating stenosis as illustrated below by the blue arrow.
Overgrowth the lumbar facets. The facet joints are behind the spinal canal and in the presence of trauma, overloading or instability can beef up in size and encroach on the spinal canal thereby causing spinal stenosis as illustrated by the green arrow
The ligamentum flavum is in the back of the spinal canal and is a thick elastic tissue that connects the vertebral bodies. In the illustration below it is the thick yellow band that is identified by the two blue arrows. In the presence of instability, the ligamentum flavum can become thickened pushing forward on the spinal canal creating stenosis illustrated below by the purple arrow.
What are the Treatment Options?
Conservative treatment options include physical therapy (3), medications, lifestyle modifications, steroid injections, and rehabilitation. (4). When these treatment options fail many consider surgery. Current surgical options include:
Lumbar decompression whereby a piece of bone(lamina) and supporting ligaments is removed to open the narrowed spinal canal (5). The major drawback of lumbar decompression surgery is that it creates instability in the low back as a result of removing important bones and ligaments. This instability oftentimes leads to additional degenerative changes in the spine.

Lumbar fusion where two or more of the vertebral bodies are bolted together (6). There are significant complications associated with lumbar fusion which include infection, nerve injury, escalation in pain and adjacent segment disease (ASD). The job of the disc is to absorb the forces of daily living. When one of more discs are surgically fused the forces of daily living are then transferred to the lumbar disc and facet above and below the fusion which can result in injury, degeneration and in many cases pain. A recent study found 11.7% in patients who had lumbar fusions developed adjacent segment disease at 28 months. (7).
Interspinous process spacers are thin implanted spacers designed to create more space more space in the spinal canal without removing the bone. (8)
How Effective is Spinal Stenosis Surgery?
Literature for lumbar stenosis is not very encouraging. One high-level randomized trial followed patients for 8 years. Patients were randomized to surgery or non-operative care. At 8 years surgery was not found to be superior to non-operative care. (9) Another study followed 169 patients from 2000-2007 who were randomly assigned PT or surgery (10). Surgical decompression had a similar effect as physical therapy (9). A different study critically reviewed 26 studies and 5 randomized control studies and was unable to demonstrate surgery to be the superior treatment to non-surgical for lumbar stenosis (11). What was interesting was the number of side effects in the surgical cases ranged from 10-24 % vs zero in the non-surgical group. Complications included stroke, respiratory distress, heart attack, and death due to a blood clot.
Are There Alternatives to Back Surgery for Spinal Stenosis?
Yes!
The Regenexx DDD procedure uses precise injections of platelets into the lumbar spine. The Centeno-Schultz Clinic pioneered the procedure and has successfully treated many patients. Specifically, the platelets are injected:
Into facet joints to reduce swelling and overgrowth. Overgrowth as illustrated above can cause stenosis.
Around spinal nerves to reduce swelling and increase blood flow. This allows for a better electrical signal to the muscles.
Into spinal muscles to improve stability. Stability is critical in the lumbar spine and provided by ligaments and muscles.
Into the ligamentum flavum to improve the stability and reduce thickening. Ligamentum flavum thickening as illustrated above can cause stenosis.
To better understand Regenexx DDD click on video below.
Spinal stenosis is the narrowing of the central spinal canal and is a cause of significant pain and disability. Common causes of spinal stenosis include disc protrusion, facet overgrowth and ligamentum flavum thickening. Surgery is often chosen when conservative therapies fail despite the lack of convincing evidence that it is a superior treatment option. Are there alternatives to back surgery for spinal stenosis? Yes. Regenexx DDD utilizes precise platelet injections into the facets, muscles, and ligaments to treat the lumbar stenosis, treating all of the components of the issue, which is crucial.
Treatment Options
Common Symptoms of Spinal Stenosis
3 Questions to Ask Before You Get Spinal Stenosis Surgery
Spinal stenosis is often an age-related condition attributed to compounding osteoarthritis, where the cushion positioned between vertebral discs starts to break down over time, causing a narrowing of the spinal canal and pinched nerves throughout the back and legs.
Often, physicians recommend surgery to those suffering from spinal stenosis…but is surgery the only option? And is it the best option?
Before you agree to undergo invasive surgery for your spinal stenosis, there are a few questions you should consider:
#1: How effective is spinal stenosis surgery, anyway?
While surgery is a common enough recommendation for spinal stenosis treatment, the biggest question that should be on a patient's mind is, Will this actually work?
What the Research Says…
One research study around spinal stenosis treatment examined patients who had surgery for their spinal stenosis versus those who did not have surgery; unfortunately, the trial found that, once patients got to four years after surgery (or more), there was no difference between those who had undergone surgery and those who had not (11). Another high-level study randomized patients, looking for differences between those who had gone through with spinal stenosis surgery versus patients who had simply adhered to a regular physical therapy regimen. Results concluded that surgery patients did no better than physical therapy patients when it came to long-term effectiveness against spinal stenosis (12).
This research seems to show that spinal stenosis surgery is no silver bullet for alleviating the symptoms that come with the condition. In fact, in the long-term, there is no evidence that an invasive procedure such as this one provides any better, more lasting relief than other spinal stenosis treatment options.
#2: What are the risks associated with spinal stenosis surgery? Is it dangerous?
It's important to remember that spinal stenosis surgery is considered major surgery. As such, there are most definitely complications that can arise from this procedure, as with any major surgery. However, because this particular procedure is operating on areas around a patient's spine, it's important to weigh the severity of potential complications as well.

It is important to understand, as well, that when it comes to spinal surgeries, the definition of a "complication" may differ between the actual surgeons and the patients themselves, meaning that patients can often feel complications after the fact, as opposed to during the procedure itself (13). In one analysis that reviewed five different large studies, the complication rate of surgery as reported by surgeons who conducted the spinal stenosis procedure was a wide range: between 10 and 24%. That can be anywhere from 1 in 10 patients, to 1 in 4 patients. Reported complications include infection, nerve damage, the need for follow-up surgery, and even increased pain, among other issues, all from a procedure that is supposed to alleviate those very concerns.
#3: Can I avoid spinal stenosis surgery altogether? Are there alternatives for spinal stenosis treatment?
There are a handful of different spinal stenosis treatment options that do not involve major surgery, though some are more invasive than others.

One option is a Coflex device, which is a metal spacer that is implanted in between the spinous processes, often after surgical decompression (18). The thought process behind implanting this device is that it will preserve some motion. However, complications can arise through implantation, which may include destruction of the normal fascia, muscles, and ligaments in the area.

Another spinal stenosis treatment option is something called the MILD procedure. This is a type of spinal stenosis treatment that cuts the ligamentum flavum, or the swollen ligament that often places pressure on the spinal cord or nerves. The idea is that this ligament will retract back like a rubber band (19). While this does, in fact, open up the area, it also reduces spinal stability, since this ligament, uncut, helps to keep things stable.
There are also spinal stenosis treatment options that can be performed or implanted using just x-ray guidance, with no surgical procedure at all. For instance, a newer implant-based solution such as interspinous spacers, like the Superion device, that can be inserted during fluoroscopy (20). However, though the device is placed without surgery, the implant still can destroy the original ligament architecture, putting more pressure on the discs.

There is, however, another way. The process we have patients undergo at Centeno-Schultz is one that both avoids surgery and avoids hurting or altering a patient's original ligament structure. Our procedure is called the Perc-Flavoplasty, and is the only spinal stenosis treatment procedure of its kind, designed to maintain a patient's normal anatomy with no metal implantations. Our patients not only appreciate the less invasive procedure, they report afterward that they feel much better.

We use precise, image-guided injections in the Perc-Flavoplasty, ensuring that we find the exact area causing a patient pain, ensuring the best possible results. All of our physicians are musculoskeletal specialists with advanced training, and our procedures are backed by extensive research and published patient outcome data. One recent patient, a 66-year-old female working in healthcare, came to use with severe central canal stenosis in her low back; she was able to only stand for 15 minutes at a time before seeing us. After three injection-based treatments using both fluoroscopy and ultrasound guidance, all in our Perc-Flavoplasty method, the patient is now able to stand for more than an hour at a time and is even planning an upcoming vacation where she will be walking for miles at a time.
Our Doctors Who Can Assist with Spinal Stenosis
Our Other Resources Relating to Spinal Stenosis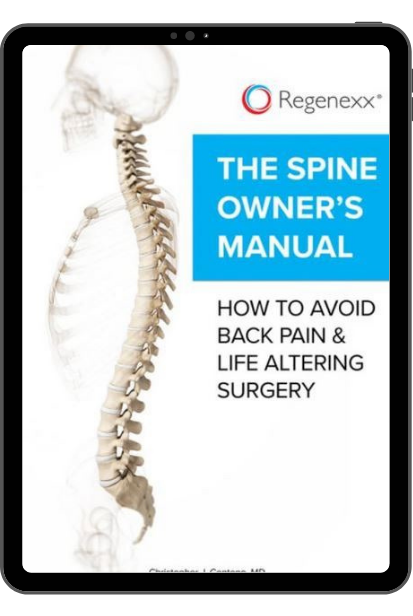 The Spine Owner's Manual: How to Avoid Back Pain & Life-Altering Surgery
This e-book from Dr. Chris Centeno focuses on the spine and how it functions within the human musculoskeletal system and the body as a whole. Everything in our bodies works together like a well-tuned symphony to support our well-being, and a strong spine (including all of its component parts, such as spinal nerves, ligaments, muscles, etc.) is critical to complete health.
Using the Regenexx SANS approach, The Spine Owner's Manual provides a series of tests and clearly defined exercises that you can do on your own to measure and monitor your own spinal health. These musculoskeletal tests will allow you to monitor where your own body might be struggling to maintain proper stability, articulation, symmetry, and neuromuscular function.
Low back pain can be disabling and compromise one's quality of life. Lumbar stenosis is one of those disabling back issues. But exactly what is lumbar stenosis? What is a Coflex Implant? How long does a Coflex Implant last? Let's dig in. What is Lumbar Stenosis? Lumbar stenosis is narrowing of the central spinal canal…

Skiing, cycling, or running is a way of life for many. Early mountain ascents up switchbacks or 30- to 40-mile bicycle rides are weekly occurrences. Weekends and holidays are organized around extending physical limits and or reducing times. Knee pain can seriously compromise an individual's ability to ski, cycle, or run. Swelling and weakness can…
References
Lurie JD, Tosteson TD, Tosteson A, et al. Long-term outcomes of lumbar spinal stenosis: eight-year results of the Spine Patient Outcomes Research Trial (SPORT). Spine (Phila Pa 1976). 2015;40(2):63–76. doi: 10.1097/BRS.0000000000000731
Delitto A, Piva SR, Moore CG, Fritz JM, Wisniewski SR, Josbeno DA, et al. Surgery Versus Nonsurgical Treatment of Lumbar Spinal Stenosis: A Randomized Trial. Ann Intern Med. 2015;162:465–473. doi: 10.7326/M14-1420
Ratliff JK, Lebude B, Albert T, Anene-Maidoh T, Anderson G, Dagostino P, Maltenfort M, Hilibrand A, Sharan A, Vaccaro AR. Complications in spinal surgery: comparative survey of spine surgeons and patients who underwent spinal surgery. J Neurosurg Spine. 2009 Jun;10(6):578-84. doi: 10.3171/2009.2.SPINE0935.
Zaina F, Tomkins-Lane C, Carragee E, Negrini S. Surgical versus non-surgical treatment for lumbar spinal stenosis. Cochrane Database Syst Rev. 2016;2016(1):CD010264. Published 2016 Jan 29.doi: 10.1002/14651858.CD010264.pub2
Epstein NE, Hollingsworth RD. Nursing Review Section of Surgical Neurology International Part 2: Lumbar Spinal Stenosis. Surg Neurol Int. 2017;8:139. Published 2017 Jul 7.doi: 10.4103/sni.sni_150_17
Lurie J, Tomkins-Lane C. Management of lumbar spinal stenosis. BMJ. 2016 Jan 4;352:h6234. doi: 10.1136/bmj.h6234.
Vail D, Azad TD, O'Connell C, Han SS, Veeravagu A, Ratliff JK. Postoperative Opioid Use, Complications, and Costs in Surgical ManagementofLumbarSpondylolisthesis.Spine(PhilaPa1976).2018;43(15):1080–1088.doi: 10.1097/BRS.0000000000002509
Li D, Hai Y, Meng X, Yang J, Yin P. Topping-off surgery vs posterior lumbar interbody fusion for degenerative lumbar disease: a comparativestudyofclinicalefficacyandadjacentsegmentdegeneration.JOrthopSurgRes.2019;14(1):197.Published2019Jun28. doi: 10.1186/s13018-019-1245-3
Chen H, Kelling J. Mild procedure for lumbar decompression: a review. Pain Pract. 2013 Feb;13(2):146-53. doi: 10.1111/j.1533-2500.2012.00574.x.
Nunley PD, Deer TR, Benyamin RM, Staats PS, Block JE. Interspinous process decompression is associated with a reduction in opioid analgesia in patients with lumbar spinal stenosis. J Pain Res. 2018;11:2943–2948. Published 2018 Nov 20. doi: 10.2147/JPR.S182322
Lee GY, Guen YL, Lee JW, et al. A new grading system of lumbar central canal stenosis on MRI: an easy and reliable method. Skeletal Radiol. 2011;40(8):1033-9.DOI: 10.1007/s00256-011-1102-x
Arabmotlagh M, Sellei RM, Vinas-Rios JM, Rauschmann M. [Classification and diagnosis of lumbar spinal stenosis]. Orthopade. 10.1007/s00132-019-03746-1.DOI: 10.1007/s00132-019-03746-1
Zaina F, Tomkins-Lane C, Carragee E, Negrini S. Surgical Versus Nonsurgical Treatment for Lumbar Spinal Stenosis.Spine. 2016;41(14):E857-68. https://www.ncbi.nlm.nih.gov/pubmed/27128388
Lurie J, Tomkins-Lane C. Management of lumbar spinal stenosis.BMJ. 2016;352:h6234. DOI:10.1136/bmj.h6234. https://www.ncbi.nlm.nih.gov/pubmed/26727925
Overdevest GM, Jacobs W, Vleggeert-Lankamp C, Thomé C, Gunzburg R, Peul W. Effectiveness of posterior decompression techniques compared with conventional laminectomy for lumbar stenosis.Cochrane Database Syst Rev. 2015;(3):CD010036. https://www.ncbi.nlm.nih.gov/pubmed/25760812
Försth P, Ólafsson G, Carlsson T, et al. A Randomized, Controlled Trial of Fusion Surgery for Lumbar Spinal Stenosis.N Engl J Med. 2016;374(15):1413-23. https://www.ncbi.nlm.nih.gov/pubmed/27074066
Zhong ZM, Deviren V, Tay B, Burch S, Berven SH. Adjacent segment disease after instrumented fusion for adult lumbar spondylolisthesis: Incidence and risk factors. Clin Neurol Neurosurg. 2017;156:29-34.DOI: 10.1016/j.clineuro.2017.02.020
Nunley PD, Shamie AN, Blumenthal SL, Orndorff D, Block JE, Geisler FH. Interspinous Process Decompression: Expanding Treatment Options for Lumbar Spinal Stenosis.Biomed Res Int. 2016;2016:3267307. https://www.ncbi.nlm.nih.gov/pubmed/27819001.
Lurie JD, Tosteson TD, Tosteson A, et al. Long-term outcomes of lumbar spinal stenosis: eight-year results of the Spine Patient Outcomes Research Trial (SPORT).Spine. 2015;40(2):63-76. https://www.ncbi.nlm.nih.gov/pmc/articles/PMC4288009/
Delitto A, Piva SR, Moore CG, Fritz JM, Wisniewski SR, Josbeno DA, et al. Surgery Versus Nonsurgical Treatment of Lumbar Spinal Stenosis: A Randomized Trial. Ann Intern Med. 2015;162:465–473. doi: 10.7326/M14-1420.
Zaina F, Tomkins-Lane C, Carragee E, Negrini S. Surgical versus non-surgical treatment for lumbar spinal stenosis.Cochrane Database Syst Rev. 2016;(1):CD010264. doi: 10.1002/14651858.CD010264.pub2