Sciatica is a debilitating searing pain in the lower extremity commonly as a result of nerve root irritation.
Causes of Sciatica
Disc herniation, disc protrusion, overgrowth of the facet joint, and thickening of the ligaments can result in nerve root compression or irritation, causing symptoms of sciatic compression.
Some causes of sciatic compression can be interrelated with the following conditions:
Degenerative disc disease
Spinal stenosis
Damage or injuries to the discs
Spondylolisthesis
Piriformis syndrome
Osteoarthritis
What are the Symptoms of Sciatica?
The symptoms of sciatica include:
Pain in lower back, buttock and down your leg.
Numbness and weakness in low back, buttock, leg and/or feet.
Pain increase with movement
"Pins and needles" feeling in your legs, toes or feet.
Loss of bowel control
Treatment Options for Sciatica
Treatment options for sciatic nerve compression include:
Non-surgical treatments to date have included x-ray guided epidural injections of local anesthetics and steroids. As discussed in our blog, steroid injections can be associated with many complications including cell death.
At the Centeno-Schultz Clinic, Regenexx PL is used as an alternative to conventional epidural steroid injections. A patient's own platelet-derived growth factors are injected into the epidural space with the aim of increasing blood flow thereby stopping and potentially reversing the degenerative process. Enhanced blood flow to a given area increases the number of nutrients and optimizes the healthy environment. Regenexx PL has led to many clinical successes.
TA is an athletic patient with a 6-month history of severe right leg pain which was progressive in nature, originating in her right lower back with radiations into her big toe. She described it as a "sharp knife" in her foot. Oral narcotics and muscle relaxants did not relieve her pain. Having had extensive neck surgeries which were complicated and required revisions, she was committed to non-surgical therapy. Her MRI demonstrated a large right-sided disc protrusion @ L5/S1 with compression of the adjacent nerve root.
She underwent three x-rays guided injections of Regenexx PL and reports 90% relief from her sciatica symptoms. The "knife-like" leg pain is gone and she has returned to her passion. She was last seen headed up to Steamboat.
Common Symptoms of Sciatica
Our Doctors Who Treat Sciatic Compression
Other Resources for Sciatica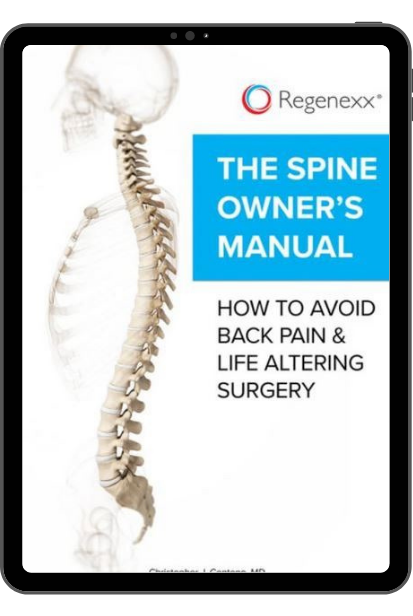 The Spine Owner's Manual: How to Avoid Back Pain & Life-Altering Surgery
This e-book from Dr. Chris Centeno focuses on the spine and how it functions within the human musculoskeletal system and the body as a whole. Everything in our bodies works together like a well-tuned symphony to support our well-being, and a strong spine (including all of its component parts, such as spinal nerves, ligaments, muscles, etc.) is critical to complete health.
Using the Regenexx SANS approach, The Spine Owner's Manual provides a series of tests and clearly defined exercises that you can do on your own to measure and monitor your own spinal health. These musculoskeletal tests will allow you to monitor where your own body might be struggling to maintain proper stability, articulation, symmetry, and neuromuscular function.
Hamstring injuries range from mild strains to complete ruptures. The need for surgery often depends on the severity of the injury and the specific requirements of the individual, especially if the person is an athlete or has specific functional demands. Several factors influence the outcome of the surgery: Return to sport/activity: Many athletes can return…

---