Platelet-Rich Plasma (PRP) Treatments in Denver, Colorado
PRP TREATMENTS In Broomfield & DENVER, COLORADO
Am I a Candidate?
Regenexx-SCP Procedures
Delivering up to 10-40x more platelet concentration than standard PRP
Fully customized
Labratory processed for quality and sterility
What is PRP?
PRP is short for platelet-rich plasma, and it is autologous blood with concentrations of platelets above baseline values (1). The potential benefit of platelet-rich plasma has received considerable interest due to the appeal of a simple, safe, and minimally invasive method of applying growth factors. PRP treatments are a form of regenerative medicine that utilizes the blood's healing factors to help the body repair itself by means of injecting PRP into the damaged tissue. In regenerative orthopedics, it is typically used for the treatment of muscle strains, tears, ligament tears, tendon tears, minor arthritis, and joint instability.
There have been more than 30 randomized controlled trials of PRP, and it has been shown to help the body heal itself by its stimulating effect on the stem cells within the targeted area. In fact, our own Dr. Chris Centeno has used the analogy of "expresso shots" to explain how PRP and our patented Platelet Lysate work within and with the body.
Super Concentrated Platelet Rich Plasma Procedures
Why Regenexx PRP Treatments Are VERY Different
Invented at the Centeno-Schultz Clinic, Regenexx's Super Concentrated PRP procedures are an advanced form of PRP treatment that utilizes lab-processed PRP mixtures that have been shown to deliver up to 10 – 40x times more platelet concentrations than the standard "bloody" PRP. In fact, our PRP, because of its concentration levels of platelets, takes on an amber color.
Why Regenexx PRP Mixtures are Better than Standard PRP / Platelet Rich Plasma
In most clinics that offer PRP therapies, the method of developing PRP involves removing a patient's blood and running it through a simple bedside centrifuge machine to separate the plasma and concentrate the blood platelets, which are then immediately extracted and used as the injectate. These devices are not great at getting rid of unfavorable cells from the resulting mixture. Our lab tests show that white and red blood cells have an inhibiting effect on the same stem cells the platelets are attempting to stimulate and might cause excessive inflammation following the injection.
Our PRP is purer, concentrated, and customizable because it is produced in a laboratory setting by an experienced technician who can separate and concentrate all the blood's good components and remove the unfavorable ones.
Regenexx Platelet Lysate
Third & Fourth Generation
Platelet lysate (PL) is an even more highly developed variation of platelet-rich plasma. PRP works by concentrated platelets slowly releasing growth factors over approximately a week. Much like a timed-release version of a pill. If you need an immediate-release variation, with many more factors available en masse, you use a platelet lysate (PL).
In our experience, while PRP can trigger inflammation, PL is remarkably anti-inflammatory and is used even more safely around nerves, which is why it is typically used in our spinal column procedures. Regenexx uses the most sophisticated platelet lysate available. While many are just starting to learn more about PL, we are in our third and fourth generation, advancing the efficacy of our mixtures continuously.
Critical Differences in PRP: Laboratory Prepared vs Bedside
Not all platelet-rich plasma (PRP) preparations are the same. The majority of PRP preparations are created by bedside centrifuge units. At Regenexx we are constantly striving to improve clinical results. Our state-of-the-art cellular laboratory enables us to experiment on different ways to get more platelets out of a given sample.
We recently ran an experiment with 5 patient samples trying 5 different techniques to maximize platelet concentration in platelet-rich plasma. A flow cytometer was used to measure the number of platelets being isolated and how 'clean" the isolation was in the mix. Clean isolation was preferred since it meant it had little extra platelet matter( cell membranes.)
The results demonstrated that the centrifuge techniques similar to bedside PRP did NOT produce the best platelet concentrates. In fact, they tended to produce fewer platelets and more non-platelet matter than other techniques.
A proprietary simple laboratory technique has been developed that provides more platelets and much cleaner isolation. It is called APC: autologous platelet concentration so as to differentiate it from PRP. It produced 237% more platelets when compared with traditional bedside centrifuge units.
Below is a graph that demonstrates the significant differences. The graph on the left has a wide mountain reflective of significant non-platelet matter whereas the graph on the right has a narrow tall peak reflective of cleaner isolation. The total number of platelets on the left is 200 vs 1200 produced by the laboratory.
Bottom line: laboratory-prepared autologous platelet concentrate provides a larger number of platelets in cleaner isolation. This difference translates to improved healing and faster recovery.
Platelet-Rich Plasma Injections vs. Steroid Shots
How PRP treatments and Steroid Shots Differ in Terms of Recovery
The idea behind PRP instead of steroid shots is that, instead of injecting something that will lessen swelling in the short term and impede healing, the doctor is opting to inject something which has the potential to prompt recovery. This is because the platelets in the PRP have healing growth factors that will likely help the injured tissue mend (2). In this way, it is a superior alternative to steroid shots.
In the graph below, PRP has an initial flare-up which goes away in 3-7 days. And, after that, the patient gradually gets better than baseline.
For steroids, it's the contrary, with the individual feeling better quicker, but after that, the effects disappear over a number of weeks, and the discomfort returns.
Surgical intervention has a longer pain period for weeks and then the individual gets slowly better.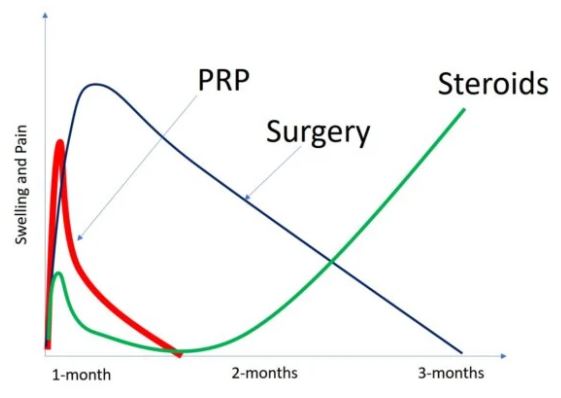 Why Centeno-Schultz Clinic is the Prime Destination for Regenexx-SCP Procedures
Conditions Treated with PRP in Colorado
s
Doctors that Perform PRP Injections in Denver & Broomfield, Colorado
PRP is used extensively in the treatment of different musculoskeletal injuries. Dr. Schultz discusses what PRP is, the different types, how it is created, and what to expect after PRP injection. Knowing these facts is critical to your clinical success.
Real Patients. Real Results.
The staff at Centeno-Schultz are both professional and highly competent. My rather complex stem cell/PRP procedure went like clockwork with Dr. Jason Markle's expertise and…
Frank B.
Dr Pitts is 100% about both patient care and improving quality of life for his patients. I had both PRP in my back and Stem…
Justin D.
I met my Doctor Ugochi Azuike the first week of Dec 2018. She took time, patience and was so methodical examining me and explained the…
Tyrone White
Had stem cell and PRP on both knees end of September by Dr. Schultz of Centeno/Schultz, Regenexx. Here I am the first week of December,…
Paul L.
I had PRP procedure on my elbow and one shoulder. I was extremely happy with results. The level was very high before my procedure and…
Kim L.
Everyone at Regenexx, at the Centeno-Schultz Clinic, were very kind and respectful. Dr. Pitts was the greatest! I appreciated his expertise and his sense of…
Cynthia C.
I would highly recommend Dr. Pitts. I've had my knees and elbow done. The PRP (or whatever they call theirs) on tennis/golf elbow was highly…
Tanya S.
About a year ago, Dr. Markle also treated me with PRP on my elbow. I did 2 rounds of that to help with the "tennis"…
Kaylie D.
Have done PRP in back, knees shoulder and hip. Have done stem cells in hip instead of a hip replacement. At 72 I am way…
Ruth S.
I will admit I was a little skeptical at first. Dr. Hyzy did a great job of educating me and ensured me I was a…
Nathan Y.