ACL Tears
Causes, Symptoms, Treatment Options, & Other Resources
What are ACL Tears?
The Anterior Cruciate Ligament (ACL) is one of four major ligaments in the knee. It is an important stabilizer of the knee and prevents the shin bone (tibia) from sliding in front of the thigh bone (femur).
The ACL is susceptible to injury. It is most likely to be injured during activity or by impact.
A torn ACL is a common injury for athletes at all levels, but it is most common for people who are active or who experience impact injuries to the knee.
Causes of ACL Tears
ACL injuries can happen to anyone of any age, condition, or ability, and they can be injured in many ways. Examples include abruptly changing direction, slowing down while running, landing incorrectly, or getting struck by someone or some object.
Several studies have shown that female athletes can get ACL injuries at a higher rate than male athletes. It has been proposed that this is because of differences in physical conditioning, muscular strength, and neuromuscular control. Other causes include differences in how the pelvis fits with the leg and ligaments' integrity. Estrogen also is considered to play a part in why this may be the case.
About half of all injuries to the anterior cruciate ligament happen along with other damage in the knee. Examples include damage to the articular cartilage, meniscus, or other ligaments such as the medial collateral ligament.
Orthopedists categorize ACL tears into 3 grades:
Grade 1 Tears
A partial-thickness ACL tear is a type of ACL tear where only a portion of the ACL is torn. This can be treated by Perc-ACLR.
Grade 2 Tears
A full-thickness, non-retracted ACL tear is when the ligament has been torn completely. The ligament still has not pulled apart or snapped back. This can be treated with the Perc-ACLR.
Grade 3 Tears
A grade 3 tear is a full-thickness tear that extends across the ACL and unlike a Grade 2 the ligament has pulled apart. This means that the two pieces of the ligament have pulled apart or maybe even snapped back like a rubber band. This cannot be treated with Perc-ACLR.
Symptoms of ACL Tears
Treatment Options for ACL Tears
ACL reconstruction has become a standard of care for most ACL tears because the spontaneous healing rate of ACLs is less than 5% (1). But at The Centeno-Schultz Clinic, we have created a novel treatment for ACL tears to prevent the need for a knee ligament surgery! Utilizing your own body's bone marrow concentrate (containing stem cells), we can harvest and concentrate the cells, then precisely inject them into the injured ligament. This injection of your own healing cells allows your body to regenerate the ligament and effectively prevents the need for knee ligament surgery! We have published multiple peer-reviewed research papers demonstrating 7 to 8 out of 10 patients with an ACL tear can avoid the need for knee ligament surgery!
Doctors That Assist with ACL Tears & Sprains
Other Resources for ACL Tears & Sprains
Free Download: The Knee Owner's Manual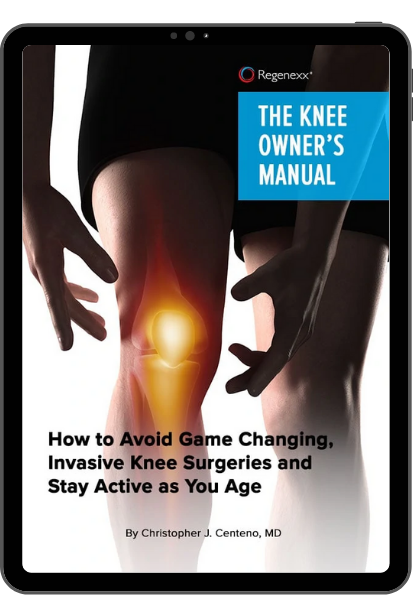 This e-book by Dr. Chris Centeno examines the knee and its role in the human musculoskeletal system and the body as a whole. The Knee Owner's Manual provides a series of tests and clearly defined exercises that you can perform on your own to assess and monitor your own knee health. It will allow you to look for trouble spots where your own body may be having difficulty with stability, articulation, symmetry, and neuromuscular function. You'll be able to see how these deficits in other regions of the body relate to the knee.
The Knee Owner's Manual also discusses how Regenexx is pioneering the development of interventional orthopedics, a new branch of medicine that employs regenerative biologic therapies such as adult bone marrow concentrate and platelet-rich plasma to help repair and strengthen damaged tissues in other areas of the body.
This is contrasted with invasive knee surgeries, which often remove important tissues or replace the entire knee itself when it becomes damaged. With hyperlinks to more detailed information, related studies, and commentary, this book condenses a vast amount of data, images, and resources into an enjoyable and informative read. This is the first edition of The Knee Owner's Manual, a companion book to Orthopedics 2.0.
Anterior Cruciate Ligament Injuries and Treatments The ACL (anterior cruciate ligament) is an important knee stabilizing ligament. It prevents the tibia from moving too much frontward (anterior translation) and twisting too much (internal rotation).  It is under most stress with landing from a jump, or a planted foot with twisting, and this is how it … Continued

---
References:
Razi M, Soufali AP, Ziabari EZ, Dadgostar H, Askari A, Arasteh P. Treatment of Concomitant ACL and MCL Injuries: Spontaneous Healing of Complete ACL and MCL Tears [published online ahead of print, 2020 Apr 8]. J Knee Surg. 2020;10.1055/s-0040-1708858. doi:10.1055/s-0040-1708858