Thoracic Spine Surgery
What You Need to Know
Thoracic spine surgery is a major surgery aimed at treating injuries in the thoracic spine. Because of the complex anatomy and close proximity to the heart and lungs, there are significant surgical risks and complications. Surgery on the thoracic spine can take hours and may require deflating the lung in order to gain access to the thoracic injury. Recovery can be lengthy depending upon the specific thoracic spine surgery performed.
Thoracic Spine Surgeries
There are several different types of thoracic spine surgery.  The specific thoracic spine performed depends upon the underlying thoracic injury and a patient's symptoms.  For example, a thoracic disc herniation with no significant narrowing of the central canal may be a good candidate for posterior thoracic discectomy.  Conversely, a patient who has sustained significant trauma to a thoracic disc may need a posterior thoracic fusion.  The goal of thoracic spine surgery is to trim or cut out damaged tissues in the thoracic spine that is giving rise to a patient's symptoms so as to restore the patient back to their clinical baseline. 
Common Thoracic Spine Conditions That Result in Surgery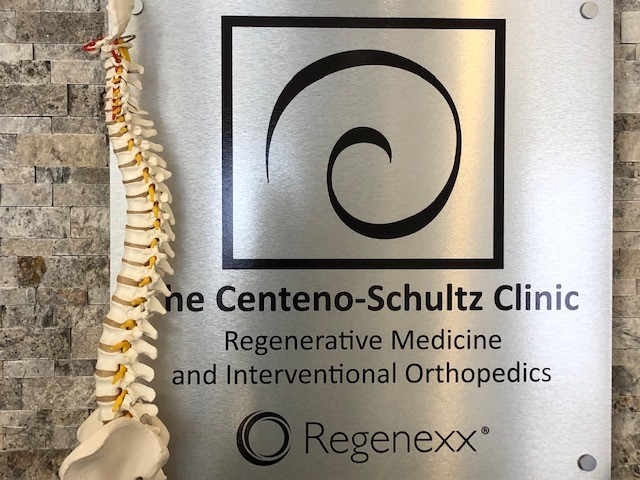 There are many different thoracic spine conditions that require surgery. The most common include:
Degenerative Disc Disease: generalized wear and tear on the disc.
Herniated Disc: Extrusion of the inner portion of the disc through the damaged sidewall into the spinal canal.
Spinal Stenosis: narrowing of the spinal canal due to disc protrusion, disc herniation, facet joint overgrowth, and ligament thickening.
Spondylolisthesis: slippage of one or more of the bones in the spine with injury to the disc, and facet joints and in many cases causes spinal canal stenosis.
Osteoporosis: a bone disease characterized by decreased bone strength. Patients are a risk for fractures.
Scoliosis: an abnormal sideways curve of the spine. The most common causes of scoliosis include congenital, neuromuscular, or degenerative conditions.
Kyphosis: an abnormal forward curve in the spine.
Compression Fractures: an injury of the vertebral body (boney building blocks in the spine) that makes them susceptible to collapse.
Types Of Thoracic Spine Surgeries
There are several different types of thoracic spine surgeries. Which is best? It depends upon the type of thoracic injury, location, severity, and the patient's symptoms. The 4 major thoracic spine surgeries include:
Posterior Thoracic Spinal Fusion
Thoracic spinal fusion is a specific type of surgery involving removing one or more thoracic discs with the insertion of bone grafts or disc spacers. The spine is then stabilized with screws and bolts. The term posterior refers to the surgical approach. Posterior means from the backside of the spine. A posterior thoracic spinal fusion is a major surgery
Risks unique to spinal fusions include:
Permanently changes the biomechanics of the spine
Implanted screws, bolts, and rods may crack or break requiring in many cases additional surgeries.
Risk of adjacent segment disease (ASD) (1). A breakdown of the discs and facet joints above and below the fusion as a result of the increased pressure. To learn more about adjacent segment disease please click on the video below.
Life After Posterior Thoracic Spinal Fusion Surgery
Life after posterior thoracic fusion surgery involves extensive rehabilitation and physical therapy to improve strength and spinal stability.
Associated Risks of Posterior Thoracic Spinal Fusion Surgery
Complications associated with posterior thoracic spinal surgery include spinal cord injury, nerve-root injury, dural injury, cerebrospinal fluid leak, pulmonary injury, infection, and failure to fuse (2)
Recovery Time After Posterior Thoracic Spinal Fusion Surgery
Recovery from surgery on the thoracic spine varies from patient to patient. It is dependent upon the number of levels fused, duration of the surgery, presence or absence of complications during the surgery, and one's underlying medical condition. Recovery typically takes between three to six months.
Success Rates & Research Relating to Posterior Thoracic Spinal Fusion
Success rates vary depending on the number of levels fused, pre-existing medical conditions, and the skill and expertise of the surgical team. A recent study demonstrated an average success rate of only 61% (3)
Thoracic Laminectomy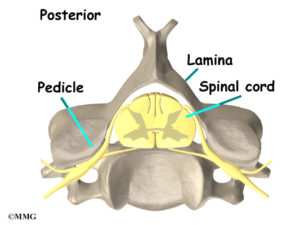 A thoracic laminectomy is a major surgery in which a part of the spinal bone is removed so as to reduce the pressure on the spinal cord and nerve roots. The lamina is the section of bone that is removed. It is located on the backside of the thoracic spine. The spinal canal can be severely narrowed as a result of disc bulge, disc herniation, ligament overgrowth, facet joint overgrowth, and tumors. Removing the lamina decreases the pressure and potential damage to the spinal cord and exiting nerves.
Life After Posterior Thoracic Laminectomy
Life after thoracic laminectomy involves extensive physical therapy to improve spinal stability and muscle strength. Removing the thoracic lamina in many cases provides a reduction in symptoms and pain and improved function.
Associated Risks of a Thoracic Laminectomy
Risks associated with thoracic laminectomy are similar to that of a posterior spinal fusion. Significant risks include infection, failure, escalation in pain, and injury to the spinal cord, nerve root, dural, and lung.
Recovery Time After a Thoracic Laminectomy
There are multiple factors that play a role in the recovery period. These include pre-existing medical conditions such as obesity, diabetes, lung disease, and poor exercise tolerance. Other important factors include the number of levels the laminectomy was performed on, surgical duration, and whether hardware such as screws and plates was utilized.
Success Rate & Research Relating to a Thoracic Laminectomy
Success rates vary depending upon the number of levels decompressed and the indication for surgery. One recent study demonstrated a success rate of only 53% (4).
Posterior Thoracic Discectomy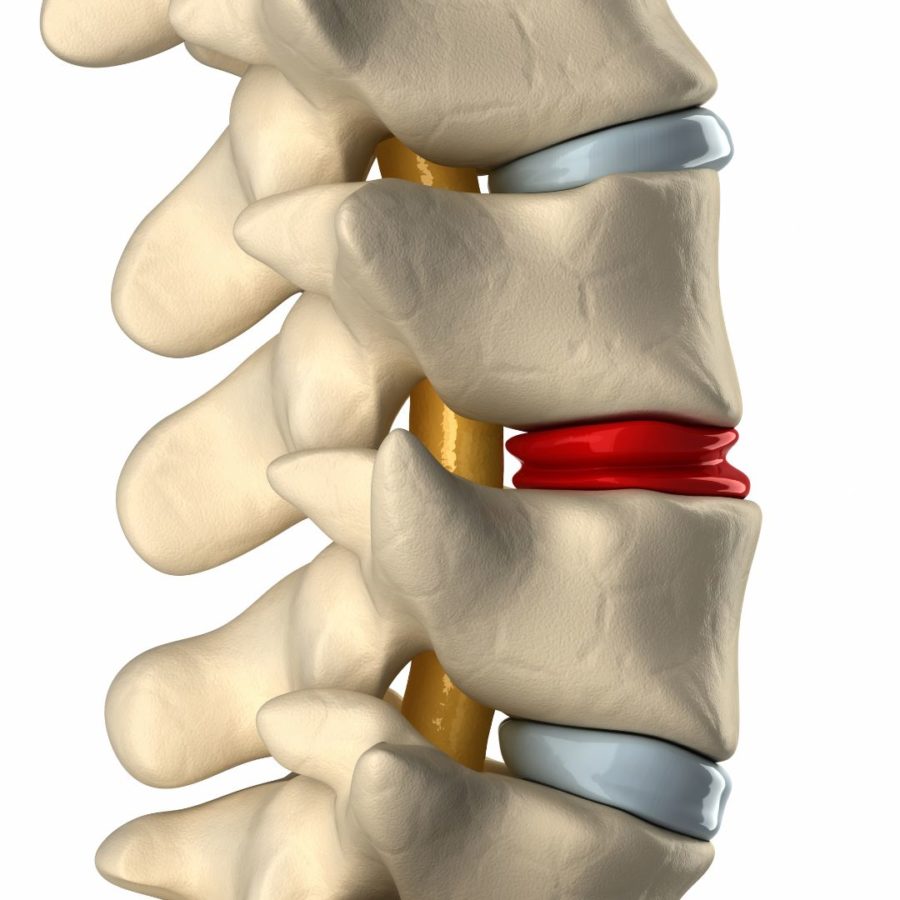 A discectomy is a surgery that involves the removal of the damaged part of the disc. It can be performed at all levels of the spine; cervical, thoracic, and lumbar. The goal of a posterior thoracic discectomy is to remove that portion of the disc that is damaged and causing pain. Thoracic discectomy is also performed to relieve the pressure exerted by the damaged disc on the nerves and the spinal cord. In theory, removing the damaged disc will improve pain and decrease pressure on spinal neural elements such as the spinal cord.
Associated Risks of a Thoracic Discectomy
Risks associated with thoracic discectomy include dural tears, nerve injury, spinal cord injury, vascular complication, infection, escalation in pain, continued degeneration of the affected disc, intercostal neuralgia, and failure.
Success Rate & Research Related to Thoracic Discectomy
The size of the thoracic disc herniation and the presence of any calcification are both predictors of poor outcomes (5). Success rates vary significantly based upon the indication for the thoracic discectomy, levels performed, presence or absence of fusion, and pre-existing medical conditions.
What To Expect
Surgery on the thoracic spine is major surgery. There are several different types which include thoracic fusion, thoracic laminectomy, and thoracic discectomy. There are significant and potentially permanent complications that are life-changing. The rehabilitation and recovery are long with no assurance one will return to baseline. The is no guarantee that the pain and dysfunction will improve and success rates on average are slightly greater 50%.
When Should You Consider Surgical Treatment
Thoracic spine surgery is major surgery with significant potentially permanent complications with no assurance that the pain and dysfunction will improve.
An accurate diagnosis is essential. It will confirm that the pain is actually arising from the thoracic spine. There are many sources of thoracic pain that are overlooked and not evaluated. These include ligaments, facet joints, and costovertebral joints. To learn more about the causes of thoracic pain please click here.
All conservative therapies must be undertaken and exhausted. Traditional pain injections can be helpful in identifying the source of pain. Most importantly thoracic spine surgery should be the treatment of last resort given it invasive nature, long rehabilitation time, need for narcotics, and significant and potentially permanent complications.
Thoracic spine surgery may be required when there is an abrupt onset of bowel and bladder incontinence, lower extremity weakness, and numbness.
Who Is A Candidate For Surgery?
Surgery on the thoracic spine may be the appropriate treatment if:
Pain is chronic and intolerable
Nonsurgical treatments have not worked
Loss of bowel and bladder function.
Can You Treat Thoracic Spine Conditions Without Surgery?
The Centeno Schultz Clinic are experts in the evaluation and treatment of thoracic pain. All physicians are board-certified and fellowship-trained. We view the spine as a functional unit that involves many moving parts that work together. The spine's stability is critical and is evaluated by examining the integrity of supporting ligaments.
All injections are performed under x-ray or ultrasound guidance. This is to ensure the accurate placement of the needle and injected medicine. It is also used to avoid injury to the lung with the subsequent collapse.
PRP and bone marrow concentrate are utilized to facilitate healing and restore stability. The injections require extensive experience and training due to the complexity of the anatomy. Thoracic injections can not be performed by your PCP or local orthopedic surgeon.
Get The Best Treatment Plan For Your Thoracic Spine Condition
Thoracic spine surgery is a major surgery that requires extensive rehabilitation and is associated with significant and potentially permanent complications. Thoracic spine surgery is no guarantee that the pain will improve and may in fact get worse.
An accurate diagnosis is paramount. One must insist upon an evaluation that identifies the cause of thoracic pain. Then and only then can an appropriate treatment plan be designed. Diagnostic injections with local anesthetics can confirm the source of pain. All conservative treatment should be undertaken. PRP and stem cells can aid in the healing of damaged structures as opposed to high-dose steroids which have significant side effects and can potentially damage discs, facet joints, tendons, and ligaments. To learn about the adverse side effects of steroids click here.
Narcotics mask the pain without treating the underlying condition. Narcotics are associated with addiction.
Are you unsure about getting surgery for your thoracic pain? Schedule an appointment with the experts in thoracic pain at the Centeno-Schultz Clinic. In-office and online evaluations are available where we will review your history, symptoms, treatment to date, and radiographic studies. PRP and bone marrow concentrate treatments are viable alternatives to thoracic spine surgery without the extensive rehabilitation and risks associated with surgery.
Are you unsure about getting surgery for your thoracic spine condition? To schedule please contact Jen at 720-287-7196 or [email protected] or Vanessa at [email protected]. It is time to stop suffering and start living life to its fullest.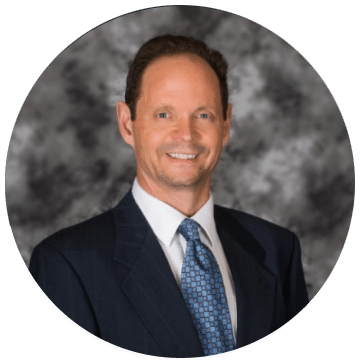 John Schultz, MD
John R. Schultz M.D. is a national expert and specialist in Interventional Orthopedics and the clinical use of bone marrow concentrate and PRP for orthopedic injuries. He is board certified in Anesthesiology and Pain Medicine and underwent fellowship training. Dr. Schultz has extensive experience with same day as well as culture expanded bone marrow concentrate and sees patients at the CSC Broomfield, Colorado Clinic, as well the Regenexx Clinic in Grand Cayman. Dr. Schultz emphasis is on the evaluation and treatment of thoracic and cervical disc, facet, nerve, and ligament injuries including the non-surgical treatment of Craniocervical instability (CCI).
More Resources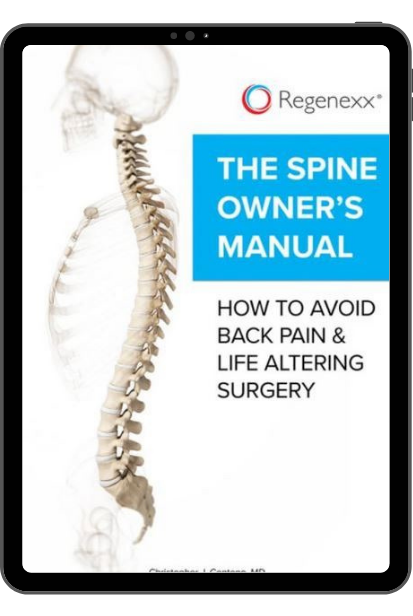 The Spine Owner's Manual: How to Avoid Back Pain & Life-Altering Surgery
This e-book from Dr. Chris Centeno focuses on the spine and how it functions within the human musculoskeletal system and the body as a whole. Everything in our bodies works together like a well-tuned symphony to support our well-being, and a strong spine (including all of its component parts, such as spinal nerves, ligaments, muscles, etc.) is critical to complete health.
Using the Regenexx SANS approach, The Spine Owner's Manual provides a series of tests and clearly defined exercises that you can do on your own to measure and monitor your own spinal health. These musculoskeletal tests will allow you to monitor where your own body might be struggling to maintain proper stability, articulation, symmetry, and neuromuscular function.
Related Articles
The L5 S1 joint, or the lumbosacral joint, is a critical joint. It lies between the lumbar segment of the spine and the auricular processes of the sacrum. The L5-S1 joint plays a vital role in transmitting the weight of the body via the sacrum and ilium downwards. The weight is distributed to the femur…

---
---
References
1.Saavedra-Pozo FM, Deusdara RA, Benzel EC. Adjacent segment disease perspective and review of the literature. Ochsner J. 2014 Spring;14(1):78-83. PMID: 24688337; PMCID: PMC3963057.
2.He B, Yan L, Xu Z, Guo H, Liu T, Hao D. Treatment strategies for the surgical complications of thoracic spinal stenosis: a retrospective analysis of two hundred and eighty-three cases. Int Orthop. 2014 Jan;38(1):117-22. doi: 10.1007/s00264-013-2103-2. Epub 2013 Sep 22. PMID: 24057658; PMCID: PMC3890145.
3.Yamasaki R, Okuda S, Maeno T, Haku T, Iwasaki M, Oda T. Surgical outcomes of posterior thoracic interbody fusion for thoracic disc herniations. Eur Spine J. 2013 Nov;22(11):2496-503. doi: 10.1007/s00586-013-2877-3. Epub 2013 Jun 26. PMID: 23801016; PMCID: PMC3886499.
4.Li X, An B, Gao H, Zhou C, Zhao X, Ma H, Wang B, Yang H, Zhou H, Guo X, Zhu H, Qian J. Surgical results and prognostic factors following percutaneous full endoscopic posterior decompression for thoracic myelopathy caused by ossification of the ligamentum flavum. Sci Rep. 2020 Jan 28;10(1):1305. doi: 10.1038/s41598-020-58198-x. PMID: 31992790; PMCID: PMC6987090.
5. Court C, Mansour E, Bouthors C. Thoracic disc herniation: Surgical treatment. Orthop Traumatol Surg Res. 2018 Feb;104(1S):S31-S40. doi: 10.1016/j.otsr.2017.04.022. Epub 2017 Dec 7. PMID: 29225115.