Sit Bone Pain / Ischial Tuberosity
Life can sometimes be a pain in the butt. Truly! What happens, however, when you actually have debilitating pain in the butt? What are your but bones – often called "sit bones" or simply butt bones – comprised of? And why do people call it Sitz bone?
What are the causes of sit bones pain? What are the treatment options? How do you know how to relieve sit bone pain? Let's dig in.
What Are Your Sit Bones?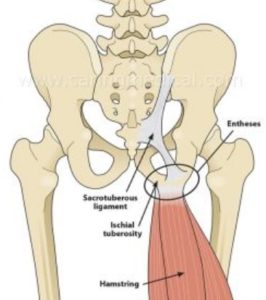 The ischial tuberosity, also called your Sitz bone, sis a pair of rounded bones that extends from the bottom of the pelvis. They are the bones that we sit on. The pelvis consists of three strong bones fused together: the ilium, ischium and pubis. The ilium are the tall, thin bones that create the iliac crest aka the waist bone. The pubis bones are the small anterior bones that are joined together by the pubic symphysis. The ischium forms the lower and back part of the pelvis. It is situated between the ilium and pubis A tuberosity is defined as a large prominence on a bone that serves as an the attachment for muscles or ligaments. The ischial tuberosity is a bony prominence on the ischium that is the site of attachment for the adductor magnus and hamstring tendons and sacrotuberous ligament as illustrated.
What Causes Pain in the Sit Bones?
Sit bone pain can be caused by irritation or injury to the local structures or can be referred from other structures.  Inflammation of the hamstring or adductor tendon can cause a tendonitis or if long-term tendinosis can cause pain in your sit bones (1).  A bursa is a fluid-filled structure that allows tendons and muscles to slide freely.  Irritation or inflammation of the ischial bursae can cause sit bone pain (2). The bone itself is also vulnerable to injury and fracture of the ischial tuberosity can cause significant sit bone pain (3).
Referred pain is important and must be evaluated. Common sources include:
Sacroiliac Joint:   Formed by the ilium and the sacrum bones, this joint is susceptible to injury.  94% of patients with documented SI joint injury have pain in the buttock (4).
Sciatic nerve irritation: The largest and longest nerve in the body, the irritation of the sciatic nerve can result in buttock pain.
Piriformis and glutenous maximums muscle dysfunction: Common referral patterns include pain in the lower buttock (5).
Lumbar disc injury with nerve irritation: Disc bulges, disc herniation, facet joint overgrowth and narrowing of the bony doorway through which nerves exit can cause nerve irritation with resultant pain in the sit bone.
To learn more about the top three causes of butt pain please click on video below.
How do you Treat Sitz Bone Pain?
Appropriate treatment will depend upon the actual source of the pain. Activity modification, rest, healthy anti-inflammatory medications such as fish oil and curcumin can reduce the pain. Physical therapy and intra-muscular stimulation (IMS) can reduce the pain associated with ischial bursa and hamstring tendon inflammation. Steroid injections, while common, are quite toxic as they can compromise the tendons, muscles, and ligaments. Steroids have been demonstrated to deplete the number of stem cells and weaken tendons (6). PRP is an effective treatment option as it allows the growth factors associated with PRP to reduce inflammation, increase blood flow and promote healing. PRP has also been effective in the treatment of ischial tuberosity fractures (7).
Physical therapy can be effective in the management and treatment of sacroiliac joint injury and pain. When conservative therapy fails, x-ray guided injections of PRP into both the joint itself and supporting ligaments are effective.
The low back is often overlooked and missed as a source of referred butt pain. This is what happened to me in 2003 as I developed unrelenting right buttock pain. Everyone was focused on local structures such as adductor or hamstring tendons, and piriformis when in fact I had a large lumbar disc herniation. I had no leg pain and minimal back pain. Epidural steroid injections were recommended which I declined. Why?
Epidural steroid injections should be avoided as they are associated with a number of side effects which include increased risk of spinal fracture, suppression of the stress response, elevations in blood sugar, and compromise of the local muscles, tendons, and ligaments. PRP is an effective alternative to steroids (8). At the Centeno-Schultz Clinic, we have extensive experience in the treatment of sit bones pain with an x-ray guided and ultrasound-guided PRP injections.
To learn more about treatment options for disc injuries please click on the video below.
In Conclusion..
The ischial tuberosities, aka the butt bones, are paired bones in the pelvis that serve as important attachments for muscle and tendons. Sit bone pain can arise from injury or irritation of local structures which include the bursae, tendons, and ligaments. Sit bone pain can also be referred from other sources which include muscles, the sacroiliac joint, and low back injuries with nerve irritation. Physical therapy and activity modification are first-line treatments. Steroids should be avoided due to their significant side effects. PRP is an effective treatment for sit bone pain.
Our Doctors Who Treat Sitz Bone Pain
_________________________________________________________________________________
1. Bass E. Tendinopathy: why the difference between tendinitis and tendinosis matters. Int J Ther Massage Bodywork. 2012;5(1):14-7.
2. Johnson DB, Varacallo M2. Ischial Bursitis. StatPearls [Internet]. Treasure Island (FL): StatPearls Publishing; 2019. Mar 19.
3. Spencer-Gardner L, Bedi A, Stuart MJ, Larson CM, Kelly BT, Krych AJ. Ischiofemoral impingement and hamstring dysfunction as a potential pain generator after ischial tuberosity apophyseal fracture non-union/malunion. Knee Surg Sports Traumatol Arthrosc. 2017;25(1):55-61.DOI: 10.1007/s00167-015-3812-4
4. Podschun L, Hanney WJ, Kolber MJ, Garcia A, Rothschild CE. Differential diagnosis of deep gluteal pain in a female runner with pelvic involvement: a case report. Int J Sports Phys Ther. 2013;8(4):462-71.
5. Orchard JW. Intrinsic and extrinsic risk factors for muscle strains in Australian football. Am J Sports Med. 2001;29(3):300-3.
6. Zhang J, Keenan C, Wang JH. The effects of dexamethasone on human patellar tendon stem cells: implications for dexamethasone treatment of tendon injury. J Orthop Res. 2013;31(1):105-10.DOI: 10.1002/jor.22193
7. Stafford CD, Colberg RE, Nourse AL. Chronic ischial tuberosity avulsion nonunion fracture treated with a platelet-rich plasma injection as a bone graft. Regen Med. 2019;14(5):353-8.DOI: 10.2217/rme-2018-0071
7. Slipman CW, Jackson HB, Lipetz JS, Chan KT, Lenrow D, Vresilovic EJ. Sacroiliac joint pain referral zones. Arch Phys Med Rehabil. 2000;81(3):334-8.DOI: 10.1016/s0003-9993(00)90080-7
8. Centeno C, Markle J, Dodson E, et al. The use of lumbar epidural injection of platelet lysate for treatment of radicular pain. J Exp Orthop. 2017;4(1):38. 29177632.DOI: 10.1186/s40634-017-0113-5