Patellar Tendonitis
Causes, Symptoms, Treatments, and Other Resources
What is the Patellar Tendon?
A tendon is a piece of connective tissue that connects muscle to bone. It serves to move the bone or a given joint. The patellar tendon is a major tendon in the knee. It is located at the bottom of the kneecap (patella) and stretches down to the shin. The patellar tendon enables you to extend your knee, kick, run, and jump
What is Patellar Tendinitis?
Patellar tendinitis is an irritation and inflammation of the tendon that connects your kneecap (patella) to your shinbone. Patellar tendinitis, also known as jumper's knee, can affect anyone. The most common symptom is pain at the shin or lowest part of the kneecap. Other symptoms include swelling, tenderness, and restriction in motion. Kneeling or squatting often is quite painful
What are the causes of Patellar Tendonitis?
Patellar tendonitis can be caused by trauma or repetitive stress on your patellar tendon.
including activities that involve running, jumping, pivoting on one foot for a prolonged period (especially if you are wearing high-heeled shoes), kneeling with excessively bent knees during activities such as gardening or housecleaning.
In sports where there is a lot of jumping and running, such as basketball and volleyball, athletes are more likely to experience patellar tendinitis.
Symptoms of Patellar Tendinitis
You may only feel discomfort in your knee while beginning a physical activity or just after a strenuous workout at first. The pain gets worse over time and begins to limit your ability to play your favorite sports. The pain may be localized on the top portion of your shin or the lowest part of the kneecap. The pain may be worse when you climb stairs, walk, run, or jump. You may also have a burning sensation in the tendon. If left untreated simple activities such as climbing stairs and getting out of a chair may be difficult. Knee swelling and restriction in range of motion can occur.
Read more about the symptoms below:
Treatment Options
Conservative Care
Your first-line treatment options include:
RICE – Rest, Icing, Compression, and Elevation
Physical therapy
More Extensive Treatment
If conservative treatments aren't effective, your doctor may recommend other treatment options, such as:
Corticosteroid injection. Ultrasound-guided injections of corticosteroids into the sheath surrounding the patellar tendon may help with discomfort. However, these medicines can also damage tendons and make them more prone to rupture.
Platelet-rich plasma injection. These injections promote new tissue formation and help the body heal tendon damage.
Surgery. If you're not offered surgery to clean out the patellar tendon after other treatments have failed, your doctor may advise surgical debridement of the tendon in rare circumstances. Small incisions around your knee are sometimes possible for some operations. However, it is advised to use platelet-rich plasma before considering surgery.
A Deeper Dive Into Your Treatment Options
NSAIDs
The other day I was evaluating a patient and reviewing the treatment options for their spine condition.  After discussing prior treatments, we got to the topic of medications taken for pain relief. She explained that she mainly utilized anti-inflammatory (NSAID) medications and then she told me to hold much she takes and has been for many years…..she takes close to 2 grams (2000 milligrams) on a daily basis which equated to about 9-10 capsules of medication per day.  I was shocked, considering she was pre-diabetic and with high blood pressure plus the kicker of it is that her PCP (primary care physician) is ok with this…
Read More About NSAIDs
PRP Knee Injections
PRP stands for Platelet-Rich Plasma. Platelets are blood cells that prevent bleeding. They contain important growth factors that aid in healing. Plasma is the light yellow liquid portion of our blood. So PRP is simply a concentration of a patient's own platelets that are suspended in plasma and are used to accelerate healing. PRP is NOT stem cell therapy. Regrettably, blood contains few circulating stem cells. Rich sources of stem cells are bone marrow and fat. PRP is rich in growth factors. There are many different types of growth factors with different properties. VEGF is a very important one as it can increase the blood flow to an area.
Read More About PRP Knee Injections
Our Doctors That Can Assist With Patellar Tendonitis
Other Resources on the Patella Tendon
Free Download: The Knee Owner's Manual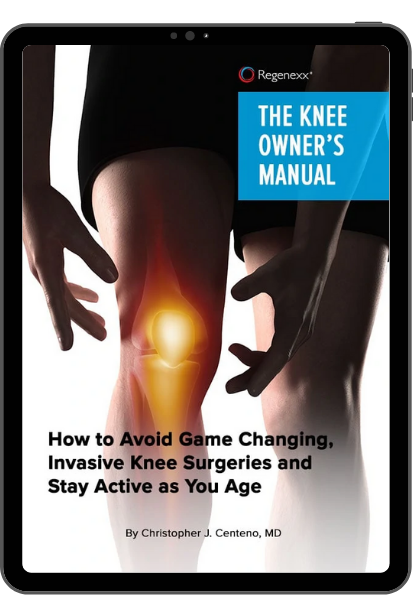 This e-book by Dr. Chris Centeno examines the knee and its role in the human musculoskeletal system and the body as a whole. The Knee Owner's Manual provides a series of tests and clearly defined exercises that you can perform on your own to assess and monitor your own knee health. It will allow you to look for trouble spots where your own body may be having difficulty with stability, articulation, symmetry, and neuromuscular function. You'll be able to see how these deficits in other regions of the body relate to the knee.
The Knee Owner's Manual also discusses how Regenexx is pioneering the development of interventional orthopedics, a new branch of medicine that employs regenerative biologic therapies such as adult bone marrow concentrate and platelet-rich plasma to help repair and strengthen damaged tissues in other areas of the body.
This is contrasted with invasive knee surgeries, which often remove important tissues or replace the entire knee itself when it becomes damaged. With hyperlinks to more detailed information, related studies, and commentary, this book condenses a vast amount of data, images, and resources into an enjoyable and informative read. This is the first edition of The Knee Owner's Manual, a companion book to Orthopedics 2.0.
It all happened so suddenly. You were running down the field and made a quick cut. You heard an audible pop followed by searing knee pain and then collapsed to the ground. Your doctor thinks your tore your ACL and has referred you to a surgeon. What is the Anterior Cruciate Ligament? What is the … Continued

---