Facet Joint Syndrome
Causes, Symptoms, Treatments, & Other Resources
Injury or inflammation of the cervical facet can lead to neck, shoulder and headache pain – called "cervical facet syndrome." It is, basically, facet joint syndrome in the neck.
Cervical facet syndrome largely involves a joint in the posterior aspect of the cervical spine. It functions to provide stability and guide motion.
Cervical facet pain is common in patients who have sustained a whiplash injury, trauma to the neck or undergone cervical fusion. Physical examination is typically significant for restriction in range of motion along with pain. Each joint has a distinct referral pattern illustrated below.
The doctors of Centeno-Schultz Clinic are experts at diagnosing and treating cervical facet dysfunction. Injury to the joint is not commonly detected by conventional radiographic studies. A thoough understanding of the mechanism of injury is essential.
Causes of Facet Joint Syndrome
The condition is caused by a variety of factors, ranging from blunt force to whiplash. Maintaining an abnormal posture has also been linked to the tissue's degeneration. Posture abnormalities, such as forward head posture and slumped shoulders, can strain spinal tissues, including facet joints. Degenerative changes in the cervical, thoracic, and lumbar spines are more often responsible for abnormal stress and strain. This causes higher stress on the facet joints as a result of greater loading. However, most often, deterioration is connected with the human body's natural aging process, putting stress and strain on the facet joints.
3 Kinds of Facet Joint Syndrome
Cervical Facet Joint Syndrome
Facet joint syndrome, which affects the neck and shoulder joints, can produce neck and shoulder discomfort that limits your range of motion. Facet joint syndrome in the cervical spine might also cause headaches.
Thoracic Facet Joint Syndrome
Thoracic facet joint syndrome (TFJS) causes discomfort in the midback, and you may have trouble turning your entire body to look over to the right or left because of a restricted range of motion.
Lumbar Facet Joint Syndrome
Lumbar facet joint syndrome is a condition that causes low back pain. You might experience discomfort in your lower back, as well as aches and pains in your buttocks and/or thighs (the pain usually does not go below the knee). Inflammation of these joints can cause stiffness and difficulty rising from a seated position. Pain while starting to move is
Common Symptoms
Treatment Options
Successful treatments include intra-articular facet injections, prolotherapy, and PRP.
Our Doctors Who Treat Facet Joints
Other Resources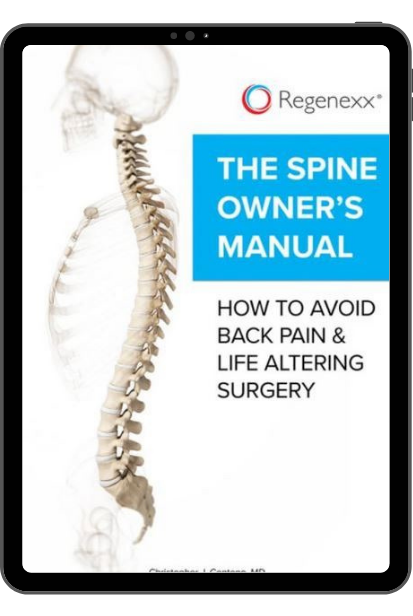 The Spine Owner's Manual: How to Avoid Back Pain & Life-Altering Surgery
This e-book from Dr. Chris Centeno focuses on the spine and how it functions within the human musculoskeletal system and the body as a whole. Everything in our bodies works together like a well-tuned symphony to support our well-being, and a strong spine (including all of its component parts, such as spinal nerves, ligaments, muscles, etc.) is critical to complete health.
Using the Regenexx SANS approach, The Spine Owner's Manual provides a series of tests and clearly defined exercises that you can do on your own to measure and monitor your own spinal health. These musculoskeletal tests will allow you to monitor where your own body might be struggling to maintain proper stability, articulation, symmetry, and neuromuscular function.
Degenerative disc disease (DDD) is a physiological breakdown of the intervertebral discs in the spine. Clinical studies have shown that disc degeneration, or the narrowing of at least one intervertebral space, is prevalent in nearly 60% of the population above 40 years of age(1). DDD can occur in the cervical, thoracic, or lumbar spine. While…