Facet joint cysts are most commonly found in the lower lumbar spine, particularly at the L4-L5 level. They are more common in older individuals and may be associated with degenerative changes in the spine. Other risk factors for facet cysts include a history of trauma, spinal stenosis, and spondylolisthesis.
It is important to note that while facet cysts may be seen on imaging studies, they may not always be the cause of a patient's symptoms. Many people with facet cysts do not experience any symptoms at all.
Clinical evaluation by a healthcare provider is necessary to determine the significance of a facet cyst in a patient's particular case. So let's dive into what a facet synovial cyst is and what can be done about it.
What Is Synovial Facet Cyst?
A facet cyst, also known as a synovial cyst, is a fluid-filled sac that forms in the facet joint of the spine. The facet joints are small joints located between the vertebrae of the spine that provide stability and enable movement. Facet cysts typically develop due to degeneration and wear and tear of the facet joint, which can cause the joint capsule to stretch and weaken.
This weakened capsule can then allow synovial fluid, which normally lubricates and nourishes the joint, to leak out and form a cyst. Facet cysts can cause various symptoms such as back pain, leg pain, numbness, or weakness, depending on their location and size.
The treatment options for facet cysts depend on the severity of symptoms and underlying conditions. Observation may be an option for asymptomatic cysts. Injection therapy, aspiration and injection, radiofrequency ablation, and cyst removal may be options for symptomatic cysts.
For patients with underlying facet joint degeneration, facet joint fusion may be a consideration to address the underlying pathology. It is important to note that the treatment approach should be tailored to each individual patient's needs and preferences, and that the risks and benefits of each option should be discussed with a healthcare provider.
What Are The Symptoms Of Synovial Facet Cyst?
The symptoms of lumbar facet cysts can vary depending on the location and size of the cyst. Some individuals with lumbar facet cysts may not experience any symptoms, while others may experience one or more of the following:
Low back pain: Pain in the lower back is a common symptom of lumbar facet cysts. The pain may be localized or may radiate to the hips, buttocks, or legs.
Leg pain: Some individuals may experience pain that radiates down the leg, similar to sciatica. This pain may be caused by compression of the nerve roots in the area of the cyst.
Numbness or tingling: Some individuals may experience numbness or tingling in the lower back, hips, buttocks, or legs.
Weakness: Compression of the nerve roots may also cause weakness in the lower back, hips, or legs.
Difficulty standing or walking: In some cases, the pain and other symptoms may make it difficult for individuals to stand or walk for extended periods.
Bowel or bladder dysfunction: In rare cases, lumbar facet cysts can cause dysfunction of the bowel or bladder, which requires immediate medical attention.
It is important to note that these symptoms can also be caused by other conditions, and a healthcare provider should perform a thorough evaluation to determine the underlying cause of the symptoms.
Mechanical Back Pain
The symptoms listed above are exacerbated / aggravated with movements such as extension (bending backwards) or flexion (bending forwards).
Common Causes Synovial Facet Cyst
Facet cysts, also known as synovial cysts, typically develop as a result of degeneration and wear and tear of the facet joint in the spine. The following are some of the most common causes of facet cysts:
Age-related degeneration: As people age, the facet joints in the spine may degenerate and become weaker, which can lead to the development of cysts.
Arthritis: Osteoarthritis and other types of arthritis can cause inflammation and damage to the facet joints, which can increase the risk of cyst formation.
Trauma: Injuries to the spine, such as fractures or sprains, can damage the facet joint and increase the risk of cyst formation.
Genetics: Certain genetic factors may increase the risk of developing facet cysts.
Repetitive motion: Repetitive motions, such as bending or twisting, can place stress on the facet joints and increase the risk of degeneration and cyst formation.
It is important to note that facet cysts can also be present without any known cause or risk factors, and the underlying cause of a cyst may not always be identifiable.
Common Treatment Options For A Synovial Facet Cyst
Can Synovial Facet Cyst Heal On Its Own?
No, typically they do not resolve on their own because the underlying issue that created the cysts is a combination of instability (ligament laxity) that furthers the degeneration and continues additional stress on the joint. If you are not addressing the underlying issue, then there is no.
How Serious Is A Synovial Facet Cyst?
Facet cysts can be very serious. If not dealt with in a timely manner, they can run the risk of needing invasive surgeries such as fusions, laminectomy, facetectomies, and more.
How Is A Synovial Facet Cyst Diagnosed?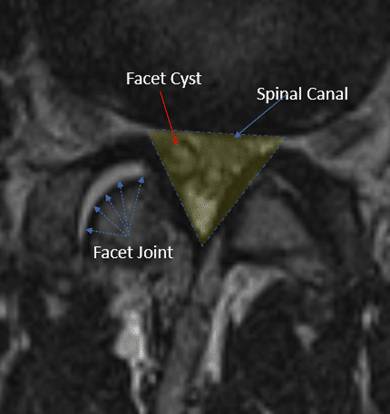 MRI is the best tool to identify the presence of facet cysts.
X-rays, more specifically motion x-rays, are excellent at identifying the underlying issue that is causing the facet cyst,such as instability via spondylolisthesis.
Get The Right Treatment For Your Synovial Facet Cyst Condition
Facet cysts can be quite debilitating. If you have been dealing with one and failing to find results with more traditional approaches–before you have surgery that can leave your spine fused– call us for an evaluation! Our experts will evaluate you and determine if you are a candidate to help resolve the cyst and eliminate your current symptoms!
More Resources for Facet Synovial Cyst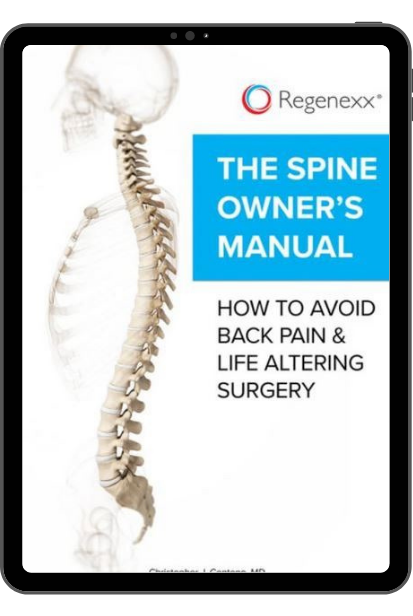 The Spine Owner's Manual: How to Avoid Back Pain & Life-Altering Surgery
This e-book from Dr. Chris Centeno focuses on the spine and how it functions within the human musculoskeletal system and the body as a whole. Everything in our bodies works together like a well-tuned symphony to support our well-being, and a strong spine (including all of its component parts, such as spinal nerves, ligaments, muscles, etc.) is critical to complete health.
Using the Regenexx SANS approach, The Spine Owner's Manual provides a series of tests and clearly defined exercises that you can do on your own to measure and monitor your own spinal health. These musculoskeletal tests will allow you to monitor where your own body might be struggling to maintain proper stability, articulation, symmetry, and neuromuscular function.
Relevant Articles
The spine, consisting of 33 individual bones called vertebrae, is divided into five major regions: cervical (neck), thoracic (upper back), lumbar (lower back), sacral (pelvic region), and coccygeal (tailbone). These vertebrae are separated by intervertebral discs, which act as cushions and allow for flexibility in movement. The lumbar spine, also known as the lower back,…