Annular Tear
Causes, Symptoms, Treatments, & More Resources
Low back pain can be debilitating and have many different causes. Today we'll be discussing annular tears. The first question is what is an annular tear? Are annular tears painful? Is an annular tear the same as a herniated disc? What are the annular tear treatment options? Let's dig in.
What is An Annular Tear?
To understand annular tears, let's first review the anatomy of the spine. The lumbar spine is comprised of 5 boney building blocks called vertebral bodies. Sandwiched between the vertebral bodies are the lumbar discs. Each disc is comprised of an outer fibrous ring, the annulus fibrosis that surrounds the inner gelatinous center, which is called the nucleus. The disc absorbs the forces of daily living. The annulus has multiple layers of collagen that provide important support. The annulus is similar to the sidewall of a tire which provides important stability for the tire.
Causes of Annular Tear
Through trauma or degeneration, the outer annular fibers can become injured and or weakened. This weakening in one or more annular layers can result in an annular tear. The diagnosis of an annular tear is made after a radiographic examination such as an MRI. An annular tear is a bright signal in the outer wall of the disc which can also be referred to as a high-intensity zone in MRI reports (1).
To learn more about annular tears please watch the video below.
Common Symptoms of an Annular Tear
Calf Muscle Twitching
A twitching calf muscle may seem like no big deal, and if it's just a temporary annoyance that lasts a couple of days and then goes away, it may be. However, it can also be a warning sign of something bigger, especially if it continues. So, today, we're going to explain a little about the calf and why it's not a good idea to ignore calf muscle twitching. If there's one muscle you're likely familiar with, it's the calf muscle. If you reach around and grab your calf and flex it, the muscle you are actually feeling just under the surface is called the gastrocnemius muscle.
Read More About Calf Muscle Twitching
Lower Back Pain When Sitting
After a long day on your feet sitting down is supposed to be way to relaxing. Unfortunately for some sitting for any length of time can be painful. Most people experience low back pain at some point in their life. The lifetime prevalence of low back pain is 85% (1). Let's take a deeper look at the different types of pain and causes of low back pain when sitting. Pain can present in many different ways. It can be intermitent or constant. The quality of the low back pain can also vary depending upon the actual source of injury. Common examples include: Sharp and Stabbing, Dull and Aching, Throbbing/ Pulsating, Pins and Needles, Burning, Electrical
Read More About Lower Back Pain When Sitting
Lower Back Pain When Standing
When you're seated, the facet joints in your lower back are in an open and slightly flexed position. When you stand up, these joints compress. If they are painful or have arthritis, you'll have pain as you stand up because this puts pressure on the painful joints. In addition, if there is any type of movement of one vertebra forward on another (called spondylolisthesis), then this shift will have occurred as you sit. This is called degenerative spondylolisthesis. When you get back up, the vertebrae will come back into position after a few seconds, leading to that awkward "walk it out period" that starts out painful and ends up more normal.
Read More About Lower Back Pain When Standing
Are Annular Tears Painful?
No, not all annular tears are painful. In fact, annular tears are commonly identified in individuals without low back pain. In a recent study of patients with no low back pain who underwent MRI examination, annular tears were found in 56% (2). Similar findings were found in the cervical spine. In a 2005 study of patients with no neck pain, 37% had an annular tear (3). Annular tears can become symptomatic and cause localized lower back pain aggravated by sitting. Patients with annular tears can also have other disc injuries which include protrusion and herniations. Often times the disc protrusions and herniations are the sources of the pain. Annular tears by themselves are not an indicator that a given disc will undergo additional degeneration in the future (4).
Is an Annular Tear the Same as a Herniated Disc?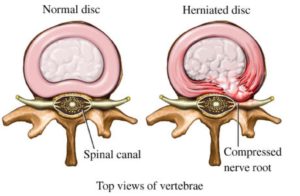 No. An annular tear is a weakness in the outer fibers of the annulus that results in a tear in the collagen fibers. Tears are common in patients with no low back pain. The inside of the disc, the nucleus is not involved. Disc herniation, on the other hand, is when the outer annular fibers are so severely weakened that the gelatinous center of the disc passes through the annulus and is extruded out into the spinal canal. An annular tear may not be associated with low back pain whereas a disc herniation is typically associated with severe low back and often times leg pain.
How Long Does it Take Annular Tear to Heal?
Healing times vary significantly based on the severity of the annular tear and whether or not the tear is associated with disc protrusion or disc herniation. The annulus has very poor blood flow which can impact healing.
Annular Tear Treatment Options
Annular tears that are painful are typically associated with disc protrusion or herniations. When conservative care in the form of PT, activity modification, or safe anti-inflammatory medications fail to provide significant or sustained benefit, lumbar injections are often recommended. Steroid injections have significant side effects which include risk of osteonecrosis, increased risk of fracture in older women, cartilage breakdown, and stem cell toxicity (5). PRP is an alternative and has been demonstrated to be effective in reducing low back pain due to disc injury (6). PRP injected directly into the disc has been effective at 5-9 years after the injection in reducing pain and increasing function in patients with low back pain (7).
The Centeno-Schultz Clinic was the first clinic in the world to inject bone marrow-derived stem cells into a lumbar disc. We have extensive experience in the treatment of annular tears and other disc injuries. We have published our results which demonstrated bone marrow-derived stem cells injected into a lumbar disc were both safe and effective in reducing pain and increasing function (8). Bone marrow-derived stem cells and or PRP can be injected directly into the annulus to treat painful annular tears. The procedure is called a Perc-Orthobiologic Annuloplasty. To watch a lumbar disc stem cell procedure please click on the video.
Do Annular Tears Require Surgery?
Surgery is often recommended for the treatment of lumbar disc injuries including annular tears. Unfortunately, surgery is associated with a number of problems including infection, failure, escalation in pain, nerve damage, and atrophy of supporting muscles. Lumbar fusion is a surgery whereby the spine bones are bolted together. A major complication from this procedure is disc degeneration above and below the fusion which is called adjacent segment disease. To better understand fusion surgery and adjacent segment disease.
In Conclusion
The annulus is a thick ring of collagen fibers that surrounds the gelatinous inside portion of the disc. The annulus is susceptible to injury due to trauma or degeneration. Annular tears are diagnosed by MRI examinations and are oftentimes not associated with any pain. Patients with annular tears may also have other disc injuries including disc protrusions and herniations. Annular tears are different than disc herniations. Activity modification, PT, and anti-inflammatory medications are conservative annular tear treatment options. Steroids are associated with significant side effects. PRP and stem cell injections are effective non-surgical treatment options for annular tears and other back conditions.
Doctors Who Help With Annular Tear
More Resources for Annular Tear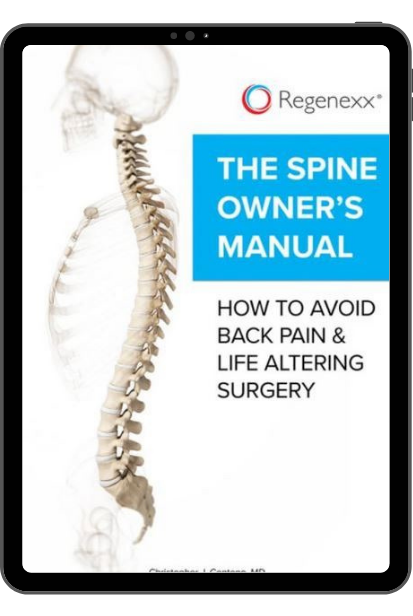 The Spine Owner's Manual: How to Avoid Back Pain & Life-Altering Surgery
This e-book from Dr. Chris Centeno focuses on the spine and how it functions within the human musculoskeletal system and the body as a whole. Everything in our bodies works together like a well-tuned symphony to support our well-being, and a strong spine (including all of its component parts, such as spinal nerves, ligaments, muscles, etc.) is critical to complete health.
Using the Regenexx SANS approach, The Spine Owner's Manual provides a series of tests and clearly defined exercises that you can do on your own to measure and monitor your own spinal health. These musculoskeletal tests will allow you to monitor where your own body might be struggling to maintain proper stability, articulation, symmetry, and neuromuscular function.
Dr. Pitts discusses PRP for Herniated Disc, Disc Bulge, and Disc Protrusion Transcript Hello, everybody. This is Dr. John Pitts of the Centeno-Schultz Clinic, where we are the leaders and inventors of much of the field of interventional orthopedics, which is basically treating and diagnosing musculoskeletal, orthopedic-type problems using injections and regenerative agents rather than … Continued

---
__________________
1.Park KW, Song KS, Chung JY, et al. High-Intensity Zone on L-spine MRI: Clinical Relevance and Association with Trauma History. Asian Spine J. 2007;1(1):38-42. doi: 10.4184/asj.2007.1.1.38
2. Stadnik TW, Lee RR, Coen HL, Neirynck EC, Buisseret TS, Osteaux MJ. Annular tears and disk herniation: prevalence and contrast enhancement on MR images in the absence of low back pain or sciatica. Radiology. 1998;206(1):49-55. DOI: 10.1148/radiology.206.1.9423651
3. Ernst CW, Stadnik TW, Peeters E, Breucq C, Osteaux MJ. Prevalence of annular tears and disc herniations on MR images of the cervical spine in symptom free volunteers. Eur J Radiol. 2005;55(3):409-14.DOI: 10.1016/j.ejrad.2004.11.003
4. Farshad-Amacker NA, Hughes AP, Aichmair A, Herzog RJ, Farshad M. Is an annular tear a predictor for accelerated disc degeneration. Eur Spine J. 2014;23(9):1825-9.
5. Wyles CC, Houdek MT, Wyles SP, Wagner ER, Behfar A, Sierra RJ. Differential cytotoxicity of corticosteroids on human mesenchymal stem cells. Clin Orthop Relat Res. 2015;473(3):1155-64.DOI: 10.1007/s11999-014-3925-y
6.Akeda K, Yamada J, Linn ET, Sudo A, Masuda K. Platelet-rich plasma in the management of chronic low back pain: a critical review. J Pain Res. 2019;12:753-67.DOI: 10.2147/JPR.S153085
7. Monfett M, Harrison J, Boachie-Adjei K, Lutz G. Intradiscal platelet-rich plasma (PRP) injections for discogenic low back pain: an update. Int Orthop. 2016;40(6):1321-8.DOI: 10.1007/s00264-016-3178-3
8. Centeno C, Markle J, Dodson E, et al. Treatment of lumbar degenerative disc disease-associated radicular pain with culture-expanded autologous mesenchymal stem cells: a pilot study on safety and efficacy. J Transl Med. 2017;15(1):197.DOI: 10.1186/s12967-017-1300-y