PRP for ACL Tears & Sprains
Platelet-Rich Plasma for ACL Injuries in Denver, Colorado
ACL Tears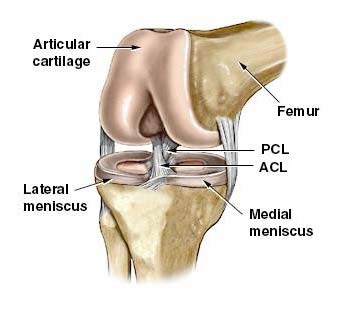 The ACL is one of the main ligaments of the knee. Its most important role is to prevent your tibia (shin bone) from moving forward on your femur (thigh bone). ACL injuries commonly occur when you twist or rotate while running, planting, and stopping suddenly or landing hard on your leg after a jump. However, sometimes people without any of these factors involved will also get this injury. Athletes are at high risk for ACL tears because they often play sports that require quick starts, stops, and jumps. If you tear your anterior cruciate ligament (ACL), it usually means surgery followed by months of downtime before you can return to activities like basketball, skiing, or soccer. However, PRP has been shown to be an effective treatment option for mild forms of ACL tears.
PRP Injections into the ACL
"PRP" is short for platelet-rich plasma, and it is autologous blood with concentrations of platelets above baseline values (1). Platelet-rich plasma (PRP) has been growing in popularity since it was discovered to have the potential to improve overall joint function, decrease pain and inflammation, and help the body repair itself via injections into damaged or diseased joints. PRP treatments are a type of regenerative medicine that uses your blood's healing factors to help the body heal itself by injections of PRP into injured tissues. It is commonly used in regenerative orthopedic therapies for muscular strains or tears, ligament tears, tendon ruptures, minor arthritis, and joint instability.
There have been more than 30 randomized controlled trials of PRP, and it has been shown to help the body heal itself by its stimulating effect on the stem cells within the targeted area. In fact, our own Dr. Chris Centeno has used the analogy of "expresso shots" to explain how PRP and our patented Platelet Lysate work within and with the body.
Grade 1 Tears
A partial-thickness ACL tear is where only a portion of the ACL is torn. On ultrasound or MRI, a portion of the ACL would be torn but the remaining fibers would be normal. These types of tears can be treated with ultrasound-guided PRP or bone marrow concentrate.
Grade 2 Tears
A grade 2 ACL tear involves a tear that extends across the entire ACL and therefore is referred to as a full-thickness tear. The ligament has not pulled apart or snapped back upon itself and therefore is referred to as non-retracted. These types of tears can be treated with ultrasound-guided PRP or bone marrow concentrate.
Grade 3 Tears
A grade 3 tear is a full-thickness tear that extends across the ACL and, unlike a Grade 2, the ligament has pulled apart. This means that the two pieces of the ligament have pulled apart or maybe even snapped back like a rubber band. This type of tear requires surgery.
Why Regenexx PRP Mixtures Are Superior
In most clinics that offer PRP therapies, the method of developing PRP involves removing a patient's blood and running it through a simple bedside centrifuge machine to separate the plasma and concentrate the blood platelets, which are then immediately extracted and used as the injectate. These devices are not great at getting rid of unfavorable cells from the resulting mixture. Our lab tests show that white and red blood cells have an inhibiting effect on the same stem cells the platelets are attempting to stimulate and might cause excessive inflammation following the injection.
Our PRP is purer, concentrated, and customizable because it is produced in a laboratory setting by an experienced technician who can separate and concentrate all the blood's good components and remove the unfavorable ones.
Invented at Centeno-Schultz Clinic, Regenexx's Super Concentrated PRP procedures are an advanced type of PRP therapy that uses lab-processed PRP mixtures that have been found to provide up to 10 – 40 times more platelet concentrations than the traditional "bloody" PRP. Our PRP, due to its high levels of platelets, has an amber color (see image below).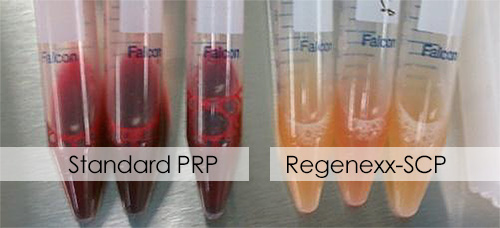 Our Doctors That Treat ACL Injuries
PRP injection procedures in Denver and Broomfield, Colorado clinics are performed by the following Interventional Orthopedics doctors:
Read more about ACL Injuries
It all happened so suddenly. You were running down the field and made a quick cut. You heard an audible pop followed by searing knee pain and then collapsed to the ground. Your doctor thinks your tore your ACL and has referred you to a surgeon. What is the Anterior Cruciate Ligament? What is the … Continued
References:
Jones IA, Togashi RC, Thomas Vangsness C Jr. The Economics and Regulation of PRP in the Evolving Field of Orthopedic Biologics. Curr Rev Musculoskelet Med. 2018;11(4):558-565. doi:10.1007/s12178-018-9514-z