Heel pain is one of those issues that can affect most of what you do in a day and can be disabling. A common cause of heel pain is the Achilles tendon. What is the Achilles tendon?  What is Achilles tendonitis?  What are the different injuries?  Are injections of bone marrow concentrate (BMC) for Achilles tendonitis a viable option?  Let's dig in.
Where & What Is the Achilles Tendon?
A tendon is a thick fibrous band of connective tissue that connects a muscle to bone. There are more than 30 million tendon and ligament injuries annually (1). The Achilles tendon, which is the thickest tendon in the body connects the calf muscles to the heel bone (2). It consists of the gastrocnemius and soleus muscles that unite to form a thick band that is immediately above the heel tab on your shoe. It enables the downward movement of the foot and bending of the knee.
Symptoms of Achilles Tendonitis
Achilles tendonitis symptoms include pain and swelling in the Achilles tendon. The tendon may also feel stiff and be difficult to move.
Causes of Achilles Tendonitis
Injury to the Achilles tendon is common and can be a significant source of pain and dysfunction. There are three principles injuries to the Achilles tendon
Inflammation
Inflammation of the Achilles tendon is called Achilles tendinitis. The most common symptom is pain and swelling of the tendon (3). Onset can occur due to overuse but has also been associated with high heel shoes, steroids, and fluoroquinolone class antibiotics (3). Ciprofloxacin and Levaquin are examples of this class of antibiotics.
Degeneration
If left untreated, the Achilles tendon inflammation can progress to degeneration of the tendon. This is called tendinosis. It can occur with tears in the tendon. Pain, swelling and impaired function are common. It may affect 9% of recreational runners and cause up to 5% of professional athletes to end their careers (4)
Rupture
Tendon rupture occurs when the tendon pulls off the bone to which it is attached or when the tendon breaks apart. The rupture may involve all or just a portion of the tendon. It results in the creation of two tendon ends that are physically apart. Rupture can occur with long-standing Achilles degeneration, direct trauma or abrupt bending of the foot (5). It is most common in cyclists, runners, and volleyball players. Most Achilles tendon ruptures occur in young males between 20-39 years old (6). Surgery is required with full Achilles tendon ruptures.
Does BMC Work for Achilles Tendonitis?
Yes! BMC Achilles tendon treatment is a viable treatment option Tendons can be difficult to heal because they have poor blood flow. Without blood, an injured or damaged tendon has a difficult time healing. Bone marrow concentrate is rich in a number of cells including stem cells. Clinical and laboratory studies have both demonstrated that bone marrow concentrate can accelerate and improve the quality of tendon healing by reducing inflammation and improving collagen production (7, 8). Inflammation is one of the central problems in tendonitis.
Can BMC Repair Tendons?
Yes! In 2020 BMC injections for Achilles tendonitis is an option. There are three types of tendon tears.
Partial Thickness Tear
The tendon tear involves only a portion of the tendon.
Full-thickness Tear
The tendon tear involves the entire tendon but the tendon fibers remain intact and have not separated.
Full-Thickness Tear with Retractions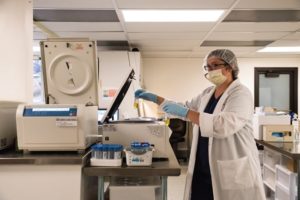 The tear involves the entire tendon and the tendon is torn away from the bone or snapped into two pieces. Partial-thickness and full-thickness tendon tears can be treated with BMC whereas full-thickness tears with retractions require surgery. PRP is platelet-rich plasma that is rich in growth factors that can accelerate healing. Bone marrow concentrate, when combined with PRP, has been effective in healing tendon tears, decreasing pain, and increasing function (9). Hernigou has clearly demonstrated that bone marrow concentrate can significantly improve tendon healing (10). At the Centeno-Schultz Clinic, we have seen an extensive amount of Achilles tendon injuries, and our most recent publication demonstrated that contrary to conventional wisdom, a higher concentration of PRP is better for tendon repair than lower concentrations (11). This is critical as a higher concentration of PRP is only available in clinical practices like the Centeno-Schultz Clinic which have a state-of-the-art PRP and BMC laboratory. To better understand why for the best clinical outcome a flexible, state of the art laboratory is essential please click on the video below
In Conclusion
A tendon is a thick band of connective tissue that connects a muscle to bone. The Achilles tendon connects the calf muscles to the heel, and is susceptible to injury. Injuries to the tendon include inflammation, degeneration, and rupture. Pain, swelling, and restricted movement are common. Tendons have poor blood flow and therefore are difficult to heal. However, with your own bone marrow concentrated and injected precisely with image guidance, the body has shown to repair itself.
Our Doctors Who Treat Achilles Tendonitis
Other Resources for Achilles Pain
Foot pain can be debilitating. Dr. Schultz discusses the 7 major causes of foot pain, traditional treatment options, stem cell treatment options, the different types of stem cells, factors that will influence the specific stem cell treatment plan, and the advantages of stem cells over steroids and surgery.

---
————————————————————————————————————————————–