Regenexx® Alternatives to Back & Neck Surgery
the Broadest Array of Non-Surgical Procedures for Spine and Cervical Conditions.
Am I a Candidate?
If you're looking for an alternative to back surgery, what you really need is a Regenexx procedure. Regenexx has a range of procedures developed to help patients avoid spine surgery and the side effects of epidural steroid injections. These procedures utilize the patient's own natural growth factors or bone marrow concentrate containing stem cells to treat bulging or herniated discs, degenerative conditions in the spine, and other back and neck conditions that cause pain.
The origin of spine pain is often misidentified. Our 15+ years of experience in regenerative treatments for spine pain allows us to address as many factors as possible to gain insight into the true cause of the problem. We identify the most probable sources of pain and select the most appropriate treatment options available. Only then can the natural healing process be initiated using the safest, least invasive procedure possible.
Commonly Treated Spine & Cervical Conditions
This is not a complete list, so please contact us or complete the Regenexx Candidate Form if you have questions about whether you or your condition can be treated with these non-surgical procedures.
Annular Tear
Arthritis of the Spine
Back Pain
Bone Spurs
Bulging Disc
Canal Stenosis
Collapsed Disc
Degenerative Disc Disease
Degenerative Spine
Disc Extrusion / Protrusion
Facet Joint Syndrome
Failed Back Surgery Syndrome
Foraminal Stenosis
Herniated Disc
Herniated Nucleus Pulposus (HNP)
Neck Pain
Nerve Pain
Pinched Nerves
Radiculitis
Radiating Nerve Pain
Ruptured Disc
Sciatica
SI Joint Syndrome
Slipped Disc
Spinal Stenosis
Spondylosis
Torn Disc
Radiculopathy
f
I appreciate the expertise and concern of all the staff. Dr. Markle is the best. There is absolutely "no pain". A month after the procedures,…
Nebraska M.
Dr Pitts is 100% about both patient care and improving quality of life for his patients. I had both PRP in my back and Stem…
Justin D.
Dr. Hyzy and team are wonderful. I am back to enjoying life after suffering for two years with debilitating back pain. The whole process was…
Chad G.
Have done PRP in back, knees shoulder and hip. Have done stem cells in hip instead of a hip replacement. At 72 I am way…
Ruth S.
Are You a Candidate?
IN-PERSON AND TELEMEDICINE EVALUATIONS AVAILABLE
Regenexx Alternatives to Back Surgery
Platelet Treatments for Pain from Bulging or Herniated Discs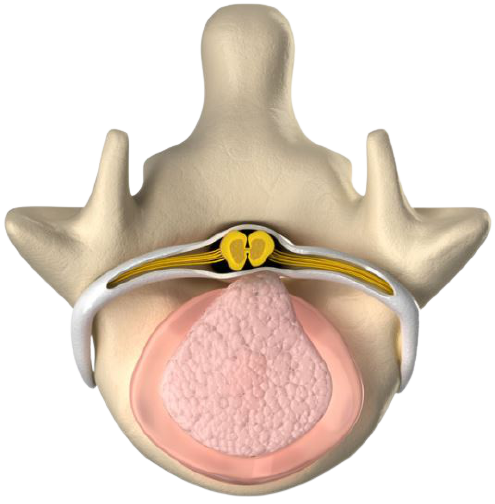 Bulging & Herniated Discs Explained
A bulging disc is also called a disc protrusion or bulge. This means that the outer covering of the disc (annulus) is partially torn or damaged and the inner gel is causing the area to bulge. This can put pressure on a spinal nerve and cause numbness and tingling (sciatica).
A herniated disc is also called a disc extrusion, slipped disc, sequestration, or "HNP" (Herniated Nucleus Pulposis). This means that the outer covering of the disc (annulus) is completely torn or damaged and the inner gel squirts out. This can put pressure on a spinal nerve or cause severe swelling and lead to numbness and tingling (sciatica).
Regenexx Alternatives for Back Surgery Offers the Most Effective and Least Invasive Option for You
Treating Bulging and Herniated Discs
Regenexx Platelet Lysate can offer relief from lower back or neck pain, buttock and leg pain, or numbness and tingling in the arms, hands, legs, or feet. It's a safe, non-surgical treatment alternative for patients suffering from bulging discs and herniated cervical, thoracic, or lumbar disc-related problems.
Most patients with bulging or herniated discs respond well to a platelet lysate injection into the space surrounding the inflamed spinal nerves. Other clinics resort to an injection of bone marrow concentrate directly into a patient's disc. While this can sometimes ultimately be necessary, our platelet lysate procedure is less invasive and lower risk. Nobody other than Regenexx offers this type of procedure, which utilizes natural growth factors produced from the patient's own blood platelets. Regenexx is the only provider with experience in both bone marrow aspirate and platelet lysate so we are uniquely able to determine the best treatment options to address your source of pain.
Better than Steroid Epidurals
A steroid epidural is an injection that places steroid medication around irritated or inflamed nerves in the spine. While they do help patients avoid surgery, epidurals use very high-dose steroids which can reduce the body's ability to heal and can lead to severe side effects.
Regenexx Platelet Lysate is a minimally invasive alternative to a steroid epidural injection that offers a very limited recovery period. It uses natural growth factors from the patient's own body, derived from blood platelets, helping patients avoid surgery and the negative side effects of steroids.
Regenexx Alternatives to Back Surgery
Non-Surgical Treatment for Torn & Painful Discs
Torn and Painful Discs Explained
Disc tears are also called annular tears or HIZs (High-Intensity Zones) on MRI images. A patient with a painful and torn disc has "disogenic pain." The outer covering of the disc can be torn due to injury and painful nerves can grow into the area, leading to low back pain, usually with sitting or activity. In addition, the tear in the disc may lead to noxious chemicals escaping and irritating the spinal nerve, which can lead to sciatica.
Patients with this type of disc damage and pain generally have the best response from a Regenexx procedure.
This non-surgical procedure uses cells isolated from the patient's own bone marrow. The marrow is collected using a special needle during a simple office procedure. The harvesting procedure is well tolerated by patients and many patients report experiencing no pain. After collection, the marrow is centrifuged to concentrate and purify the cells while removing unneeded ones. These cells, along with a preparation of concentrated blood platelets, are injected into the damaged disc using advanced imaging guidance.
Why our procedures for back and neck pain are the best options
Or, Why Our PRP Treatments are Very Different
The typical clinic uses an automated one-size-fits-all centrifuge to prepare cells. At Regenexx, our processing allows us to custom tailor our regenerative mixtures for your condition, and our patented two-tier processing results in 10 to 20 times more critical cells available for your treatment. While some practices add platelet-rich plasma to their concentrates, we use a proprietary super concentrated platelet mix. By mixing our second generation, lab-prepared Platelet-Rich Plasma (which contains slow release growth factors) and our third generation platelet lysate (immediately available growth factors), we were able to get bone marrow concentrate cells to grow many times more than just PRP or platelet lysate alone.
Why Regenexx Procedures are a Better Option than Fusion Surgery or Steroid Epidural Injections
Fusion surgery is a highly invasive procedure and is more likely to cause complications (complications occur in 36% of fusion patients). 76% still required narcotics for pain and missed 3 times as much work as those who didn't have surgery.
A steroid epidural is an injection that places steroid medication around irritated or inflamed nerves in the spine. While they do help patients avoid surgery, epidurals use very high dose steroids that can cause severe side effects and actually reduce the body's ability to heal.
Regenexx offers a variety of minimally invasive procedures for back pain & neck pain that deliver image-guided spinal injections of platelet lysates or bone marrow concentrate where needed.
Regenexx Alternatives to Back Surgery
Non-Surgical Treatment for Degenerated Disc Disease
Advanced Treatments for Degenerative Discs
Degenerated disc patients tend to lose disc height which can lead to a wide range of complications.
Compressed nerves (stenosis)
Facet joint overload leading to arthritis
Lax ligaments that result in overall spinal instability
Our treatment protocol focuses on platelet and/or bone marrow technologies deployed to treat sloppy disc movement due to lax ligaments and arthritic facet joints.
Each of these critical areas above may benefit from different types of procedures.
Only Regenexx has the experience and the broad spectrum of procedures that allow for effective treatment of all of these conditions. Regenexx procedures provide non-surgical treatment options for patients suffering from the complications associated with degenerative disc disease. By carefully targeting the right procedure to the impacted areas of the spine, patients can avoid spinal fusion surgery or frequent high dose steroid epidural injections and their associated side effects.