In traditional spine care today, steroid injections are the standard go-to when conservative therapies aren't effectively addressing pain and inflammation. Steroid injections are commonly used to temporarily relieve sacroiliac (SI) joint syndrome in the lower back, but the catch is, they're riddled with side effects—many well-known and some you might not be aware of. We'll cover these in a moment, but first, let's take a look at the SI joint.
Defining Sacroiliac Joint Syndrome
The sacroiliac joints reside between the sacrum (the tailbone segment of the spinal column) and the prominent wing-like iliac bones that form the pelvic girdle. There are two SI joints, one on the left and one on the right (highlighted in red in the image above), and along with the symphysis pubis joint at the front of the structure, they are critical for transferring forces and energy back and forth between the spine and the lower limbs.
Causes of SI Joint Syndrome
There are a number of reasons that an SI joint can become painful and inflamed, leading to SI joint syndrome. Trauma, such as a fall injury to the tail bone or a forced injury from a car accident for example, obviously can create problems in the SI joint and/or in the supporting ligaments and muscles. Even pregnancy and childbirth can stretch out these joints and ligaments, creating some instability in the SI region. There are also degenerative issues, such as arthritis and wear and tear, that can affect the SI joint, and if injuries are left to linger for months or years, wear and tear and arthritis are likely to set in. Finally, a fusion in the lumbar spine (the spinal segment above the sacrum) can create adjacent segment disease, which overloads the adjoining sacrum along with the SI joints.
Symptoms
SI joint syndrome is a condition that can cause pain in the lower back and hips. The main symptom of sacroiliac syndrome is pain in these areas, which may be worsened by activities such as walking, running, or climbing stairs. Other symptoms may include inflammation or swelling of the joints in the hips and lower back, numbness or tingling in the legs, and difficulty standing or sitting for long periods of time. Some patients experience knee and foot pain and numbness.
Traditional Treatment
Conservative treatments for SI joint syndrome consist of rest, ice, physical therapy, and so on. When these fail, the next step in traditional medicine is typically steroid injections to temporarily relieve pain and inflammation. While high-dose steroid injections for SI joint syndrome may buy a few weeks or months of relief, there's a big downside—the side effects. A handful follows:
And what's the potential next step in traditional treatment when steroid injections fail to relieve or are no longer relieving the pain from SI joint syndrome? Surgery. Specifically, SI joint fusion, which involves opening the SI joints and removing the cartilage from between the sacrum and iliac bones and inserting metal screws to force and hold the bones together while they "heal" into one solid (fused) piece of bone. SI joint fusions, as you can imagine, also come with problems, such as lack of motion and bone protection and overload in the structures in adjacent areas.
Regenerative Treatment for SI Joint Syndrome
Regenerative treatments with orthobiolgics, such as PRP or prolotherapy, may allow you to skip the steroids and all their harmful side effects and the surgery for SI joint syndrome.
Platelet rich plasma (PRP) is a concentration of your own platelets, and this concentration can be reinjected into the SI joint. PRP stimulates the local healing stem cells to wake up and get to work. We've injected several hundred SI joints over the last decade. One research study found that 90% of SI joint patients still had significant pain relief after three months following a PRP injection, compared to only 25% of SI joint patients who had steroid injections. The same study showed worsening scores for function in the steroid group and improved scores for function in the PRP group.
Even the tried-and-true prolotherapy treatments, which involve creating a local inflammatory reaction to stimulate healing, have been shown (see study at link above) to significantly outperform steroid injections for pain relief, with 60% still having solid pain relief at 15 months post treatment compared to 10% of the steroid group..
So while steroid injections may temporarily relieve SI joint syndrome pain, the relief is likely to lessen with subsequent injections. Even more concerning is the long list of side effects associated with steroids. With studies showing PRP and prolotherapy can offer longer-term relief, this leads us to recommend that you skip the side effect-laden steroids and opt for regenerative treatments for SI joint syndrome instead.
Our Doctors Who Treat Sacroiliac Joint Syndrome
Other Resources for SI Joint Pain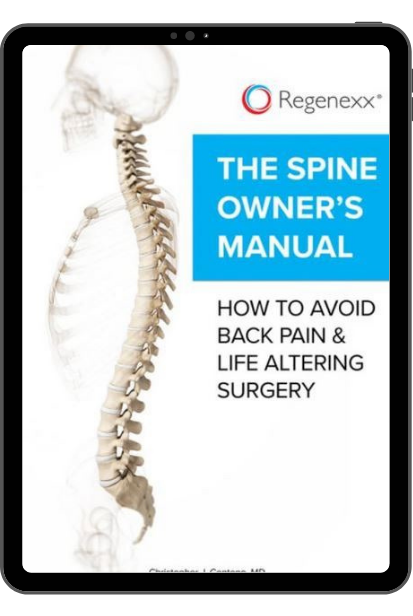 The Spine Owner's Manual: How to Avoid Back Pain & Life-Altering Surgery
This e-book from Dr. Chris Centeno focuses on the spine and how it functions within the human musculoskeletal system and the body as a whole. Everything in our bodies works together like a well-tuned symphony to support our well-being, and a strong spine (including all of its component parts, such as spinal nerves, ligaments, muscles, etc.) is critical to complete health.
Using the Regenexx SANS approach, The Spine Owner's Manual provides a series of tests and clearly defined exercises that you can do on your own to measure and monitor your own spinal health. These musculoskeletal tests will allow you to monitor where your own body might be struggling to maintain proper stability, articulation, symmetry, and neuromuscular function.
If you have had an MRI of your spine, you are probably like most patients. You read the MRI report and then google every term on your MRI report from the Radiologist trying to figure out what it all means! Alternatives to Laminectomy should be an important part of that search. Today you're in luck, … Continued

---

Back and neck fusions are surgeries we place into the category of "Damage to Accomplish a Goal," and, indeed, these spinal fusions are perhaps some of the most damaging orthopedic surgeries out there. Only in the most extreme cases, where the extensive harm this surgery creates is sure to be less than the good that … Continued

---