Rehab at Centeno-Schultz Clinic
Physical Therapy in Broomfield, CO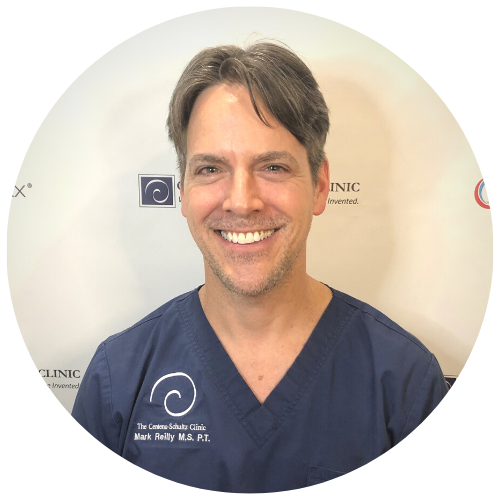 A message from Mark…
Hello, and welcome to the Centeno-Schultz Physical Therapy Department. My name is Mark Reilly. I am the overseeing physical therapy director for our clinic. I have been honored to be working through this clinic for the past 21 years, working with a wide ranging population of patients from simple ankle sprains/strains to post-orthopedic and injection-based treatments.
It is my sincere hope that should you need physical therapy services, you would consider using the Rehab Department at the Centeno-Schultz Clinic for this purpose, as we are here to support your needs in any way possible. Please feel free to reach out to communicate with either myself or our front staff for additional information should that be necessary, along with additional information on our website to help you make this important decision in choosing your physical therapy provider. Thank you for your time, and I hope to meet with you soon.
What should I expect during my Physical Therapy appointment at CSC?
Our treatments and our patients range from acute, subacute to chronic patients dealing with a wide range of pain and symptoms.
A typical appointment utilizing the physical therapy services here at the Centeno-Schultz Clinic would look very similar to most other outpatient orthopedic therapy in the sense that your first visit would be a thorough assessment, with the provider looking to assess the patient's current level of function, along with an orthopedic exam looking to investigate and find out where the patient's greatest limitations and impairments are located, which would then be developed into a home program to help improve and address those impairments and dysfunctions identified in the assessment.
Services for rehab can also be utilized in a telehealth service orientation as well for our out-of-state and out-of-town patients should a local therapist not be readily available for implementation of the home program as outlined above.
Your First Appointment
The first assessment session typically lasts 60 minutes. It is 1-on-1 evaluation with a therapist followed by a subsequent number of sessions to implement the rehab plan. These appointments range from 30 minutes to 60 minutes depending on the overall goal from the patient as well as the provider.
Many of our patients are local, but we do see a number of out-of-state patients who are seen for evaluation and consultation.
The Centeno-Schultz Difference
The approach that we use here at on the rehab side of things is in a very similar supporting approach that physicians use in the clinic in implementing their overall treatment plan with the patient in that we do follow the SANS treatment approach.
The SANS approach is a 4-prong strategy that looks to implement a stability component, the neuromuscular contribution as well as the articulation and symmetry consideration for the patient's overall treatment plan.
When you decide to utilize the physical therapy services at Centeno-Schultz Clinic in Broomfield, our complete approach provides a movement-based, biomechanically driven assessment versus the more medically induced method of our physicians, who highlight a similar movement-based evaluation, but combine it with an anatomical model.
Our physicians work closely with each patient's care team to ensure maximum benefit from any platelet- or bone marrow concentrate-based procedures, and our physical therapist Mark Reilly provides the most experienced care to complement those treatments. This partnership has led to the implementation of a more structured, strategic therapeutic plan designed to complement your injections to optimize your outcome.
Additional Techniques
These sessions are also utilized to give patients other potential strategies in the form of not only traditional physical therapy care, but also other adjunct therapies in the form of nontraditional physical therapy/rehab options such as:
All of the options above have been found to be clinically relevant, as a supporting role for the home-based exercise program as well as complementary in assisting the patients to help maximize and optimize their overall healing effect from many of the injection-based therapies that we perform at our clinic.
Explore Mark's Supplemental Techniques