Cervical Disc Replacement
Procedure, Benefits, And Risks
The surgical community has always known the downsides of fusions and has contemplated alternatives since the 1950s. The idea being, instead of cervical fusion, can you recreate the function of the disc! The idea started in the 1950s but didn't start clinical studies until the 1980s and the first cervical disc replacement wasn't approved until 2004!
So today lets dive into what a cervical disc replacement is to understand if the data suggests the benefits were worth the 50+ year wait!
What Is A Cervical Disc Arthroplasty?
Cervical disc arthroplasty (CDA), also known as cervical disc replacement, is a surgical procedure used to treat cervical disc disease. The procedure involves removing the damaged or degenerated intervertebral disc in the cervical spine and replacing it with an artificial disc device.
Conditions Addressed By Cervical Disc Arthroplasty
CDA is typically performed for patients with symptomatic cervical disc disease, such as disc herniation, degenerative disc disease, or spinal stenosis. The procedure is intended to relieve symptoms such as neck pain, arm pain, and numbness or tingling in the arms or hands.
CDA is considered a less invasive and more motion-preserving alternative to traditional cervical spinal fusion surgery, which involves fusing the adjacent vertebrae together with bone grafts and hardware.
Cervical Degenerative Disc Disease
Disc injuries are pretty common and if not addressed early enough in the process then progression will typically happen in time. The disc is responsible for 70% of the stability of the spinal segment so when damaged can lead to significant neurologic compromise!
Herniated Or Bulging Discs
Torn and painful discs can lead to bulging and herniated discs. As those get worse over time then they start causing a neurologic compromise in the nerve root and can cause compression of the spinal cord as well!
Herniated Cervical Disc
Cervical disc herniation refers to the displacement or protrusion of the intervertebral disc in the cervical spine, which can potentially compress the spinal cord or spinal nerves. Cervical disc herniations can be categorized into three main types based on their location: median, paramedian, and lateral herniations.
Read More About Herniated Cervical Disc
Spinal Stenosis
Spinal stenosis is the narrowing of the central spinal canal and is a cause of significant pain and disability.  Common causes of spinal stenosis include disc protrusion, facet overgrowth and ligamentum flavum thickening.  Surgery is often chosen when conservative therapies fail despite the lack of convincing evidence that it is a superior treatment option.  Are there alternatives to back surgery for spinal stenosis?  Yes. Regenexx DDD utilizes precise platelet injections into the facets, muscles, and ligaments to treat the lumbar stenosis, treating all of the components of the issue, which is crucial. Spinal stenosis is often an age-related condition attributed…
Read More About Spinal Stenosis
Spondylolisthesis
Spondylolisthesis means that one vertebra is slipping forward or backwards on another. This causes the hole where the nerve exits (foramen) to get smaller (also called foraminal stenosis). It also causes more wear and tear on the facet joint which can lead to arthritis or what's called "facet hypertrophy". spondylolisthesis recovery The amount of slippage is graded 1-4, with grade 1 meaning that the one vertebra has slipped up to 25% on the other vertebra. Grade 2 means that one bone has slipped from 25-50% with higher grades indicating more slippage. The vast majority of patients are grade 1 to 2.
Read More About Spondylolisthesis
Risks And Complications
Infection
Infection can occur at the surgical site or in the implant. Patients may be given antibiotics before and after surgery to help prevent infection.
Implant Failure
The artificial disc implant may fail to function properly or may become dislodged or displaced.
Nerve and Vascular Injury
The surgery may cause damage to the spinal cord or surrounding nerves, resulting in neurological deficits such as weakness, numbness, or tingling in the arms or legs. Also, the access point being in the front of the spine, critical neurovascular structures exist such as carotid arteries and vagus nerves!
Swallowing Difficulties
Patients may experience temporary difficulties with swallowing or speaking following the surgery, due to the placement of the artificial disc and the effects of anesthesia.
Allergic Reactions
Some patients may have an allergic reaction to the implant or other materials used during the surgery.
Blood Clots
Blood clots can form in the legs after surgery, and in rare cases, can travel to the lungs and cause a pulmonary embolism.
Adjacent Segment Degeneration
In some cases, the adjacent discs to the one that was replaced may degenerate at a faster rate than normal.
When to Consider Cervical Disc Replacement Surgery
When the space between your vertebral bodies becomes too narrow, the vertebrae or the cervical disc can press on the spinal cord or nerves, causing pain, numbness, or weakness. Symptoms of disc disease may require disc surgery if nonsurgical treatments are ineffective.
How Is The Treatment Performed?
During the procedure, the surgeon makes an incision in the front of the neck to access the cervical spine. The damaged disc is then removed, and the artificial disc is inserted into the disc space. The artificial disc is designed to maintain the natural height between adjacent vertebrae and preserve the motion of the spine.
As with any surgical procedure, there are risks associated with CDA, including infection, bleeding, nerve damage, and implant failure. The decision to undergo CDA should be made after a thorough evaluation and discussion with a qualified healthcare professional.
What does the research say that ADRs actually do?
In surgery, surgeons and device companies continue to try to replicate mother nature's design and function. Most joint replacements and ligament reconstructions have yet to prove this.. but what about ADRs? Now a new study answers that question.
There is no difference between the outcomes of an artificial disc and a fusion (1,4).
The way the vertebrae move is altered by ADR, meaning that the movement after surgery is not natural (2).
There is no reduction in ASD (adjacent segment disease) when ADR is performed instead of fusion (3).
So the majority of the research not performed by the device manufacturers themselves or physicians on the company payroll doesn't support the idea that ADR works any better than fusion.
The newer study looked at a New York medical claims database to identify patients who underwent an isolated lumbar disc replacement surgery (5). A total of 1,372 patients were identified who had surgery between 2005-2013. The researchers then looked for subsequent surgeries after the ADR procedure. What did they find?
Almost 1 in 5 patients needed more surgery after lumbar ADR (17.6%). Almost 1 in 10 (8.8%) needed re-operation in the first two years. The only risk factor for needing more surgery was a patient with diabetes. Revision surgery comes with an increased risk of vascular injury because of the need for hardware removal and replacement = longer and more aggressive surgery!
What To Expect After The Treatment
The typical recovery after cervical disc replacement (CDR) varies depending on several factors, including the extent of the surgery, the patient's overall health, and their commitment to following the postoperative rehabilitation plan.
In general, patients can expect to stay in the hospital for one or two nights following the surgery. During this time, they will be monitored for any complications and given pain medications as needed.
After discharge, patients will need to rest and limit their activities for several weeks to allow their body to heal. They may be advised to wear a neck brace or collar for a period of time to help support the neck and promote healing.
In the first few weeks after surgery, patients may experience some pain and discomfort, as well as stiffness in the neck. They may also experience some difficulty swallowing and talking, which is a common side effect of the surgery.
After a few weeks, patients can begin to gradually increase their activities and may begin physical therapy to help improve their range of motion and strengthen the muscles around the cervical spine.
The full recovery time after CDR varies, but most patients are able to return to their normal activities within weeks to months after surgery.
Regenerative Treatment Alternatives To Disc Replacement
Instead of trying to recreate a good design, we tend to think you should try to repair the damaged disc instead of trying to replace it with an inferior product! Over the last 10 years, we have been working to find the best way to help discs heal.
PRP, which stands for platelet-rich plasma, has become the front-runner. A potent concentration of growth factors that are precisely placed into the damaged area of the disc (annulus) has the potential to aid disc healing and prevent the future need for more aggressive surgery!
Heal your disc and stop your pain as well, as it may very well stop the spine from further degeneration.
So far, there exist several randomized control trials for PRP and disc injuries (6-9):
A low dose can be effective >60% of the time
High dose can be more effective (5 billion platelets) >80% vs 60%
Longterm outcomes show progressive improvement that is maintained (5-9 years)
Low surgical conversion and low complication risk
Can cause structural changes in the disc = annulus heals
Other injectates can be beneficial such as bone marrow concentrate (BMC) but BMC does not have as extensive data to support its use and has seen a high adverse event risk profile as compared to PRP!
Outside the US, we are allowed to perform culture-expanded MSC treatments. This is where we have a cell biologist isolate your orthopedic stem cell, culture (multiple the cell dose), and condition the cell to survive in a disc – this is the most advanced and most effective for disc injuries. Unfortunately, not allowed in the US due to FDA regulations – to learn more on why that is https://regenexx.com/blog/blogging-from-the-caymans-again-10/
Is There A Difference Between Cervical Discs Vs Lumbar Discs?
While many pain doctors know how to inject lumbar discs, cervical discs are unique given that a proper injection requires expert-level skills in both ultrasound and fluoroscopic guidance! Very few physicians in the country have the skills to properly treat a cervical disc injury. Luckily, here at The Centeno-Schultz Clinic, our cervical disc experts (Drs Markle and Pitts) are two of a handful of physicians who have the skills needed to properly treat your disc injury!
Surgery Isn't Always The Best Option
While ADR sounds like a good option, the research doesn't look great and it turns out to be no better than an actual fusion! #saveyourdisc Instead of replacing, why not treat the problem head-on and put something in your disc that can stimulate healing and prevent the need for any surgery altogether!
If you've been dealing with cervical disc injuries and contemplating ADR or ACDF, call us for a second opinion to see if you are a candidate to possibly save your disc and stop your pain.
Need more time to think about surgery? Consider our alternative to Cervical Disc Replacement surgery!
___________
Doctors At Centeno-Schultz Clinic
More Resources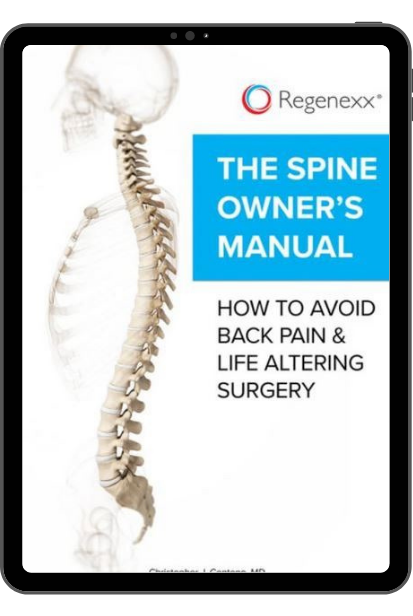 The Spine Owner's Manual: How to Avoid Back Pain & Life-Altering Surgery
This e-book from Dr. Chris Centeno focuses on the spine and how it functions within the human musculoskeletal system and the body as a whole. Everything in our bodies works together like a well-tuned symphony to support our well-being, and a strong spine (including all of its component parts, such as spinal nerves, ligaments, muscles, etc.) is critical to complete health.
Using the Regenexx SANS approach, The Spine Owner's Manual provides a series of tests and clearly defined exercises that you can do on your own to measure and monitor your own spinal health. These musculoskeletal tests will allow you to monitor where your own body might be struggling to maintain proper stability, articulation, symmetry, and neuromuscular function.
References:
(1) MacDowall A, Canto Moreira N, Marques C, et al. Artificial disc replacement versus fusion in patients with cervical degenerative disc disease and radiculopathy: a randomized controlled trial with 5-year outcomes. J Neurosurg Spine. 2019;30(3):323-331. doi:10.3171/2018.9.SPINE18659
(2) Wachowski MM, Weiland J, Wagner M, Gezzi R, Kubein-Meesenburg D, Nägerl H. Kinematics of cervical segments C5/C6 in axial rotation before and after total disc arthroplasty. Eur Spine J. 2017;26(9):2425-2433. doi:10.1007/s00586-017-5073-z
(3) Yang X, Janssen T, Arts MP, Peul WC, Vleggeert-Lankamp CLA. Radiological follow-up after implanting cervical disc prosthesis in anterior discectomy: a systematic review. Spine J. 2018;18(9):1678-1693. doi:10.1016/j.spinee.2018.04.021
(4) MacDowall A, Skeppholm M, Lindhagen L, et al. Artificial disc replacement versus fusion in patients with cervical degenerative disc disease with radiculopathy: 5-year outcomes from the National Swedish Spine Register. J Neurosurg Spine. 2018;30(2):159-167. doi:10.3171/2018.7.SPINE18657
(5) Perfetti D, Katz A, Job A, Galina J, Satin A, Silber J, Essig D. The incidence of subsequent lumbar spine surgery after lumbar disc arthroplasty: a minimum two-year follow-up. Spine J. 2020;20:S37-S38. doi:10.1016/j.spinee.2020.05.180.
(6) Tuakli-Wosornu YA, Terry A, Boachie-Adjei K, Harrison JR, Gribbin CK, LaSalle EE, Nguyen JT, Solomon JL, Lutz GE. Lumbar Intradiskal Platelet-Rich Plasma (PRP) Injections: A Prospective, Double-Blind, Randomized Controlled Study. PM R. 2016 Jan;8(1):1-10; quiz 10. doi: 10.1016/j.pmrj.2015.08.010. Epub 2015 Aug 24. PMID: 26314234.
(7) Monfett M, Harrison J, Boachie-Adjei K, Lutz G. Intradiscal platelet-rich plasma (PRP) injections for discogenic low back pain: an update. Int Orthop. 2016 Jun;40(6):1321-8. doi: 10.1007/s00264-016-3178-3. Epub 2016 Apr 12. PMID: 27073034.
(8) Lutz GE. Increased Nuclear T2 Signal Intensity and Improved Function and Pain in a Patient One Year After an Intradiscal Platelet-Rich Plasma Injection. Pain Med. 2017 Jun 1;18(6):1197-1199. doi: 10.1093/pm/pnw299. PMID: 28339718.
(9) Lutz GE. Intradiscal Leukocyte Rich Platelet Rich Plasma for Degenerative Disc Disease. Phys Med Rehabil Clin N Am. 2023 Feb;34(1):117-133. doi: 10.1016/j.pmr.2022.08.009. Epub 2022 Oct 18. PMID: 36410879.