Loss of Cervical Lordosis
Causes, Symptoms, Treatments, & Other Resources
Normal neck curve? All of us, at one time or another, have probably been told to stand or sit up straight. The primary structure that allows us to follow that wise advice and demonstrate good posture is our spine. Likewise, when our posture is poor, this puts strain and pressure on the spine and supporting structures and can create problems down the road.
This emphasis on a straight posture may, understandably, make you envision your spine, which stretches from the base of your skull all the way down to your pelvis, as straight. However, if you could stand sideways in front of a mirror and see all the way through to the spine, a normal spine would have three gentle counterbalancing curves. If there is too much curve at any point or not enough, this can be a problem. Today we're going to talk about the straightening of that normal neck curve, or, using the medical terminology in case you see it on your X-ray, the straightening of the normal cervical lordosis.
What Is the Cervical Lordosis or Normal Neck Curve?
Straightening of the normal cervical lordosis is a bit of a mouthful, but cervical lordosis is simply the normal inward curve in the cervical spine, or neck. There is also a lumbar lordosis (an inward curve in the lumbar spine). Between the two, in the upper back, there is a thoracic kyphosis, which is a normal outward curve in the spine. These curves balance the head and help you stand with minimal effort. Additionally, they also keep the forces between each vertebral disc (at the front of the spine) and its associated facet joint (at the back of the spine) equally distributed. Straightening of the cervical lordosis, then, means straightening of the normal neck curve.
What Causes the Neck to Straighten?
While traumatic injuries to the neck (e.g. car accident) may be a direct cause of straightening of the neck curve, there are other issues that may straighten our cervical spine over time. In our modern technology-centered world today, where some people can spend hours each week hunched over their handheld devices, it's all but thrown the "sit up straight" advice right out the door.
Another cause for cervical straightening could be a sedentary lifestyle. If you come home from work each day and sit on your couch for the rest of the evening, especially if you are noticing tightness in your chest wall or hips as you sit, this may be causing a problem all the way up in your cervical spine. The entire spine, as well as the entire body, is an interconnected machine, and stress in one area of the spine, for example, can create problems anywhere along the spinal chain as other areas attempt to compensate for the stress. The normal process of aging can also create problems with the curve in the spine, so regular spine maintenance is important as you reach middle age and beyond.
Why Is The Straightening of the Cervical Lordosis a Problem?
If you have lost this normal curve in your neck, you may be experiencing regular neck and/or head pain and perhaps even the feeling that your head is too heavy for your neck. Why? Because the cervical spine can no longer properly support the weight of the head, which requires the counterbalance between the cervical curve (lordosis) and thoracic curve (kyphosis). This causes the muscles to pick up the slack to balance the head. However, this isn't the job those muscles are intended to do, so this added stress on the muscles creates neck and head pain.
Straightening in the cervical spine can also cause biomechanical problems, put pressure on other areas of the spine, and can eventually lead to degenerated discs as it causes added weight to be placed on the discs. Research on the straightening of the cervical lordosis has also shown that it may also disrupt the flow of blood into certain areas of the brain as blood travels through vessels that must pass through holes in the cervical bones.
Reclaim Your Normal Neck Curve. Treatments Are Available.
If your neck curve has straightened, there are some ways you may be able to reclaim your neck curve. Chiropractors can use manipulation and traction machines to gently and gradually work that curve back into your neck. Physical therapists can provide supportive stretching exercises that will provide relief to those tight muscles that are working overtime. Unless there is an extremely traumatic injury necessitating it, neck surgery isn't something we would typically recommend. However, precise injections of your own PRP or bone marrow concentrate (containing stem cells) into the stressed structures in the neck may also help.
Another important factor to reclaiming your normal neck curve, or helping it to not straighten in the first place, is that age-old advice: sit up straight! Yes, even when interacting with your smartphone. In addition, staying active and addressing pain or discomfort in your neck early instead of allowing it to linger will go a long way toward nurturing and maintaining the normal curve in your neck.
Common Symptoms of Cervical Lordosis
Cervicalgia / Neck Pain
Cervicalgia is also known as neck pain, which is an all-too-common, unpleasant pain. Read here to learn the symptoms, diagnosis, and treatment options. We will discuss other causes for cervicalgia. What symptoms are associated with cervicalgia? How is cervicalgia diagnosed? What are the treatment options for cervicalgia? Cervicalgia is a medical term used to describe neck pain. It is very common and affects approximately 2/3 of the population at some point in their life. Cervicalgia is the 4th major cause of disability. Risk factors include injury, prior history of neck and musculoskeletal pain, jobs that require a lot of desk work, low social support, job insecurity, physical weakness, and poor computer station setup.
Read More About Cervicalgia / Neck Pain
Chronic Headaches
Do you suffer from chronic headaches? Maybe it's a daily issue, maybe once a week, maybe even less often, but one thing's for sure—when a chronic headache kicks in, it can be a real pain in the neck, literally. In order to effectively address chronic headaches, you have to first determine if the pain is caused by a problem in your neck. Let's take a look at a few neck issues that can cause headaches: Weak neck muscles – The head, on average, weighs about ten pounds, so when the neck muscles are weak, it can make your head feel a bit like a bowling ball that your neck can't quite balance. There are many muscles that, along with the cervical spine, work together to help support the neck and aid movement…
Read More About Chronic Headaches
Our Doctors Who Can Assist with Cervical Lordosis
Other Resources for Neck Pain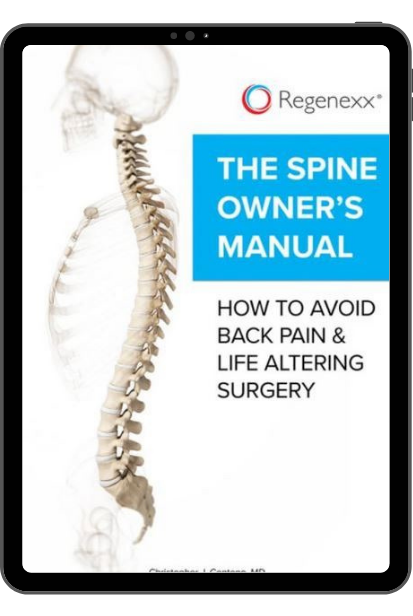 The Spine Owner's Manual: How to Avoid Back Pain & Life-Altering Surgery
This e-book from Dr. Chris Centeno focuses on the spine and how it functions within the human musculoskeletal system and the body as a whole. Everything in our bodies works together like a well-tuned symphony to support our well-being, and a strong spine (including all of its component parts, such as spinal nerves, ligaments, muscles, etc.) is critical to complete health.
Using the Regenexx SANS approach, The Spine Owner's Manual provides a series of tests and clearly defined exercises that you can do on your own to measure and monitor your own spinal health. These musculoskeletal tests will allow you to monitor where your own body might be struggling to maintain proper stability, articulation, symmetry, and neuromuscular function.
Nowadays, more and more people are dealing with neck pain and headaches. There are a lot of different causes of neck pain and headaches, one of which is intracranial hypertension. Anyone diagnosed with intracranial hypertension will want to know more about it. For example, you might wonder why it causes headaches or if the condition…

---