Regenexx® Non-surgical Shoulder Treatment
For Shoulders with Arthritis, Rotator Cuff Tears & Other Shoulder Conditions.
Am I a Candidate?
What Are Regenexx Procedures for Shoulders?
Regenexx® Non-surgical Shoulder Treatment uses sophisticated image-guided injections to place high-dose platelet-rich plasma or bone marrow concentrate containing stem cells in critical places to help your body heal itself. As the headquarters of Regenexx, Centeno-Schultz is where all of these procedures used by our national network began and were invented. These are breakthrough, non-surgical procedures for people suffering from shoulder pain due to common injuries and conditions pertaining to the shoulders. So, if you're looking for an alternative to shoulder surgery in Denver or Boulder, Colorado, what you really need is what we offer at Centeno-Schultz Clinic.
Traditional options for patients suffering from these conditions include arthroscopic shoulder surgery to repair tears, or shoulder joint replacement. With both surgeries, months of rehab are required, and the patient must be aware of and prepared to take on the risks. As an alternative, the Regenexx Same‑Day Protocol procedure may help alleviate shoulder pain and the conditions that cause it with a simple injection procedure.
Why Go with Regenexx's Non-surgical Shoulder Treatment Instead of Surgery?
Because the shoulder is the most mobile joint in the human body, most patients considering surgery for a shoulder injury, osteoarthritis, or degenerative condition are looking for relief from pain. Surgical approaches using the pain generator understanding of orthopedic pain can often be reductive (or plain wrong) about what is the cause of pain.
Orthopedic surgeons have surgical solutions which are not always in your best interest. Orthopedic surgeons are trained and dedicated to the surgical model. Their treatment recommendations are biased towards surgery and not always in your best interest. For example, rotator cuff surgery has a significant number of complications the most important of which is a high number of re-tears. Surgery for shoulder instability due to ligament injury can be a major surgery requiring extensive rehabilitation and time. Results can be disappointing and complications can occur.
Common Shoulder Conditions We Treat
This is not a complete list, so please contact us or complete the Regenexx Candidate Form if you have questions about whether you or your condition can be treated with these non-surgical procedures.
Rotator cuff tears
Arthritis of the shoulder joint
Thoracic outlet syndrome
Labral tears or degeneration
Rotator cuff tendonitis & tendonosis
AC Joint Separation
Recurrent shoulder dislocations
Rotator Cuff Tears
Rotator cuff tears are common as people get older. But a tear on your MRI doesn't mean you're destined for the operating table. Research demonstrates that 75% of rotator cuff repair surgeries offer no significant benefit over no surgery at all. Learn more about our procedure, the Perc-Shoulder Rotator Cuff Procedure, here:
Shoulder Labrum Tear
A shoulder labrum tear can be caused by a direct injury to the shoulder or as the result of prolonged wear and tear. If you're considering surgery for labral tears, learn more about our non-surgical option.
Shoulder Osteoarthritis
Our procedure for shoulder osteoarthritis (percutaneous shoulder arthroplasty) is a non-surgical outpatient procedure that helps your body use its innate ability to heal itself to avoid painful surgery and promote a more speedy recovery.
Are You A Candidate?
REQUEST A IN-PERSON OR TELEMEDICINE EVALUATION
Sandra H.
Through all the phases leading to, during and after the stem cell procedures on my cervical spine and right shoulder were professional, based on kind and competent clinic staff and a physician provider, Dr. Pitts, that used his superior knowledge and skill to lead to an excellent outcome. The follow-up after the procedures was well outlined and has led to a positive outcome including better functioning and pain reduction. The medical team's research and scientific basis for the stem cell procedure was the primary reason for choosing this physician group. This was a great choice for me and for my husband.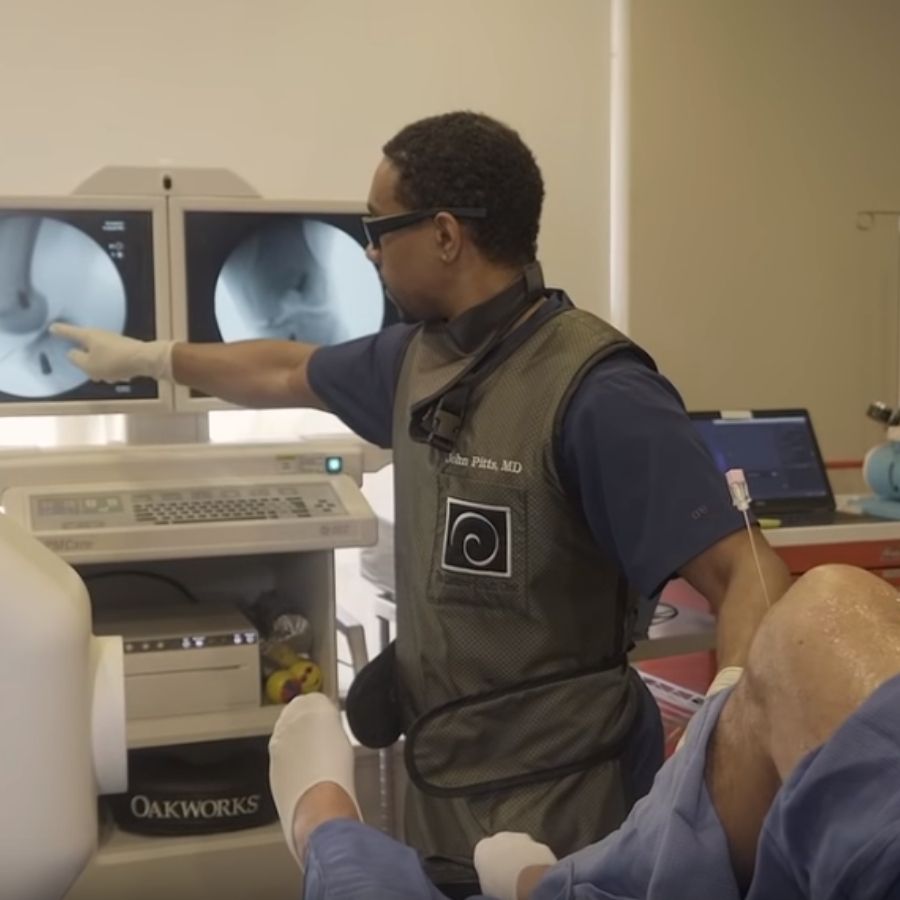 Shoulder Function Improvement After Regenexx Procedure – Prior to treatment, patients report being limited to an average of 65% of their optimal function. After receiving treatment, they report averages up to 87%. The functional questionnaire represented here is the Functional Rating Index (FRI).
Shoulder Pain Decrease After Regenexx Non-surgical Shoulder Treatment – Prior to receiving treatment, patients report average pain of 4.3/10. One month after treatment, pain levels decrease to an average of 2.8/10, a decrease of 35%. The questionnaire used is the Numeric Pain Scale (NPS).
---
Using a precise, image-guided injections, we are able to get more of the body's natural "repairmen" directly into the tear. By mobilizing your body's own healing mechanisms and eliminating the trauma of surgery and atrophy caused by immobilization, Regenexx has produced good results in the treatment of partial rotator cuff tears and has even shown encouraging success with completely retracted tears. Our procedure for shoulder pain, in other words, uses the patient's own body to repair itself.
---