Centeno-Schultz Clinic – Broomfield
Interventional Orthopedics Clinic in Broomfield, Colorado
Your Trusted Alternative to Orthopedic Surgery
Precise, Imaged-Guided Injections of Platelet-Rich Plasma (PRP), Bone Marrow Concentrate containing Stem Cells, & Prolotherapy
As the headquarters of Regenexx, as well as its main Colorado clinic, Centeno-Schultz Clinic is conveniently located in Broomfield to provide non-surgical orthopedic care to north Denver and adjoining areas. We are the top regenerative orthopedic clinic in the United States, with industry-leading experience, published research, specialized Interventional Orthopedics training, and published outcome data. With dozens of peer-reviewed publications, we are recognized by our peers as educators and leaders in the field
Conveniently located in Broomfield, Colorado
Centeno-Schultz Clinic provides non-surgical orthopedic care to those in Denver, Boulder, Westminster, Louisville, Thornton, and Arvada.
Take a Tour of Our Clinic
To expand to a fullscreen view, tap the icon in the top, right-hand corner of the virtual tour screen below.
Take a Tour of Our Clinic
Doctors
Reviews
Jim H.
I've been a patient of Dr Centeno for over 8 years. I have nothing but the highest complements for his professionalism, insights and overall care. Diagnosed with severe cervical spondylosis over 9 years ago, his semi-annual injections have kept me nearly pain free and clearly helped me avoid a multi-level cervical fusion, at least for the time being.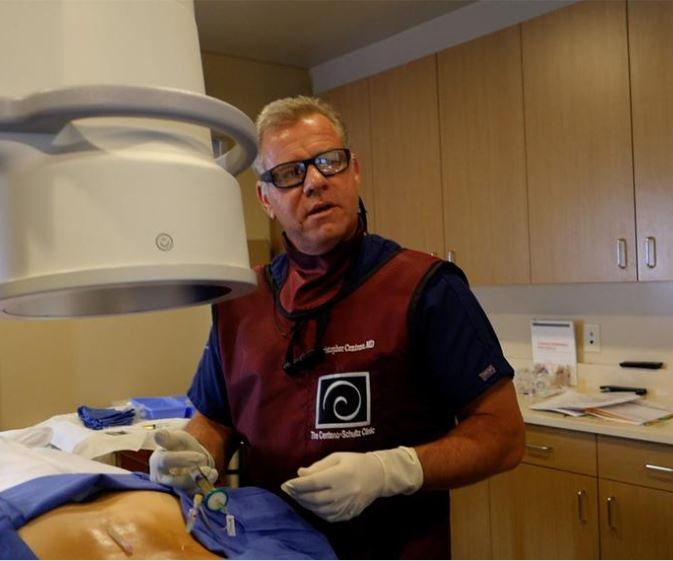 Areas We Treat
EXPLORE OUR TREATMENT SOLUTIONS
Get Back to What You Love Faster and Without Surgery.
Watch Centeno-Schultz Webinars
Learn about the Centeno-Schultz Clinic and our cutting-edge procedures from co-founder John Schultz, MD.
Jason Markle, DO discusses lumbar spine conditions, treatments, and the Centeno-Schultz clinic procedures that may be able to help treat the underlying cause of your low back pain.