Trigeminal Neuralgia
Causes, Symptoms, Treatments, & Other Resources
Today let's discuss a case I successfully treated and why we were able to get success when so many alternative options have failed in the past for Trigeminal Neuralgia.
Trigeminal Nerve – What is it?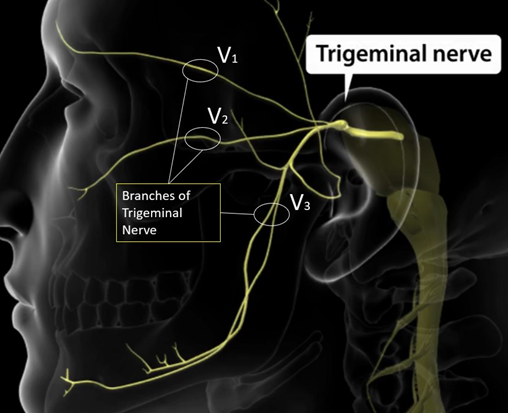 Trigeminal Nerve is a cranial nerve that originates in the brain stem. It has 3 main branches (V1, V2, and V3) that innvate the faces. All have sensory fibers except V3 which has both sensory fibers and motor fibers that go to the muscles of the jaw that allow you to chew and talk!
Meet JB
73 yr old female that has been battling trigeminal neuralgia for many years! Her symptoms mainly in the V2 distribution below her left eye and next to her nose. Symptoms create electric momentary shocks that comes and goes. They prevent have prevented her from sleeping. She resorted to a "PainShield," where she has to tape a device to her nose to sleep. She previously has tried all medication and radiofrequency ablation that resulted in improvement but was an extremely painful procedure that helped for 1 year but left ½ her face numb! She came to us looking for a non-surgical trigeminal neuralgia treatment option
Common Causes of Trigeminal Neuralgia
Vascular theory = Artery or vein is compressing the Trigeminal Nerve near the pons, or anywhere along the course of the nerve, injuring myelin sheath and causing erratic hyperactive functioning of the nerve! Symptoms typically occur along the V2 or V3 distribution.
Symptoms of Trigeminal Neuralgia
Symptoms can be variable with moments of extreme pain along the course of the nerve.
Medical Management of Trigeminal Neuralgia
Ant-Seizure medications are the main medical management treatment options;
Carbamazepine: with adverse side-effects: drowsiness, dizziness, nausea/vomiting

** Can induce leukopenia = drop in white blood cells

Oxcarbazepine
Others medications: phenytoin, Valproic Acid, Gabapentin, pregabalin, clonazepam, topiramate, misoprostol, Baclofen
Opioids can be used but the long-term management of using opioids is not advisable due to the possibility of dependence. Another option IV lidocaine
Surgical Management
Rhizotomy / Nerve Abalation @ foramen Ovale – burning of the nerve where the TN exits the skull at the foramen ovale. But can come with complications such as:

12% dysesthesia (burning, aching)

4% corneal numbness with increased risk keratitis

Gamma Knife Radiosurgery

9-37% new or worsened facial sensory impairment

Peripheral Neurectomy / Nerve Block
Microvascular decompression = Craniotomy to separate the blood vessel from the nerve and place a physical barrier between them

4%-12% Serious AE: CSF leak / Infarction / Hematoma / Infection

10% long term hearing loss

Balloon micro-compression: fluoroscopic guidance, aiming to crush the nerve against the skull base, as it passes through the foramen ovale.
Back to JB – who was contemplating brain surgery before she found us, we have been able to provide a non-surgical treatment option for her Trigeminal Neuralgia:
JB after 2 PRP treatments:
"My point in belaboring this is that since I've had two PRP treatments the numbness has greatly receded. The numbness is confined to the area close to the spot on the affected TN nerve and moves directly down my face to my left lip. I'd say the numbness has receded 75 percent. This is a great improvement! I would expect that with further PRP treatments this will continue to improve.

Microvascular Decompression Surgery was to be my next option. I'm very thankful that the PRP is now an alternative for me."

– JB
What is our Non-Surgical Trigeminal Neuralgia Treatment Option?
At Centeno-Schultz Clinic, we invented much of the world of regenerative treatments for orthopedic conditions. We were the first physicians to use stem cell therapy and platelet-rich plasma to treat things like disc injuries, ACL tears, Rotator Cuff Tears.
For Trigeminal Neuralgia, Dr. Markle used a highly advanced ultrasound-guided technique with a form of Platelet Rich Plasma (PRP) called "platelet lysate. To understand the difference see Dr. Centeno's blog https://regenexx.com/blog/whats-the-difference-between-prp-and-platelet-lysate/#gref
NSAIDs
The other day I was evaluating a patient and reviewing the treatment options for their spine condition.  After discussing prior treatments, we got to the topic of medications taken for pain relief. She explained that she mainly utilized anti-inflammatory (NSAID) medications and then she told me to hold much she takes and has been for many years…..she takes close to 2 grams (2000 milligrams) on a daily basis which equated to about 9-10 capsules of medication per day.  I was shocked, considering she was pre-diabetic and with high blood pressure plus the kicker of it is that her PCP (primary care physician) is ok with this…
Read More About NSAIDs
PRP for Nerve Damage
Peripheral nerves are comprised of various combinations of motor, sensory, and autonomic neurons. Nerve injuries are a common condition with a broad range of symptoms depending on the severity of nerve damage which presents various challenges to patients, ranging from mild discomfort to life-long impairment. PRP for nerve damage has been shown to be effective. Let's dig in. Nerve injuries can be classified based on the severity of damage and which structures in the nerve have been damaged. The most severe case is the complete transection of the nerve, called neurotmesis. The most common is neuropraxia from acute or chronic compression of the nerve.
Read More About PRP for Nerve Damage
Upside:
A great treatment option has been developed at CSC as a non-surgical trigeminal neuralgia treatment. If you've been dealing with trigeminal neuralgia like our patient JB, feel free to connect with us so we can set you up with an evaluation to determine if you are a candidate to help avoid the need for more invasive treatment like craniotomy!
Our Doctors Who Treat Trigeminal Neuralgia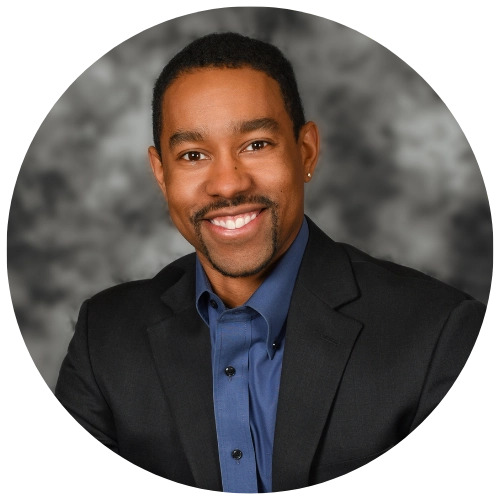 John Pitts, M.D.
Dr. Pitts is originally from Chicago, IL but is a medical graduate of Vanderbilt School of Medicine in Nashville, TN. After Vanderbilt, he completed a residency in Physical Medicine and Rehabilitation (PM&R) at Emory University in Atlanta, GA. The focus of PM&R is the restoration of function and quality of life. In residency, he gained much experience in musculoskeletal medicine, rehabilitation, spine, and sports medicine along with some regenerative medicine. He also gained significant experience in fluoroscopically guided spinal procedures and peripheral injections. However, Dr. Pitts wanted to broaden his skills and treatment options beyond the current typical standards of care.
Read more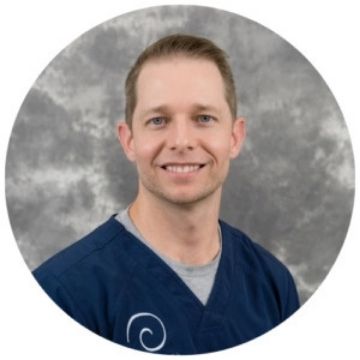 Jason Markle, D.O.
Post-residency, Dr. Markle was selected to the Interventional Orthopedic Fellowship program at the Centeno-Schultz Clinic. During his fellowship, he gained significant experience in the new field of Interventional Orthopedics and regenerative medicine, honing his skills in advanced injection techniques into the spine and joints treating patients with autologous, bone marrow concentrate and platelet solutions. Dr. Markle then accepted a full-time attending physician position at the Centeno-Schultz Clinic, where he both treats patients and trains Interventional Orthopedics fellows. Dr. Markle is an active member of the Interventional Orthopedic Foundation and serves as a course instructor, where he trains physicians from around the world.
Read more
Other Resources
Growing up in South Florida, I never knew what it was like to have different seasons – we basically had hot, hotter and blistering hot! But now being in Colorado for many years, I understand transitions from winter to spring. It means that its time to put away my snowboard and dust off the golf … Continued

---
References:
Thomas KL, Vilensky JA. The anatomy of vascular compression in trigeminal neuralgia. Clin Anat. 2014 Jan;27(1):89-93. doi: 10.1002/ca.22157. Epub 2013 Feb 5. PMID: 23381734.
Docampo J, Gonzalez N, Muñoz A, Bravo F, Sarroca D, Morales C. Neurovascular study of the trigeminal nerve at 3 t MRI. Neuroradiol J. 2015 Feb;28(1):28-35. doi: 10.15274/NRJ-2014-10116. PMID: 25924169; PMCID: PMC4757119.
Hannan C, Shoakazemi A, Quigley G. Microvascular Decompression for Trigeminal Neuralgia: A regional unit's experience. Ulster Med J. 2018 Jan;87(1):30-33. Epub 2018 Jan 31. PMID: 29588554; PMCID: PMC5849951.
Stavropoulou E, Argyra E, Zis P, Vadalouca A, Siafaka I. The Effect of Intravenous Lidocaine on Trigeminal Neuralgia: A Randomized Double Blind Placebo Controlled Trial. ISRN Pain. 2014 Mar 10;2014:853826. doi: 10.1155/2014/853826. PMID: 27335883; PMCID: PMC4893393
Xue TQ, Zhang QX, Bian H, Zhou PC, Liu C, Niu SF, Wang ZB, Shi WJ, Yan CY. Radiofrequency Thermocoagulation Through Foramen Rotundum Versus Foramen Ovale for the Treatment of V2 Trigeminal Neuralgia. Pain Physician. 2019 Nov;22(6):E609-E614. PMID: 31775414.