What is Iliotibial Band (ITB) Syndrome?
Also known as "IT Band Syndrome" also known as "ITB Syndrome," iliotibial band syndrome is a painful medical condition that affects the lateral hip, leg, and knee. It can affect individuals of all ages and most often is caused by repetitive activities like running, cycling, hiking, and walking.
Your iliotibial band is a thick band of connective tissue that runs from the outside of your hip down to the outside aspect of your knee. Its principal function is to stabilize the hip and knee. If it becomes tight and dysfunctional, you may experience pain along with this band of tissue due to strain or inflammation. You may also experience pain, limited range of motion in the outside aspect of the hip and knee.
What Causes IT Band Syndrome?
Iliotibial band syndrome is a common issue for those who perform repetitive motions, such as running or cycling. When your body becomes accustomed to this kind of movement and you don't allow it time to recover between sessions with these activities – the tight IT bands can cause rubbing which leads, in turn, towards pain and swelling.
Some risk factors may make some individuals more prone to experience IT Band Syndrome. Those include:
Prior injury that makes the ITB tighter
weak hip, gluteal, abdominal muscles
Running uphill or on a track
Lack of flexibility
Flat feet
Too much sitting
Weak knee flexors and hip abductors
Knee osteoarthritis
Bowlegs
Lumbar disc disease
Symptoms for Iliotibial Band Syndrome
Pain in the outer side of your knee is a common complaint among athletes. As people get older, they're more likely to experience this type of discomfort as they move around during exercise and physical activity- whether it's walking upstairs or running cross country. Other symptoms include pain on the outside of the hip and leg and clicking and popping of the outside of the knee.
Treatments for Iliotibial Band Syndrome
In less severe cases, if you give your body the rest it needs and follow doctor's orders closely, Iliotibial band syndrome usually heals in about 6 weeks.
However, for more severe cases, the following treatments are available:'
Limiting activities that can agitate your IT band, like running.
RICE
Corticosteroid shot (*not recommended due to it inhibitory effect on stem cells & growth factors)
Our Doctors Who Can Assist With Iliotibial Band Syndrome
Other Resources on Iliotibial Band Syndrome (ITB)
Free Download: The Knee Owner's Manual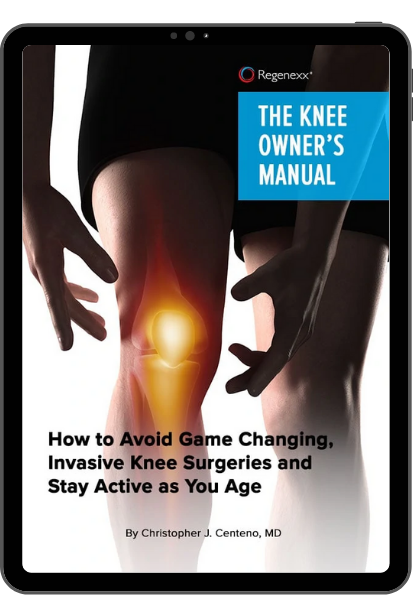 This e-book by Dr. Chris Centeno examines the knee and its role in the human musculoskeletal system and the body as a whole. The Knee Owner's Manual provides a series of tests and clearly defined exercises that you can perform on your own to assess and monitor your own knee health. It will allow you to look for trouble spots where your own body may be having difficulty with stability, articulation, symmetry, and neuromuscular function. You'll be able to see how these deficits in other regions of the body relate to the knee.
The Knee Owner's Manual also discusses how Regenexx is pioneering the development of interventional orthopedics, a new branch of medicine that employs regenerative biologic therapies such as adult bone marrow concentrate and platelet-rich plasma to help repair and strengthen damaged tissues in other areas of the body.
This is contrasted with invasive knee surgeries, which often remove important tissues or replace the entire knee itself when it becomes damaged. With hyperlinks to more detailed information, related studies, and commentary, this book condenses a vast amount of data, images, and resources into an enjoyable and informative read. This is the first edition of The Knee Owner's Manual, a companion book to Orthopedics 2.0.
Even a small meniscus tear can make walking difficult for you. If you are experiencing any of these symptoms, you may want to seek medical help as soon as possible, depending on the type of tear you have. Needless to say, a lot depends on understanding the meniscus tear types there are and what each … Continued

---