Lumbar disc bulges are a common cause of lower back and leg pain. Common therapies for lumbar disc bulgesinclude physical therapy, lumbar traction, inversion table therapy and lumbar epidural steroid injections. The goal of therapy is to decrease the disc bulge and its compressive effect on the nerve root. If nerve compression is left untreated, it can result in permanent leg pain and weakness.
Lumbar epidurals steroid injections should always be performed under x-ray to ensure accurate placement of the medication. The epidural space is the area immediately outside the spinal cord and is adjacent to the lumbar disc.

If a lumbar epidural steroidis performed without x-ray there is no guarantee that the medication will get into the epidural space let alone on the irritated nerve root and disc. At the Centeno-Schultz Clinic all lumbar epidurals are performed under x-ray. Injection of contrast prior to the injection medication, ensures accurate placement. The x-ray below demonstrates contrast flowing along the right L5 nerve root with extension into the epidural space.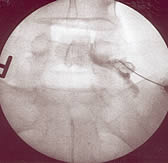 If conservative therapy or lumbar epidural steroid injections fail to provide sustained pain relief, patients now have the option of using their own stem cells to repair their lumbar disc bulges using the Regenexx procedure. Regenexx is a simple needle in-needle out procedure which affords patients the opportunity to avoid the risks of surgery and anesthesia and repair disc bulges.
Review the video below on how stem cells can be used to treat disc bulges.
[youtube=http://www.youtube.com/watch?v=zI7TQzV