When a cyst develops on a facet joint in the spinal column, it can be painful and even debilitating for many patients. However, some patients may not even know they have a facet cyst as they may be asymptomatic.
If you're in the former category, and your cyst has been wreaking havoc in your back, your doctor may throw out the S word—"surgery." Facet cyst surgery is certainly the most invasive option, but is it the only option?
Let's learn more about the facet joint and facet cysts.
How Cysts Develop In Facet Joints
To get a better visualization on facet cysts, watch this video:
---
Arthritis or traumatic injuries can damage facet joints. Once the joint continues to develop arthritis the fluid can accumulate in the joint. Similar to any other arthritis joint (i.e. swelling in knee joint that has arthritis). The fluid can get pushed out of the joint and form a pea-sized capsule on the outside of the facet.
The most common area for a facet cyst to form is in the lumbar spine, or lower back. When a cyst forms, there is a ballooning out of the capsule into the spinal canal which can then affect the nerves. There is a high association with instability and spondylolisthesis in the development of facet arthritis.
Pressure on these structures can cause pain in the spine or other parts along the affected nerve branch, such as the hip, knee, and ankle.
Conservative Treatment Options
The treatment of lumbar facet cysts depends on a number of factors including the size, location, and symptoms associated with the cyst. In general, treatment options for lumbar facet cysts can be divided into nonsurgical and surgical options.
Nonsurgical treatments for lumbar facet cysts may include:
1. Observation
In some cases, a lumbar facet cyst may be asymptomatic, or may cause only mild or occasional symptoms. In such cases, a healthcare provider may choose to monitor the cyst over time and provide conservative management, such as pain medications and physical therapy.
2. Injection Therapy
Steroid or anesthetic injections into the joint space of the affected facet joint can be used to reduce inflammation and pain. Can aspirate (drain) cyst or elect to pressurize until cyst ruptures
3. Radiofrequency Ablation
In some cases, the healthcare provider may recommend a procedure known as radiofrequency ablation. Radiofrequency ablation is a procedure in which a needle is inserted into the joint to provide targeted heat to the nerves that are causing pain. This procedure may help to reduce symptoms.
Surgical Excision Of Facet Cysts
Surgical treatment options for lumbar facet cysts may include:
Cyst Removal
A surgical procedure to remove the cyst may be recommended in cases where the cyst is causing significant pain or neurological symptoms. It is typically recommended when nonsurgical treatments have been ineffective.
Facet Joint Fusion
In some cases, a healthcare provider may recommend a procedure to fuse the facet joint, which involves removing the cyst and fusing the vertebrae together using bone grafts or metal implants.
Traditional Injections For Facet Cysts
Injection based therapies can be beneficial in the short term but let's discuss the pros and cons to these options:
Popping The Facet Cyst Via Injections
One option is to pop the cyst by injecting it with a needle. Your doctor will inject the facet joint under guidance and overfill the cyst with liquid. Overfilling the cyst will expand it like a balloon being filled with water and it will eventually pop. 
Popping the cyst is generally effective. On the plus side, surgery is not required, so the procedure did not interfere with muscles access the site of the cyst. However, there are cases when the cyst simply won't pop.
One study found this technique to be successful. However, 70% of the time in 40% of these patients, the cyst will reform and need to be popped again.
Injecting The Cyst With Steroids
Steroids are anti-inflammatories, and a high-dose steroid injection may temporarily reduce inflammation. During this treatment, your doctor will first drain the cyst with the injection needle and then inject the steroid.
This might be an effective technique if it were not for the extreme side effects associated with steroid injections– particularly on joint cartilage. Steroids are toxic to the cartilage in the joint.So while you might solve one problem with the facet cyst, you could be creating another by destroying cartilage, causing instability, irritation, and/or pain.
With the cartilage issue aside, steroids have been linked to a very long list of additional side effects. Due to these side effects and the destruction of joint cartilage, we certainly recommend steering clear of steroid injections.
Are There Alternatives To These Invasive Treatments?
Platelet Rich Plasma Injections
The inflammation in the joint that's causing the formation of the facet cyst thrives because of the facet joint's inability to fully heal on its own. Platelet-rich plasma is a treatment option that may jumpstart the repair of the damaged joint.
In this treatment, an interventional orthopedic physician will inject the patient's own platelet-rich plasma into the cyst using precise guidance. This may also improve the toxic environment in the joint, which may eliminate inflammation.
The pros to this treatment is that it uses the body's own natural healing factors, and there is no surgery or dangerous steroids required.
There exists plenty of data comparing PRP to some more traditional treatments such as corticosteroid injection and radiofrequency ablation. All data concludes that PRP is superior in comparison to other methods of pain relief. The data clearly attests to the duration of pain relief from the use of PRP, but, can these treatments work for a facet cyst?
Kim et al. (2012) conducted a retrospective case series of 26 patients who received PRP injections for lumbar facet joint pain. The study found that the majority of patients reported significant improvement in pain and function scores. The study could also conclude that there were no major adverse side effects associated with the injections.
Lee et al. (2018) conducted a randomized controlled trial to evaluate the effectiveness of intra-articular PRP injections in patients with chronic facet joint pain. The study found that the PRP group had significantly greater improvement in pain and function scores than the control group at 6 months after the injection.
Patel et al. (2019) conducted a randomized, double-blind, placebo-controlled trial to evaluate the efficacy of PRP injections for the treatment of chronic low back pain originating from the facet joints. The study found that the PRP group had significantly greater improvement in pain and function scores than the control group at 12 weeks after the injection.
Dr. Markle has been treating these cysts for many years utilizing an interventional orthopedic approach. This approach treats not only the joint but also the capsule that has been weakened, as well as the ligamentous structures around vertebrae that improve overall stability. This combination of treatment has resulted in excellent outcomes. Not only does this treatment resolve patients pain and symptoms, but addresses the cyst without recurrence
Here are the results, before and after treatment:
Make An Informed Choice For Facet Joint Cyst Treatment
If you have a facet cyst that is putting pressure on a spinal nerve, you know how painful these cysts can be. Steroids or surgery come with many complications and side effects. So, when considering facet cyst treatment, keep these options off your list. We have shown utilizing precision medicine combined with ortho-biologics to help aid in the healing of the cyst can resolve your pain.
If you're currently dealing with this crippling condition and failed conventional treatments and want to avoid surgery, give us a call and we will set you up with one of our specialists to determine if you are a candidate for this groundbreaking treatment!
Doctors At Centeno-Schultz Clinic that Treat Facet Cysts
More Resources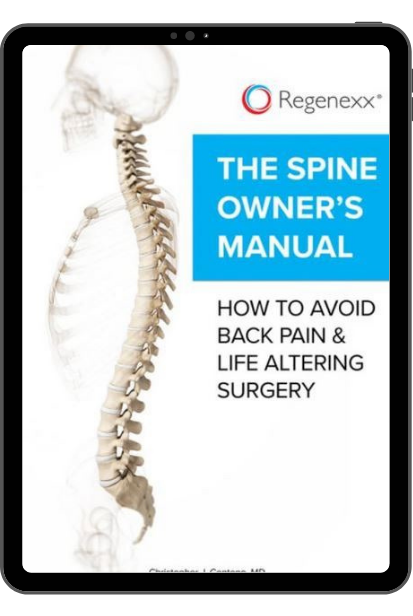 The Spine Owner's Manual: How to Avoid Back Pain & Life-Altering Surgery
This e-book from Dr. Chris Centeno focuses on the spine and how it functions within the human musculoskeletal system and the body as a whole. Everything in our bodies works together like a well-tuned symphony to support our well-being, and a strong spine (including all of its component parts, such as spinal nerves, ligaments, muscles, etc.) is critical to complete health.
Using the Regenexx SANS approach, The Spine Owner's Manual provides a series of tests and clearly defined exercises that you can do on your own to measure and monitor your own spinal health. These musculoskeletal tests will allow you to monitor where your own body might be struggling to maintain proper stability, articulation, symmetry, and neuromuscular function.
The spine, consisting of 33 individual bones called vertebrae, is divided into five major regions: cervical (neck), thoracic (upper back), lumbar (lower back), sacral (pelvic region), and coccygeal (tailbone). These vertebrae are separated by intervertebral discs, which act as cushions and allow for flexibility in movement. The lumbar spine, also known as the lower back,…
References:
1. Lumbar synovial cysts: A review of diagnosis, surgical management, and outcome assessment. Epstein Epstein, NE NE. http://journals.lww.com/jspinaldisorders/pages/articleviewer.aspx?year=2004&issue=08000&article=00012&type=abstract Clin Spine Surg. 2004;17(4):321–325.
2. Minimally invasive surgery for lumbar synovial cysts with coexisting degenerative spondylolisthesis. Denis DR, Hirt D, Shah S, et al. Int J Spine Surg. 2016;10
3. Synovial cysts of the lumbar facet joints in a symptomatic population: Prevalence on magnetic resonance imaging. Doyle A & Merrilees M. http://journals.lww.com/spinejournal/Abstract/2004/04150/Synovial_Cysts_of_the_Lumbar_Facet_Joints_in_a.10.aspx. Spine. 2004;29:874–878.
4. Lumbar facet joint synovial cyst: Percutaneous treatment with steroid injections and distention—clinical and imaging follow-up in 12 patients. Bureau NJ, Kaplan PA, Dussaul RG. Radiology. 2001;221:179–185.
5. Outcome of percutaneous rupture of lumbar synovial cysts: A case series of 101 patients. Martha JF, Swaim B, Wang DA, et al. Spine. 2009;9:899–904.
6. Minimally invasive surgical treatment of lumbar synovial cysts. Sandhu FA, Santiago P, Fessler RG, et al. Neurosurgery. 2004;54:107–112.
7. Kim, S. J., Kim, E. K., & Kim, T. W. (2012). Clinical experience of using platelet-rich plasma for an osteoarthritic knee. The Knee, 19(6), 773-778.
8. Lee, J. W., Kim, S. H., Kim, M. Y., & Hwang, C. J. (2018). Intra-articular platelet-rich plasma injections for the treatment of chronic facet joint pain: a randomized, double-blind, controlled clinical trial. Spine, 43(3), 149-156.
9. Patel, V. B., Thacker, J., Patel, M. B., & Rawal, J. S. (2019). Intra-articular platelet-rich plasma injection for chronic low back pain originating from the facet joints: a randomized, double-blinded, active-control trial. Asian Spine Journal, 13(4), 572-581.