LCL Sprain
causes, symptoms, treatments, and Other Resources
What is the LCL?
To understand what an LCL sprain is, it important to get an understanding of the anatomy of the knee.
Your knee consists of three bones: your thighbone (femur), your kneecap (patella), and your shinbone (tibia).
The joints in the body are held together by ligaments. There are two types of knee ligaments:
Collateral ligaments surround your knee on all sides. The inner medial collateral ligament (MCL) joins your femur and tibia. The outer, lateral collateral ligament (your LCL) connects the femur and fibula. You can bend and extend your knee thanks to these ligaments.
Your cruciate ligaments are located within the knee joint. They cross each other (the anterior cruciate ligament (ACL) is in the front and the posterior cruciate ligament (PCL) is in the back) and form an "X." These ligaments regulate your knee's backward and forward movements.
What is an LCL Sprain?
A strain or tear to the lateral collateral ligament (LCL) is known as an LCL injury. The LCL is a band of tissue that runs along the outer side of your knee. It aids in keeping the bones together while you walk, ensuring that your knee joint remains stable.
How you feel and what type of treatment you'll require depends on how severely your LCL has been stretched or torn. If it's only a minor sprain, self-care at home might help. However, if it's a significant tear or sprain, you may need physical therapy, an injection-based procedure, or surgery.
Orthopedists categorize LCL sprain into 3 grades:
Grade 1 Sprain
A partial-thickness MCL sprain is where only a portion of the LCL is torn. On ultrasound or MRI, a portion of the MCL would be torn but the remaining fibers would be normal.
Grade 2 Tears
A grade 2 LCL tear involves a tear that extends across the entire LCL and therefore is referred to as a full-thickness tear. The ligament has not pulled apart or snapped back upon itself and therefore is referred to as non-retracted. These types of tears can be treated with ultrasound-guided PRP or bone marrow concentrate.
Grade 3 Tears
A grade 3 tear is a full-thickness tear that extends across the LCL and, unlike a Grade 2, the ligament has pulled apart. This means that the two pieces of the ligament have pulled apart or maybe even snapped back like a rubber band. This type of tear requires surgery.
What Causes LCL Sprains?
An LCL sprain is caused by the following occurrences:
A blow to the inside of the knee. The impact of the hit can stretch or tear the ligament along the outside edge of the knee. It's prevalent among athletes who participate in sports such as football and hockey, in which players collide with one another.
Shifting directions quickly or pivoting on one foot are examples of this. Soccer and basketball players may make sharp, sudden turns or stops, which can induce LCL damage. When wrestlers' legs twist outward in a quick motion while they're on the mat, it's possible that their LCL have been damaged.
Landing badly or awkwardly from a jump. You can sprain your LCL during a basketball or volleyball game, skiing, or slipping on ice.
Symptoms:
Treatment Options for LCL Sprain
Treatment options for LCL Sprain include:
Physical Therapy
Rest, Ice, Compression, Elevation (RICE)
NSAIDS (ibuprofen, motrin, naproxen, etc.)
Cortisone injection
PRP injections
Physical Therapy
Physical therapy can consist of many different options to decrease pain and increase range of motion at the knee. Bracing may also be suggested by a physical therapist in order to support the knee during activities that cause pain so that you do not have to worry about the pain as much. Physical Therapy is beneficial for lcl injuries because it decreases swelling and helps strengthen muscles around the knee so they can stabilize it more efficiently.
Surgery
There are different types of surgery that can be done for LCL tears. The most common type of surgery is arthroscopic repair. This surgery is done through a small incision and a tiny camera is inserted into the knee joint to view the tear. The camera will help the surgeon see what needs to be repaired and then they will fix it with small instruments. Other types of surgery that can be done for LCL tears include:
LCL reconstruction
Open repair
Arthrodesis
An LCL reconstruction is a more extensive surgery and requires the surgeon to use a graft. This type of surgery can be done through an open incision or arthroscopically. If it is done through an open incision, the entire knee will need to be opened and if it's done arthroscopically then it will be similar to an arthroscopic repair. Arthrodesis is the permanent fixation of the knee which would require cutting out the ligament and fusing two bones together thus creating one completely rigid structure.
Nonsurgical Treatment Options for LCL Sprains
Nonsurgical treatment options for LCL sprains include rest, ice, compression and elevation (RICE), and NSAIDS, cortisone shots, prolotherapy, and PRP. If the injury is less than two weeks old, then RICE may be all that is needed to allow the ligament time to heal. NSAIDS can help reduce inflammation and pain. If the injury is more than two weeks old, then a cortisone injection may be recommended. However, at the Centeno-Schultz Clinic, we recommend skipping the cortisone shot due to its inhibitory effects to stem cells and growth factors around the injury by using PRP (1).
Doctors That Assist with LCL Sprains
Other Resources
Free Download: The Knee Owner's Manual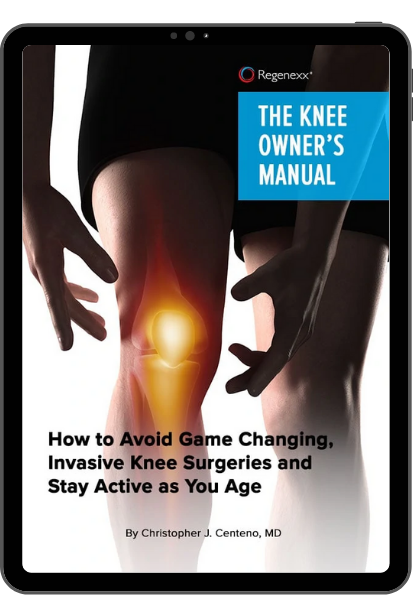 This e-book by Dr. Chris Centeno examines the knee and its role in the human musculoskeletal system and the body as a whole. The Knee Owner's Manual provides a series of tests and clearly defined exercises that you can perform on your own to assess and monitor your own knee health. It will allow you to look for trouble spots where your own body may be having difficulty with stability, articulation, symmetry, and neuromuscular function. You'll be able to see how these deficits in other regions of the body relate to the knee.
The Knee Owner's Manual also discusses how Regenexx is pioneering the development of interventional orthopedics, a new branch of medicine that employs regenerative biologic therapies such as adult bone marrow concentrate and platelet-rich plasma to help repair and strengthen damaged tissues in other areas of the body.
This is contrasted with invasive knee surgeries, which often remove important tissues or replace the entire knee itself when it becomes damaged. With hyperlinks to more detailed information, related studies, and commentary, this book condenses a vast amount of data, images, and resources into an enjoyable and informative read. This is the first edition of The Knee Owner's Manual, a companion book to Orthopedics 2.0.
Your knee pain initially was intermittent and mild. Unfortunately, It is now constant and debilitating. Your doctor recommends knee replacement surgery. What is the knee composed of? What are the most common knee injuries? What is knee replacement surgery? What are the different types of knee replacements? What is knee replacement surgery success? What are … Continued

---
References:
Shahid M, Kundra R. Platelet-rich plasma (PRP) for knee disorders. EFORT Open Rev. 2017;2(1):28-34. Published 2017 Mar 13. doi:10.1302/2058-5241.2.160004