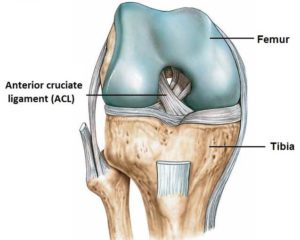 Anterior cruciate ligament (ACL) tears are devastating injuries impacting one's function, level of activity, and confidence. ACL surgery, to address those tears, is fraught with multiple issues, including the following:

There is an increased incidence of knee arthritis in teens by the time they are in their thirties.
The native ACL with two bundles is replaced with a single graft that is weaker and prone to tearing.
The new graft is at a much steeper angle than the original ACL, reducing the ability of the reconstructed ligaments to stabilize the knee.
Regenexx perc-ACLR is a state-of-the-art nonsurgical procedure whereby a patient's own stem cells are injected under X-ray into the damaged ligament. Learn more in the video below.
Meet CL
CL is a 13-year-old volleyball athlete from Texas who sustained full rupture of her ACL after landing incorrectly. She was devastated as volleyball was an important part her life. CL and her parents declined surgery repair and traveled to Centeno-Schultz Clinic, where she underwent a bone marrow aspirate to collect her stem cells. Later that same day, her own stem cells were reinjected into the damaged ACL. Thereafter, she wore a knee brace for six weeks and completed specific physical therapy to strengthen her knee.
At six months following her stem cell injection at Centeno-Schultz Clinic, CL has no limitations, pain, or restrictions. Her MRI tells the story as depicted below. On the left is her MRI before the stem cells; whereas, the MRI on the right is after stem cells. The ACL is outlined in red and has significantly changed from torn and poorly disorganized to repaired and uniform. The radiologist read the ACL as normal. Congratulations, CL!
CL will start slowly training for volleyball next week, and we are excited that we helped another young athlete avoid the perils of ACL reconstruction surgery. Not all clinics are the same; however. Centeno-Schultz Clinic pioneered the ACL stem cell procedure, which was a decade-long process. If you have an ACL injury and are told you need ACL surgery, we are happy to evaluate your injury and will provide you with a candidacy rating. Going anywhere else will compromise your outcome. Live strong.