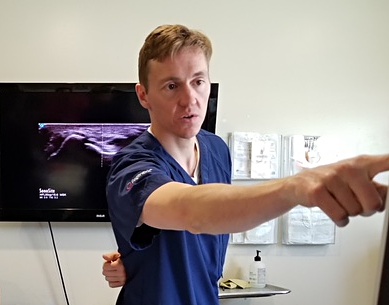 Bob
Although I never had a specific injury to my knees, my active lifestyle resulted in years of "wear and tear" on my knees. I was…
Bob's Story
Although I never had a specific injury to my knees, my active lifestyle resulted in years of "wear and tear" on my knees. I was first diagnosed with osteoarthritis in my 50's. The pain and discomfort in my knees slowly increased over time, in spite of the temporary relief I would occasionally get from steroid injections. When an orthopedist finally suggested that surgery may be necessary soon, I began looking for alternatives.
Thankfully, my insurance offered a second opinion program. I was put in touch (per secure medical zoom conference) with an orthopedic specialist in NY that is well versed in innovative therapies and procedures to avoid or at least delay orthopedic surgeries. After reviewing my medical records, we spoke, and he suggested that I may benefit from Platelet-rich-Plasma (PRP) injections or other alternatives to surgery. When I asked him where I might go to look further into the alternative therapies, he mentioned the Centeno-Schulz Clinic in the Denver area as one he would trust. So, I called and scheduled an appointment with Dr. Matthew Hyzy at the Centennial, Co. Clinic in the fall of 2022. I met and consulted with Dr. Hyzy, who had reviewed my medical records and thoroughly examined both my knees using ultra-sound technologies. Upon examination, Dr. Hyzy explained,in great detail, the condition of my knees, before recommending PRP as the most appropriate treatment for me. After taking the time to discuss his diagnosis and the prognosis for my condition, I scheduled an appointment for the PRP treatment.
The staff at Centeno-Schulz was very helpful with instructions for the PRP procedure. The professional care and compassion that I experienced on the day of my PRP procedure, from the phlebotomist to Dr. Hyzy and his assistants, was outstanding. The procedure itself was virtually painless (except for a slight discomfort from the injections). My initial recovery period was about two weeks, which I was well prepared for by the personnel at the clinic. Two weeks after the PRP treatment the post procedure pain and discomfort completely disappeared. Today, more than two months after PRP, I am experiencing no pain or discomfort in either knee! I feel like I have the knees of a 25 year old again. I understand that this treatment success can diminish over time, but I am thankful right now for the pain-free knees that Dr. Hyzy has provided me with the minimally invasive PRP treatment.
See If You Are a Candidate for a Procedure With Us
I've been a patient of Dr Centeno for over 8 years. I have nothing but the highest complements for his professionalism, insights and overall care.…
Jim H.
The staff at Centeno-Schultz are both professional and highly competent. My rather complex stem cell/PRP procedure went like clockwork with Dr. Jason Markle's expertise and…
Frank B.
Dr Pitts demonstrates the height of professionalism and depth of knowledge treating my shoulder. While my visit was for my shoulder Dr. Pitts asked if…
Nancy C.
Dr. Schultz and staff were exceptional in their professionalism and commitment to the best possible outcome for me. Dr. Shultz was wonderful, attentive, and efficient.…
Lisa R.
Can't say enough wonderful things not only about their technology but also the wonderful Doctors and staff! Doctor Schultz and team have provided major healing…
Jonathan Z.
Dr. Markle has performed 3 separate procedures on my shoulders in the past 2 years. The results I have experienced are outstanding. I went from…
Marc W.
Dr. Markle is compassionate and thorough. He cares about the patient and how their life is being affected by their orthopedic issue. He looks at…
Sarah S.
I'm giving the Centeno Schultz Clinic staff and Dr. Schultz 5 stars. The medical assistants and rest of the staff do an outstanding job with…
Sean M.
I would highly recommend Dr. Pitts. I've had my knees and elbow done. The PRP (or whatever they call theirs) on tennis/golf elbow was highly…
Tanya S.
I will admit I was a little skeptical at first. Dr. Hyzy did a great job of educating me and ensured me I was a…
Nathan Y.