Surgeries have risks. Some are minor while others are major. While we acknowledge that there are risks most believe it is not going to happen to them.
JM is a 55 y/o patient with long-standing left knee pain who underwent knee arthroscopy and micro-fracture 14 months ago. She had no significant past medical and surgical history, did not take any medications and did not smoke or drink. Despite her knee pain she exercised 2-3 time a week.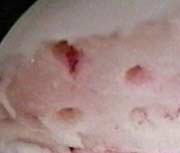 The knee surgery went well without any complications. Seven days after the procedure JM had abrupt onset of shortness of breath with crushing chest pain. She spent the next 10 days in the hospital where it was determined that multiple clots had gone to her lungs (pulmonary embolism). The clots most likely originated from a leg vein but may have also have been from fat dislodged from the bone during the micro fracture. Long-term coumadin therapy was started which thins JM's blood to prevent future pulmonary embolism.
Coumadin therapy places patients at an increased risk for bleeding. Many medications increase coumadin levels which include NSAIDs, antidepressants(particularly the SSRI's) and medications that induce the liver enzymes. This further increases the risk of bleeding. Coumadin therapy is a known factor associated with death and brain injury after falling.
Non-surgical options of many knee, hip and shoulder conditions include the use of stem cell therapy.
The Regenexx procedure allows patients the opportunity to use their own mesenchymal stem cells for common orthopedic conditions thereby eliminating the risks inherent with surgery and anesthesia.