Knee pain can arise from different structures including cartilage, ligaments and meniscus. What is a
meniscus tear
? How long is meniscus tear recovery time without surgery? Let's dig in.
What is a Knee Meniscus?
The meniscus is a figure-eight fibrocartilage that acts as a shock absorber between your thigh and shin bones. There are two menisci per knee, one on the inside of the knee (medial) and one on the outside (lateral).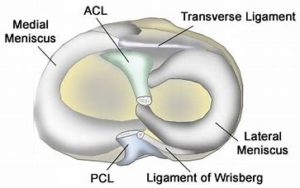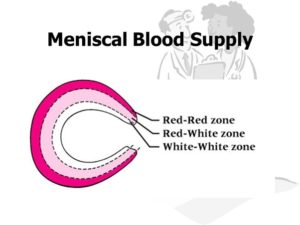 Meniscus Anatomy
Anatomically the meniscus is divided into three zones (1). The red zone refers to the outer third of the meniscus and has a rich in blood supply The white zone refers to the inner two-thirds of the meniscus. The term white is used because this zone has a poor blood supply. The red-white zone is the layer between the red and white zone. Blood supply is important to meniscus healing and therefore tears in the red zone which have a rich blood supply typically heal. Tears in the white zone typically are more difficult to heal due to their limited blood supply.
Types of Meniscus Injuries

Meniscus tears are typically described and classified by the shape of the tear (2). For example horizontal, vertical, oblique, longitudinal tears. Tears can be partial thickness or full thickness.

Surgery for Meniscus Tears
The most common meniscus surgery is a partial meniscectomy where the degenerative, torn or injured portion of the meniscus is removed. The usefulness of the surgical procedure has recently come into question. Why?
A 2013 study demonstrated that meniscus surgery is no better than physical therapy (3)
Meniscus surgery results were no better than fake (sham) surgery (4)
For patients with locking symptoms due to a meniscus tear, meniscus surgery was no better than placebo (5)
In all but 1 of the 8 recent randomized studies, meniscus surgery was no better than nonoperative treatment, (6).
Meniscus surgery predisposes the joint to early-onset arthritis (7)
Patients who undergo meniscectomy are 2 1/2 times more likely to get a knee replacement at 5 years compared to patients who underwent PT (8)
The Importance of a Meniscus Tear
It is now time to rethink the importance of meniscus tears. Are meniscus tears a source of pain? Research has demonstrated that meniscus tears are very common in patients without knee pain (9). The presence of a meniscus tear on MRI alone is not enough to identify it as the source of pain. A thorough history, complete physical examination, review of MRI images and diagnostic ultrasound with dynamic stress is critical in assessing the meniscus and determining whether or not it is a source of knee pain. Did your doctor perform these?
For a detailed understanding of meniscus tears on MRI please watch the video below.
Meniscus Tear Recovery Time Without Surgery
If a meniscus tear is present and is clinically significant and occurs in the red zone it most likely will heal in 3-6 months given the rich blood supply. Physical therapy is the first-line treatment for knee pain due to meniscus tears. (10). Surgical removal of the meniscus is not only no better than PT or placebo but increases the risk of early arthritis and the eventual need for knee replacement. A recent study investigated how meniscus surgery affected long term knee function (11). 57 patients who underwent partial meniscectomies for traumatic or degenerative tears were followed for a period of 5-12 years. Researchers compared the meniscectomy knee with the opposite knee that did not have surgery. The results were shocking as 63% of knee meniscus surgery patients developed knee arthritis within 8 years, on average following surgery. Hence it is critical to preserve the meniscus whenever possible given its importance for the structural integrity of the knee joint. Are there other treatment options?
Yes!
At the Centeno Schultz Clinic, we have been treating meniscus tears for the last 14 years with both platelets and bone marrow stem cells. PRP injected into chronic meniscus tears has been demonstrated to decrease pain scores and increase function scores when compared to controls (12). Bone marrow stem cells have demonstrated regeneration for a meniscus tear in a time-dependent manner (13). At the Centeno-Schultz Clinic, PRP and bone marrow stem cells are injected precisely into the damaged or torn area of the meniscus using ultrasound or x-ray guidance. This is not a procedure that your orthopedic surgeon, chiropractor or physician assistant can perform. To better understand the procedure please click on a video below.
The knee meniscus is critical to the function of the knee. Meniscus tears are not all associated with pain and dysfunction. A partial meniscectomy where the damaged or torn meniscus is surgically removed has been found to be no better than physical therapy or placebo and places patients at risk for early-onset arthritis and a higher chance of needing a knee replacement. PRP and stem cell treatments are viable non-surgical options for clinically significant meniscus tears.
Want to Get Back to What You Love, Without Surgery and Medication?
_________
1.Vadodaria K, Kulkarni A, Santhini E, Vasudevan P. Materials and structures used in meniscus repair and regeneration: a review. Biomedicine (Taipei). 2019;9(1):2. doi:
10.1051/bmdcn/2019090102
2.Bolog NV, Andreisek G. Reporting knee meniscal tears: technical aspects, typical pitfalls and how to avoid them.
Insights Imaging.
2016;7(3):385-98. doi:
10.1007/s13244-016-0472-y
3. Katz JN, Brophy RH, Chaisson CE, et al. Surgery versus physical therapy for a meniscal tear and osteoarthritis [published correction appears in N Engl J Med. 2013 Aug 15;369(7):683].
N Engl J Med
. 2013;368(18):1675–1684. doi:
10.1056/NEJMoa1301408
4. Sihvonen R, Paavola M, Malmivaara A, Itälä A, Joukainen A, Nurmi H, Kalske J, Järvinen TL; Finnish Degenerative Meniscal Lesion Study (FIDELITY) Group. Arthroscopic partial meniscectomy versus sham surgery for a degenerative meniscal tear. N Engl J Med. 2013 Dec 26;369(26):2515-24. doi:
10.1056/NEJMoa1305189
.
5. Sihvonen R, Paavola M, Malmivaara A, Itälä A, Joukainen A, Nurmi H, Kalske J, Järvinen TL; Finnish Degenerative Meniscal Lesion Study (FIDELITY) Group. Arthroscopic partial meniscectomy versus sham surgery for a degenerative meniscal tear. N Engl J Med. 2013 Dec 26;369(26):2515-24. doi:
10.1056/NEJMoa1305189
.
6. Beaufils P, Pujol N. Management of traumatic meniscal tear and degenerative meniscal lesions. Save the meniscus. Orthop Traumatol Surg Res. 2017;103(8S):S237-S244.DOI:
10.1016/j.otsr.2017.08.003
7..https://www.thieme-connect.de/products/ejournals/abstract/10.1055/s-0038-1646926
8.Katz JN, Shrestha S, Losina E, Jones MH, Marx RG, Mandl LA, Levy BA, MacFarlane LA, Spindler KP, Silva GS; MeTeOR Investigators, Collins JE. Five-year outcome of operative and non-operative management of meniscal tear in persons greater than 45 years old. Arthritis Rheumatol. 2019 Aug 20. doi:
10.1002/art.41082
.
9. Risberg MA. Degenerative meniscus tears should be looked upon as wrinkles with age—and should be treated accordingly. British Journal of Sports Medicine 2014;48:741. http://dx.doi.org/10.1136/bjsports-2014-093568
10.Chirichella PS, Jow S, Iacono S, Wey HE, Malanga GA. Treatment of Knee Meniscus Pathology: Rehabilitation, Surgery, and Orthobiologics. PM R. 2019;11(3):292-308.DOI:
10.1016/j.pmrj.2018.08.384
11. https://www.thieme-connect.de/products/ejournals/abstract/10.1055/s-0038-1646926
12. Kaminski R, Maksymowicz-Wleklik M, Kulinski K, Kozar-Kaminska K, Dabrowska-Thing A, Pomianowski S. Short-Term Outcomes of Percutaneous Trephination with a Platelet Rich Plasma Intrameniscal Injection for the Repair of Degenerative Meniscal Lesions. A Prospective, Randomized, Double-Blind, Parallel-Group, Placebo-Controlled Study. Int J Mol Sci. 2019;20(4):E856.DOI:
10.3390/ijms20040856
Meniscus Tear Recovery Time